Penguins need healthy Paul Martin, Kris Letang to win Stanley Cup
All the focus is on Sidney Crosby and Evgeni Malkin, but there are two other players the Penguins need back to win the Stanley Cup.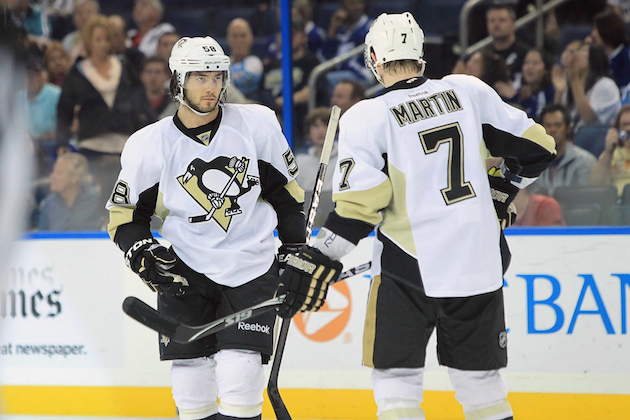 More NHL: Scores | Standings | Odds | Fight-O-Meter | League Leaders | Rumors
Pucks and Numbers is a weekly statistical look at what's happening around the NHL. This week: The two players the Pittsburgh Penguins need healthy to have a shot to win the Stanley Cup.
If the Pittsburgh Penguins are going to win the Stanley Cup they're probably going to need Sidney Crosby (broken jaw), Evgeni Malkin (upper body), and James Neal (concussion) back in the lineup and playing at the top of their game in the playoffs.
But those are the obvious names that will get the headlines.
There are two others they need to be healthy that probably don't get anywhere near as much fanfare and may be even more important when it comes to their success or failure in the postseason: defensemen Kris Letang and Paul Martin .
I might even be willing to say they need Letang and Martin to be healthy more than any other players on the roster.
Both have missed significant time this season due to various injuries. Letang has missed 12 games and recently returned to the lineup, while Martin has been sidelined since late March with a broken bone. It's not yet known when he will return but the initial assessment was sometime around or after the first round of the playoffs.
It's not a question of them being better than a player like Crosby (because that would be a foolish argument to make), but that based on the current structure of the Penguins' roster it might be easier for them to overcome the loss of a top center or winger, even if it's the best player in the world (Crosby) or a goal-scorer Neal, if it came to that than it is for them to overcome the loss of a top defenseman. Or their top two defensemen.
Think about it. Without a player like Crosby the Penguins still have a pretty strong lineup down the middle with Evgeni Malkin (assuming he's healthy), Brandon Sutter , and Jussi Jokinen . Same is true for Neal on the wing where they still have Chris Kunitz , Pascal Dupuis , and Jarome Iginla . They have other options at those positions and guys who can step up into top line roles.
They have no such luxury on defense.
When you take away Letang and Martin, or even just one of them as has been the case for the past month, an already suspect defense gets even weaker and they become a completely different team with an entirely new look on the blue line.
Letang and Martin both excel at moving the puck up the ice and helping to drive possession in the Penguins' favor. When they're not in the lineup, the Penguins defense has an alarming lack of puck-moving ability from their blue line, which is then mostly made up shutdown, stay-at-home guys with limited offensive skill (guys like Doug Murray, Brooks Orpik , Deryk Engelland , Robert Bortuzzo , Mark Eaton ). It not only hurts their ability to generate offense, but by extension forces them to spend more time defending in their own zone creating chances for their opponents.
It was very evident during the six-game stretch between March 28 and April 10 when both players were out of the lineup.
Even though the Penguins were able to win four of those games they weren't exactly convincing victories, and they were probably very fortunuate to come out with as many wins as they did as they were outplayed (sometimes badly) in most of them. In those six games they scored as many goals as they allowed (14), were outshot 186-177, and had a Corsi percentage (percentage of attempted shots that belonged to the Penguins) of only 47 percent, which is a shockingly low number for a team that's usually on the other side of that aspect of the game and one of the best in the league. It's not a recipe for extended success and if they play like that in the playoffs it could be another short trip.
Some of that can be attributed to the loss of Crosby. But the Penguins are used to playing without him as they've had to do it more often than not over the past three years and have never had the ice tilted against them as much as they did over that six-game stretch. What they were missing was mobile defensemen who could get to the puck in the defensive zone and get it out of danger, whether it be through a clean breakout pass or the ability to carry it out of the zone.
The only players they had on the blue line that were capable of it were Matt Niskanen , who is probably best suited to play a third-pairing role but was thrust into the No. 1 spot, and rookie Simon Despres who doesn't seem to fully have the trust of the coaching staff (he's a healthy scratch more often than not).
The makeup of the defense not only led to more chances and shots against, but it hurt their ability to create offense.
Let's just look at the impact Letang makes on his teammates.
The graphic below shows the top-eight Penguins whio have spent the most 5-on-5 ice time with Letang this season and how they've done with him vs. without him. The table on the left shows their Corsi percentage, while the table on the right shows their goals for percentage.
As you can see, with Letang, every player spends more time getting shots at the net than they do without him and not surprisingly, they tend to score more as well. The only players who had a lower goals for percentage were Niskanen (and I think some of that can be attributed to bad luck) and Matt Cooke .

That's a huge difference, and it doesn't even begin to take into account his contributions on the power play and penalty kill (where he plays more than two minutes per game).
And then there's Martin, a player who has been terribly underappreciated throughout most of his NHL career and especially during his first two years in Pittsburgh.
When Martin's at his best his game doesn't stand out like some other defenseman. He's not physical, he's not a "net-front presence" who will throw people out of the crease like ragdolls, he doesn't block shots, and while he has some offensive ability he's not going to put up 70 or 80 points from the blue line. When you combine the things he doesn't do with a $5 million per year cap hit it makes him easy target for criticism. For that price people want to see something tangible they can point to and justify the contract.
But that's not what his game is all about.
His contributions aren't always going to show up in the form of traditional box score stats. What he does do is play the toughest assignments on the Penguins defense, going up against other team's top lines and getting the most defensive zone starts on the team while still having the ability to push the play up the ice. He doesn't have to block as many shots or throw as many body checks because when he's on the ice his team is usually moving in the right direction. That's even more valuable than a blocked shot or big hit.
Even when the Penguins defense is fully healthy they could have probably still used another legitimate top-four defenseman at the deadline (which was the one thing they didn't add. They did acquire Murray from the Sharks but at this point in his career he's best suited to play sheltered minutes on a third-pairing).
When you take even one of their top guys away it creates an even bigger problem.
The Penguins have only had Letang and Martin in the same lineup for 26 of their 42 games this season and are 20-6 in those games, outscoring their opponents by more than a full goal per game, which is a huge gap.
You probably won't hear as much about these guys when compared to Crosby or Neal, but that doesn't make them any less valuable or important. Especially with the way the team is currently constructed.
The Pittsburgh Penguins will put politics aside and visit the White House out of 'respect'...

NBC will reportedly be devoid of NHL game broadcasts between Feb. 7-26

The Winnipeg winger suggests Trump is going after 'the principles the U.S. was founded on'
League gets excited about exhibition matches in Beijing and Shanghai

NHL players are still disappointed they won't be going to skate in PyeongChang

With Artemi Panarin in the mix and a Vezina winner headlining the defense, Columbus can be...