Penguins owners, CEO apologize to fans for NHL lockout
Let the mending begin. The Penguins are one of a few teams to apologize to fans for the NHL lockout, saying ''there is nothing we can say to explain or excuse what has happened.''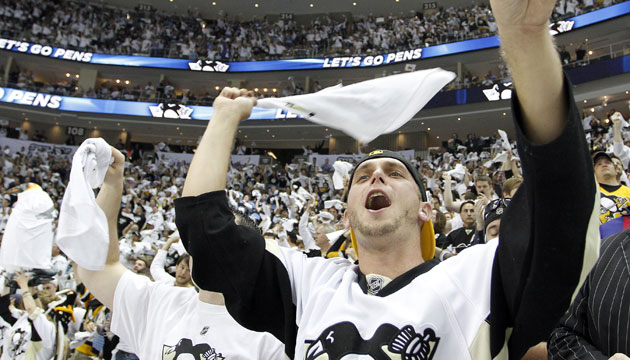 Team owners apologize to you, Penguins fans. (Getty Images)
Season Preview: Team previews | Expert picks | 50 things to watch | Top 50 players
Since the announcement of a tentative deal being reached to end the NHL lockout, numerous teams have released statements (just peruse team sites) with more or less the same message: It's great that hockey is back, we look forward to seeing you at the rink, yadda, yadda.
Not many of them have been truly apologetic (the Blues were, though), but the Pittsburgh Penguins with Mario Lemeiux, Ron Burkle and CEO David Morehouse, gave it a shot in their statement to fans.
We offer our apology. There is nothing we can say to explain or excuse what has happened over the past four months.

However, now that the NHL is back, we want to assure you that the Pittsburgh Penguins will do everything we can to regain your trust and show how much we value your amazing support.

The sounds of skates churning across the ice and pucks banging against the glass are returning to CONSOL Energy Center. That means a healthy Sidney Crosby is about to rejoin NHL MVP Evgeni Malkin, first-team All-Star James Neal, Marc-Andre Fleury, Kris Letang, Brooks Orpik and others as we begin our quest to bring the Stanley Cup back to Pittsburgh.

We want to thank you for your patience and your loyalty to the Penguins. We hope to repay it many times over. Our commitment to winning the Stanley Cup and our commitment to you has not changed.

We look forward to seeing you at CONSOL Energy Center.
It's a nice start and certainly seems a bit more genuine than thanking the fans (although there's some of that in there, too).
What's interesting to consider here is that Burkle was one of the owners who was brought into the players/owners-only meetings back in December that seemed to bridge a few gaps that helped get to the eventual deal. When he came into the picture, Burkle was seen as a very player-friendly owner and was itching to get a deal done. The opening two lines of the apology read like they come from an owner who tried his best and was dismayed he couldn't help get something done at that time.
What you don't see is anything that the Penguins are going to do to try to get the fans back into the arena. Check that, it doesn't spell out anything they're going to do but try to win. In the case of the Penguins it's not as if they will have a tough time getting fans to come back seeing as how the city has become a hockey hotbed.
That's not to say the Penguins won't try some promotions or throw a bone to their fans here or there. They certainly could. But the simple dynamics of supply and demand don't seem to lend themselves to the Penguins doing much beyond winning. As long as they remain ultra-competitive -- which they will -- then there will be butts in the seats.
You can throw all the dollar dogs, dollar beer, free parking, 2-for-1 tickets, etc. promotions at fans; none will be better than simply having a superior product on the ice. Winning wins (or wins back) fans, plain and simple.
Let the healing begin.
More from Eye on Hockey
Gretz: NHL owners, you're not sorry
For more hockey news, rumors and analysis, follow @EyeOnHockey and @StubitsCBS on Twitter and like us on Facebook.
Saturday's showdown will serve as a rematch of one of the NHL's first-ever regular season...

Stacia Robitaille says Donald Trump told her in an elevator that she was coming home with...

Vladislav Yeryomenko was the Teddy Bear Toss goal scorer for the Calgary Hitmen
The Golden Knights are finally getting their No. 1 goalie back after a 25-game absence

Washington has won four straight, and the Kings are also on a tear right behind the Lightn...

The NHL says it's only interested in expanding to Seattle, but here's a look at all the moving...