Penguins, Sidney Crosby agree to 12-year, $104.4 million extension
With Sidney Crosby only having one more year remaining on his contract, it was just a matter of time before a new deal came together to keep the Penguins captain in Pittsburgh. And a matter of money, of course. A lot of money.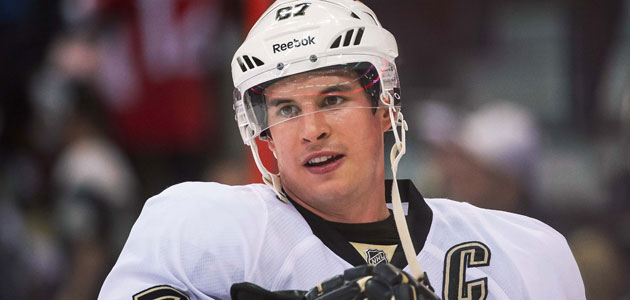 Crosby has already won the Art Ross, Hart, Ted Lindsay and Rocket Richard trophies. (US Presswire)
With Sidney Crosby only having one more year remaining on his contract, it was just a matter of time before a new deal came together to keep the Penguins captain in Pittsburgh. And a matter of money, of course. A lot of money.
Having been in the works for a while now, the deal is all but done just waiting for the contract to be actually signed, something that can't happen until Sunday. When ink is put to paper, though, we'll be looking at a new 12-year contract for Crosby that will cost the Penguins $104.4 million.
Well that ... is not very surprising. You knew full well that Crosby was going to get a massive offer thrown his way.
"This is a great day for hockey and tremendous news for the Pittsburgh Penguins and our fans," co-owners Mario Lemieux and Ron Burkle said in a joint statement released by the team. "We are grateful for all that Sidney Crosby has done for our franchise since coming to Pittsburgh in 2005, both on and off the ice, and we look forward to having him in a Penguins uniform for the rest of his career. He is an excellent player and an even better person, and he is a great ambassador for the Penguins and for Pittsburgh."
You could call the length of the contract surprising in this regard. Before this deal, Ray Shero had never handed out a contract longer than seven years, which he gave to goalie Marc-Andre Fleury.
The annual cap hit falls $8.7 million per season, meaning Crosby isn't actually getting a raise. It's a contract extension in the truest sense of the word, extending his current money structure for another 12 years.
In a way, it could actually be considered a reduction. Staying put is more or less the equivalent of a cut as the salary cap continues to rise and more space opens up on the payroll each season. The value of the $8.7 million hit when he first signed it is higher than the $8.7 million cap hit today.
Based on the salary cap that is going to be in place for this summer -- pre-CBA negotiations -- the Penguins will still have $15 million under the cap. The assumption was that Crosby would have to take a slight cut in his salary to possibly afford Zach Parise or Ryan Suter in free agency.
Don't think that the timing here isn't important. It's why the Penguins announced an agreement before it's actually official. It lets the free agents out there now exactly what they're looking at in Pittsburgh.
But back to Crosby here. There is little doubt that Crosby is the NHL's most recognizable face, if not its best player. When he's playing, there is hardly a more electrifying and impactful player on the ice. Consider than in just 22 games this season, Crosby had 37 points (8-29=37). Project that out to a full season and you have 138 points. Crosby's teammate Evgeni Malkin led the league this season with 109.
"He's a very special player and knowing that he will be here long-term is outstanding news for our players, coaches, staff and fans," Shero said. "Sidney also brings those extra dimensions as our captain, with his leadership in the room and on the ice. We're all very excited to reach this agreement on an extension."
Of course the concern with Crosby is the concussion past. He missed more than a full season's worth of time between his concussion recovery and then what was originally believed to be a setback in his concussion recovery before being properly diagnosed as a neck injury. Once the proper diagnosis was made, Crosby was able to prepare and came back healthy, finishing out the season strong -- obviously, based on those numbers.
It was clearly enough to convince the Penguins that investing so much time and money into Crosby isn't that big of a risk. You know the reward is there.
For more hockey news, rumors and analysis, follow @EyeOnHockey and @BrianStubitsNHL on Twitter and like us on Facebook.
Rage is all the rage in Montreal

Buffalo's 20-year-old phenom pulls off the highlight of the night against Vancouver

The North American love affair with Edmonton's superhuman center continues to grow
The defending Western Conference champion Predators are also heating up early in the year

The Oilers' young star remains seriously unfair

David Kelly, a Toronto-born hockey analyst, has strong advice for Edmonton vs. Chicago game...