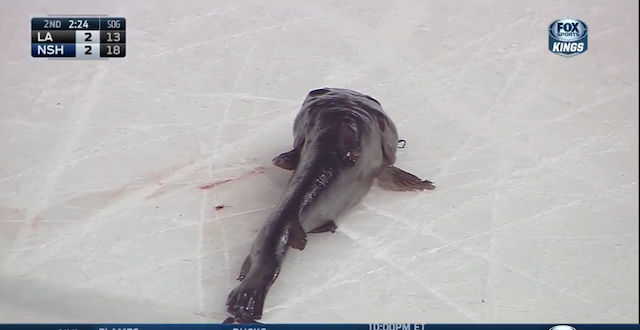 On Tuesday night in Nashville a Predators fans decided to celebrate Ryan Ellis' game-tying goal against the Los Angeles Kings by throwing a giant catfish on the ice (that's him posted above) late in the second period.
It's not the first time it's happened in Nashville, but it's also probably not one of the more widely known hockey fan traditions in the NHL. 
Naturally, the folks at PETA were not happy about this, and on Wednesday they sent Predators chairman Thomas G. Cigarron and general manager David Poile a letter pleading with them to stop allowing fans to throw catfish on the ice. 
They also offered to send them 1,000 plastic fish that fans can use to celebrate their team's success "without making light of animal cruetly." Here is the complete letter. 
Dear Messrs Cigarron and Poile:

I'm writing on behalf of PETA and our more than 3 million members and supporters—including thousands across Tennessee, with many sports fans among them—in response to reports that a catfish was thrown onto the ice during your game yesterday, November 25, against the Los Angeles Kings, and that catfish have been thrown onto the ice at other games in the past. We encourage you to prohibit fans from throwing fish—dead or alive—onto the ice in the future and have a proposition that would help make this a win-win situation for both animals and Predators fans.

Whether you want to think about it or not, fish are sentient beings, capable of feeling fear and pain. It's no more acceptable to harm them than it is to harm any other living beings. Please, won't you prohibit fans from engaging in such insensitive acts?

We'd be happy to send you 1,000 plastic fish that you could distribute to guests at Bridgestone Arena. Fans could use them in a harmless, fun way to celebrate their team's success without making light of cruelty to animals. Thank you for your consideration. We look forward to hearing from you.

Sincerely,

Colleen O'Brien Senior Director of Communications PETA
It was only a matter of time until something like this happened. 
A few things.
First, the Predators aren't behind fans throwing catfish on the ice. Fans smuggle them in and throw them on their own doing. If they were caught trying to enter the building with a catfish they would likely be stopped and turned away, and according to the bridgestone arena policy, the "throwing of projectiles" is prohibited in the arena anyway.  
Second, the Predators probably wouldn't be allowed to hand out plastic fish for their fans to throw on the ice because that type of act is frowned upon by the NHL following the Florida Panthers' run to the 1996 Stanley Cup Final when their fans celebrated every goal by showering the ice with plastic rats.
Following that playoff run the league changed its delay of game rules for objects thrown onto the ice.
63.4 Objects Thrown on the Ice – In the event that objects are thrown on the ice that interfere with the progress of the game, the Referee shall blow the whistle and stop the play and the puck shall be faced-off at a face-off spot in the zone nearest to the spot where play is stopped. When objects are thrown on the ice during a stoppage in play, including after the scoring of a goal, the Referee shall have announced over the public address system that any further occurrences will result in a bench minor penalty being assessed to the home Team. Articles thrown onto the ice following a special occasion (i.e. hat trick) will not result in a bench minor penalty being assessed. Refer also to Rule 53.6 when spectator interference occurs during a breakaway.
So in short: The Predators aren't behind this, and PETA's alternative is nonsensical.