Phil Kessel's natural hat trick paces USA to 5-1 win over Slovenia
Phil Kessel scored the first three goals of the game as the USA beat Slovenia 5-1 to win Group A and reach the quaterfinals at the Olympics.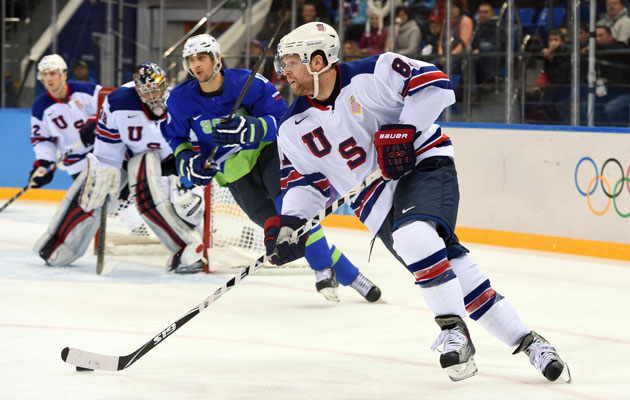 Phil Kessel scored three goals and Ryan Miller shut out Slovenia for 59 minutes on Sunday to lead the USA to a 5-1 win over Slovenia to wrap up round-robin play.
Kessel got going right away as the Americans showed little early sign of a hangover after the big win over Russia on Saturday. On his first shift, Kessel made a brilliant move to open the scoring just 1:04 into the game. He would add a second goal a couple of minutes later when he batted a Joe Pavelski pass out of the air for a quick 2-0 lead.
The score would stay that way as Slovenia carried play for most of the remainder of the first period and into the early second. But then the USA had a monster offensive shift that resulted in a third goal for Kessel, the first hat trick by an American at the Olympics since 2002.
It wasn't long after Kessel's third goal that defenseman Ryan McDonagh made the score 4-0 when he finished a tremendous pass from Blake Wheeler and at that point, the rout was on.
David Backes made the score 5-0 early in the third period when a pass from Ryan Callahan deflected off a defenseman's skate then Backes' skate before he was able to tap the puck in with his stick for the 5-0 lead. The USA remained in control from the remainder of the third period.
Miller got the start in place of Jonathan Quick on Sunday, who got the day off completely as he was scratched to rest, and was solid for the US. With Slovenia playing well in the first part of the game, Miller was tasked with making some good saves and he did. He was just 18 seconds away from recording the shutout when Marcel Rodman was able to sneak a bullet of a shot past Miller to break up the blanking bid.
Now the United States finishes the round-robin play with a 2-1-0-0 mark for eight points and the top spot. The USA moves on to the quarterfinals with a bye as the group winner. They can finish no worse than the third seed and no better than the second seed, guaranteed to be behind Sweden. The final seed will be determined by the Canada-Finland result later on Sunday.
Review the game with our live blog during the contest below.

USA 5, Slovenia 1 FINAL
9:40 a.m. -- It's a final, the Americans are Group A winners and are into the quarterfinals on a bye. They will be no worse than the three seed, no better than the two seed.
9:38 a.m. -- GOAL, SLOVENIA! The Ryan Miller shutout goes by the wayside with just 17 seconds left in the game. Ouch.
9:33 a.m. -- Clock is down to 3:30 and this one is just a formality at this point, USA mostly cycling in the zone.
9:30 a.m. -- Phil Kessel has obviously been very hot and Dustin Brown not so much. Understandably Brown wanted Kessel's stick and understandably Kessel wouldn't oblige. He took his stick back. The joys of being up five goals. (Via @PeteBlackburn)
9:28 a.m. -- PENALTY KILLED. The Americans have really clamped down in this game and the PK goes smoothly. Down to seven minutes to go from the USA winning Group A.
9:24 a.m. -- POWER PLAY, Slovenia. JVR gets his stick up and catches a Slovene so he'll go to the sin bin. All that's left in this game with under 10 to go is to see if Miller can hang on to the shutout.
9:22 a.m. -- The're down to 12 minutes to go between Russia and Slovakia and it is STILL scoreless. The Russians thought they had a goal but it hit the crossbar. Crowd is definitely anxious.
9:19 a.m. -- James van Riemsdyk continues to get creative around the crease, delivering a great pass between his legs but it doesn't result in a goal. He has looked really good in this tournament with Kessel.
9:13 a.m. -- GOAL, USA! David Backes charging toward the net has his skate in the right place at the right time as the Ryan Callahan comes through the crease. It's under review but it should stand, especially since it looks like Backes got it with his stick after the skate.
9:10 a.m. -- The puck drops on the third period.
9:01 a.m. -- Second Period Recap: The US started off the period rather sleepily and looked pretty poor in general. As it reached the halfway mark, it looked like they started to wake up a bit. Some good shifts from the line of Blake Wheeler, Paul Stastny and T.J. Oshie were some of the best of the game for any US line and it really changed things. Two quick goals seemed to get the US back into it and they started playing more up to the standard we've seen for a lot of the tournament. That flipped the game and tilted the ice. The US finished out-shooting Slovenia 11-4 in the period and owned the puck towards the end. This is the way they have to play heading into the days off. The third period needs to be more like the last half of the second to end on a high note.  -- Chris Peters
8:55 a.m. -- Russia, meanwhile, is still in a scoreless game with winless Slovakia. The home fans are getting nervous, especially after Ilya Kovalchuk was hurt and walked back to the dressing room. Tense third period coming up at Bolshoy.
8:54 a.m. -- Second period is in the books. The period started slow for the US but they really picked it up and have taken a 19-11 lead shots after outshooting Slovenia 11-4 in the middle 20.
8:51 a.m. -- We said Wheeler deserved some recognition for that last American goal. This is why. What a great pass. (Via @PeteBlackburn)
8:49 a.m. -- Last thing on the Kessel hat trick. It has been a few Olympics since we've seen that from an American.
Phil Kessel scores the first Olympic hat trick for the U.S. since John LeClair in 2002. #DawnsEarlyLight

— USA Hockey (@usahockey) February 16, 2014
8:47 a.m. -- PENALTY KILLED. The Americans render that Slovene power play mostly harmless and Oshie is out of the box. The difference in the USA's play in the last 10 minutes or so is noticeable. Best they have looked all day.
8:44 a.m. -- POWER PLAY, Slovenia. T.J. Oshie draws a minor penalty so the Slovenes are back on the man advantage.
8:41 a.m. -- To celebrate this tremendous achievement by Kessel, we give you this. It might be the best thing your American eyes see today.
8:41 a.m. -- GOAL, USA! The Americans have woken back up. Another strong shift results in a Ryan McDonagh shot that boosts the US lead to 4-0. Blake Wheeler deserves some credit for the shifts he has had in this second period.
8:40 a.m. -- GOAL, USA! It's Phil Kessel again!. The Americans get a tremendous shift and a lot of O zone time when a shot from the point is off the pads of Kracnar and Kessel is right there on the doorstep to slam it home. That's a natural hat trick for Kessel as he's the only guy to score in this game.
8:38 a.m. -- This if from the Russia-Slovakia game but who cares, it's a goalie making a vicious hip check. (Via @MyRegularFace)
8:35 a.m. -- PENALTY KILLED. The Americans have a tough time really getting set up and don't get a shot on net while Slovenia had one the other direction. This game is almost halfway through and the US has apparently fallen asleep. Maybe that's not crediting Slovenia enough as they have looked strong in the first two games as well.
8:33 a.m. -- Joe Pavelski's shot is blocked up high on the power play but he does a fantastic job getting back to block a pass in what was close to a 2-on-1 for Slovenia short-handed.
8:32 a.m. -- POWER PLAY, USA. After the Stasny shot, Slovenia draws a penalty in the scrum.
8:31 a.m. -- The Americans are getting at least a couple of decent looks in the last couple of minutes, latest coming from Paul Stastny on a wide rush. His shot sits in the crease but eventually is gobbled up.
8:30 a.m. -- Because he has been so strong so far for the USA (really we just wanted an excuse), let's show you again that awesome mask for Ryan Miller in these Games. Beautiful.
Other side of the mask painted by @BishopDesigns pic.twitter.com/VqvP8ax6Iy

— Ryan Miller (@RyanMiller3039) January 28, 2014
8:27 a.m. -- PENALTY KILLED. Slovenia ends up with just one shot on net, a pretty good one, but no goals as the clock moves under 17 minutes in the second period.
8:25 a.m. -- Slovenia looking strong on the power play, have great puck movement and generate a strong chance but Miller is up to the task. With how relatively sleepy the team has looked so far, he has been huge.
8:24 a.m. -- POWER PLAY, Slovenia. David Backes loses an edge and crashes into Slovene goalie Gracner for an interference call.
8:22 a.m. -- Second period has begun.
8:12 a.m. -- First Period Recap: The US certainly got the start they needed with a pair of goals from Phil Kessel early, but it looked like they eased off the gas and that period got sloppy in a hurry. Slovenia is doing a much better job of busting up Team USA's transition game and making Team USA work to get out of their own zone. A hard game is a good thing, but too often the US is making lazy plays with the puck and some mental errors. Ryan Miller, however, has looked very good in the game and is the steady presence you expect him to be. Two pretty goals are the highlight for USA, but everything else leaves a little to be desired. They'll have to zone back in during the second period and finish strong as they look to be in the driver's seat for a bye to the quarterfinal. -- Chris Peters
8:09 a.m. -- Over at Bolshoy, Russia and Slovakia are scoreless after one period. With how poorly Slovakia has played so far, that's a minor surprise already.
8:07 a.m. -- Hard to complain about a period in which you have a 2-0 lead but at the intermission, you just have to say "meh" about that period for the Americans. Shots after one are 8-7 for the USA but Slovenia was the better team after Kessel's second goal.
8:01 a.m. -- Credit Slovenia, they have been the better team for the last 10 minutes in this game and they are putting shots on Miller. Shots are now just 7-6 in favor of the USA. The Ameicans aren't getting much from the lines outside of Kessel-Pavelski-JVR.
7:57 a.m. -- James van Riemsdyk is having an awfully nice tourament so far too and makes a nice move to get a scoring chance up close but no dice. Americans up 7-2 in shots now with five minutes to play here.
7:53 a.m. -- Since the scorching start, the US hasn't looked all that sharp and have just one shot in about eight minutes. Still 2-0 with 6:56 left in the period.
7:47 a.m. -- There are 10 minutes gone and the shots are 4-2 in favor of the USA. A shooting percentage of 50 percent ain't bad.
7:42 a.m. -- GOAL, USA! It's that man again, Phil Kessel. Joe Pavelski chases down a puck off the end boards and throws it over to Kessel charging the crease and Kessel being Kessel, he hits the puck out of the air and into the net. It's Kessel 2, Slovenia 0 not even five minutes into this game.
7:40 a.m. -- That goal was so pretty you should see it again and again. Phil Kessel is good at hockey. (GIF via @PeteBlackburn)
7:38 a.m. -- This. Just this.
Yep. pic.twitter.com/uP6O5cQNPC

— Chris Peters (@chrismpeters) February 16, 2014
7:36 a.m. -- GOAL, USA. Phil Kessel gets a head of steam and just undresses Robar before finishing for the goal just 1:04 into the game. Doesn't look like the USA is going to sleepwalk through this one.
7:35 a.m. -- GAME ON!
7:29 a.m. -- Your friendly reminder, the USA-Slovenia game can be found on NBCSN in the States and Russia-Slovakia will be airing on USA Network.
7:15 a.m. -- Don't forget, while the USA and Slovenia battle, Russia will be playing Slovakia to wrap up Group A play. With a regulation win Russia would be in position for the fourth bye into the quarterfinals assuming the Canada-Finland game later this morning doesn't go beyond regulation. Slovakia, meanwhile, could be on the way to 12th place out of 12 teams. Yuck.
7:13 a.m. -- On the Slovene front, they will be without defenseman Sabahudin Kovacevic against the US after he was suspended one game for a hit to the head of Slovakia's Tomas Kopecky on Saturday.
7:02 a.m. -- USA and Slovenia have hit the ice for warmups and the Americans look fantastic in the 1960s uniforms. Why can't they just wear these all the time?
US takes to ice for warmups pic.twitter.com/gBFGIoNJxt

— Helene Elliott (@helenenothelen) February 16, 2014
7 a.m. -- The American goalie, Ryan Miller, was on the bench well before the game getting ready mentally.
Ryan Miller in his own world, alone on the bench 40 minutes before the opening faceoff. pic.twitter.com/qTaKQan6ag

— Dan Rosen (@drosennhl) February 16, 2014
6:59 a.m. -- A little information about the Slovenian goalie the USA will face.
Slovenia starting Luka Gracnar vs. USA. Tiny undrafted goalie. Beat Auld & Brückler in club team, took Canada to OT with 35 saves at Worlds.

— Matias Strozyk (@MaStrozyk) February 16, 2014
6:35 a.m. -- The Fighting Kopitars of Slovenia are getting ready the way hockey players always get ready, by playing some soccer. Reminder, the United States and Slovenia tied in the World Cup in 2010, so good thing this game will be played on ice and with sticks.
Kopitar and Slovenia teammates warming up to face US pic.twitter.com/DEfzXWtyTz

— Helene Elliott (@helenenothelen) February 16, 2014
5:14 a.m. -- Forget the Nike uniforms with the faux laces, the Americans are going old school vs. Slovenia. It's glorious.
U.S. Olympic Men's Team lockerroom prior to today's game vs. Slovenia. #usah #usahockey pic.twitter.com/5k5D1WFBVH

— USA Hockey (@usahockey) February 16, 2014
5:11 a.m. -- Dan Bylsma has elected to change things up a little bit for the Slovenia game, getting Derek Stepan into the lineup in favor of Max Pacioretty and Jimmy Howard to backup Ryan Miller to give Jonathan Quick a day off. Only Justin Faulk hasn't dressed for the US. The lines:
Game notes & line chart for USA vs Slovenia: http://t.co/mlbuDXTCYl Watch @NBCSN #DawnsEarlyLight #TeamUSA pic.twitter.com/2XQ4oZYPR9

— USA Hockey (@usahockey) February 16, 2014
------
Preview
By Chris Peters
The Facts
Who: Slovenia (1-0-0-1) vs. United States (1-1-0-0)
What: Final game of the Olympics for both teams in Group A
When: 7:30 a.m. eastern Sunday on NBC Sports Network
Where: Shayba Arena, Sochi, Russia
United States can win Group A with win vs. Slovenia 
Eye on the United States
Three Key Players: Ryan McDonagh, Joe Pavelski, Patrick Kane

Quick Preview: Coming off the emotional win over Russia, it's
important for the U.S. to refocus in a game against an opponent they
should be able to beat. It's still the Olympics and that means
overlooking an opponent is not the best idea. That's especially true
when the U.S. is likely to end up with two days off following the
game, assuming they earn the bye to the quarterfinals with the win.
Focusing on cleaning up the areas of the game where they struggled
against Russia, which primarily involved the forecheck and sustained
offensive zone time, would be helpful. As long as the U.S. plays the
game they're capable of, this one shouldn't be close, but the
Slovenians gave Russia an honest game and beat Slovakia, so they won't
be laying down for anybody.


Eye on Slovenia
Three Key Players: Anze Kopitar, Robert Kristan, Ziga Jeglic

Quick Preview: Coming off what is likely the biggest victory in
Slovenian hockey history, Anze Kopitar and company have to be on Cloud
Nine. They also have to have some confidence coming in. After beating
Slovakia in sound fashion, they proved they're not to be taken too
lightly. Kopitar is clearly their best player, but guys like Jan
Mursak and Ziga Jeglic proved they could skate with the big boys, too.
Robert Kristan has also been pretty solid in net, giving Slovenia his
best effort and carrying a .904 save percentage after facing some
elite offensive teams. Slovenia will be looking to shock the world
again.
Here's a look at the best of what's left in the pool of unsigned veterans

New York hands Zibanejad a five-year deal but still finds itself in cap trouble

Ontario's 2017 RBC Canadian Open plays host to some puck shots from the legendary golfer
The unsigned forward, still in search of a team, is campaigning for himself

The league shoots down a report that NHL players could still be permitted to go to the Oly...

The 45-year-old forward remains unsigned but has shown little desire to hang up the skates