Philadelphia brewery makes 'whine-like' beer called Crosby Tears
The rivalry between the Philadelphia Flyers and the Pittsburgh Penguins is intense, especially when Sidney Crosby is involved. Now a Philly brewery has a beer called Crosby Tears.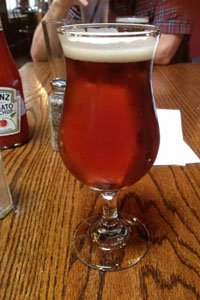 Crosby Tears beer. (the700level.com)
The NHL has some great rivalries in it. Some wax and wane (Colorado and Detroit) some are forever heated (Boston and Montreal). But at this moment, I don't think there is any rivalry burning hotter than the Flyers and the Penguins.
Especially after the Flyers beat the favored Pens 4-2 in the first round of this year's playoffs, the heat is on. The series drew the best ratings in the first round, it was the most discussed series.
From the Philadelphia perspective, the hatred for the Penguins and Sidney Crosby in particular is very strong. A local paper was mocking him in front-page cover photos, the Flyers were taking shots at him on a t-shirt giveaway at Wells Fargo Arena. This season their fans notoriously booed Crosby on the big screen at the arena even while doing a PSA for Hockey Fights Cancer.
You could say their hatred of Crosby consumes them. And now they can consume his tears. Or something like that.
A Philadelphia bar and brewery called the Nodding Head has come up with a new brew that they are calling Crosby Tears. The beer is described thusly (via The 700 Level):
CROSBY TEARS - $6.50 tulip

STRONG ALE (8.7%ABV)... WHINE-LIKE IN "HONOR" OF ITS NAMESAKE... ORANGE HUED LIKE THE TEAM THAT SENT HIM HOME FOR THE SUMMER... THE PERFECT COMPLEMENT TO A PLAYOFF RUN
Get it, whine-like? I'm sure the 8.7 percent alcohol isn't a happy coincidence either. At least the drink is orange so that you can tell in some way it's a Philadelphia spirit thing.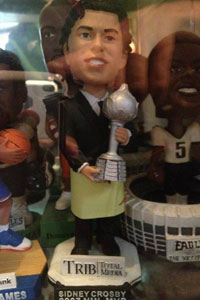 Crosby's new attire. (the700level.com)
The bar also is known for a pretty extensive collection of bobbleheads. Among them is a Crosby figurine which they have now adorned with a skirt. Ah yes, the old gender humor.
I understand this is a big rivalry in the state. The dislike for Crosby is universal almost in the city. I get it to a point, Sometimes a loss by one of my alma mater's rivals will almost take away the sting of a loss by my team. Almost.
You'd think that right now they would be more interested in who the Flyers are actually playing -- and losing to -- in the Devils. Beating Crosby and the Penguins was nice, but I think they'd probably like to beat a couple more teams even more.
Do I think this is funny? I do. But I also find it to be a bit over the top, or overkill. Not that I find it reprehensible, not at all. It's just the obsession is out of hand. I feel like Crosby is as discussed as Claude Giroux in Philadelphia.
Either way, another chapter added to the rivalry story in the Keystone State. I just hope it tastes good, too.
More from Eye on Hockey
Newspaper mocks Crosby on cover
H/t to Puck Daddy
For more hockey news, rumors and analysis, follow @EyeOnHockey and @BrianStubitsNHL on Twitter and like us on Facebook.
Stacia Robitaille says Donald Trump told her in an elevator that she was coming home with...

Vladislav Yeryomenko was the Teddy Bear Toss goal scorer for the Calgary Hitmen

The Golden Knights are finally getting their No. 1 goalie back after a 25-game absence
Washington has won four straight, and the Kings are also on a tear right behind the Lightn...

The NHL says it's only interested in expanding to Seattle, but here's a look at all the moving...

The NHL says it is only looking toward Seattle for the next expansion team