Phoenix Coyotes trade rumors, trade deadline outlook
With the April 3 NHL trade deadline looming, are the Phoenix Coyotes buyers, sellers or standing pat? What do they need?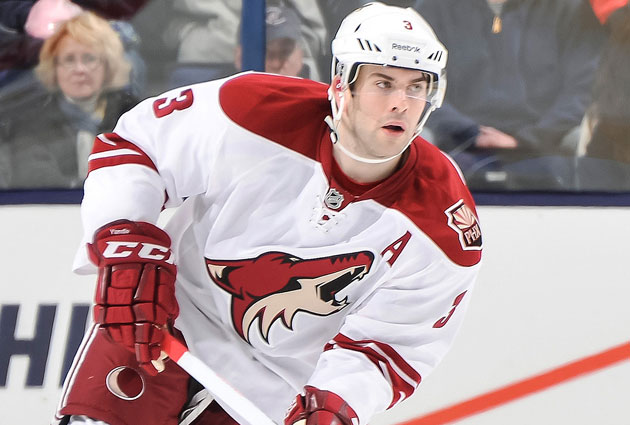 With the 2013 NHL trade deadline at 3 p.m. ET April 3, Eye on Hockey will examine

whether each team is a buyer or seller at the deadline, and who teams should look to sell or receive.
Buyers or sellers
With the Arizona Coyotes sinking faster than Wile E. falls off a cliff, the Coyotes are taking themselves out of the buyer category altogether. If you recall at last year's deadline they had a tough time being buyers because of the team's finances and the fact that it is owned by the NHL. They were able to add Antoine Vermette but it wasn't without some consternation.
The team runs on a fixed budget and doesn't deviate much from it one way or the other. This is the life of a franchise that is run by all the other franchises. So that means the Coyotes can't really be buyers or sellers in the traditional sense, but that does not mean they will stand pat. Right now they still aren't quite sure and the next few games will probably tell the tale.
"We're right at the cliff as far as I'm concerned," GM Don Maloney said (via Fox Sports Arizona). "If we slide much further, all bets are off. We're going to go out and find assets. This is reality."
Whatever they do, Maloney has to get creative and make hockey moves.
Rumors
Not long ago the Coyotes re-signed young and budding star defenseman Oliver Ekman-Larsson to a new contract. In some people's minds that has made Keith Yandle , a two-time All-Star, available.
From Mark Spector of Sportsnet:
They'd trade Yandle -- not because of money -- but because the Coyotes' offence is so weak even coach Dave Tippett's defensive style can't support an offence that was recently shutout three games in a row.

So any Yandle deal would be like the Colorado-St. Louis deal of two years ago, when Chris Stewart , Kevin Shattenkirk and a second round choice (Ty Rattie) went to the Blues, while the Avalanche got Erik Johnson , Jay McClement and a first-round pick. Salary coming and going would have to be nearly equal for Phoenix, and so would relative value of the players.
Even if teams would have to get a little creative in the salary shuffle, there would be a long line of suitors for Yandle's services. He's still only 26 years old and is one of the league's most productive defensemen in terms of points.
It does feel like for years now Yandle has been mentioned as a Bruins target considering Yandle is from the Boston area, but Detroit would also be right there. In the past the Red Wings have been mentioned as being very interested in Yandle.
The Coyotes also have Steve Sullivan who could be pried away per Spector. The veteran is about to play his 1,000th career game and does the dirty work while still being able to produce some offense. He has five goals and seven assists this season. He has a free agent after this season.
If the Coyotes wanted to, they could be very active with a lot of "rental" players on the roster. The list of guys who are not signed beyond this season (and won't be restricted free agents): Matthew Lombardi , Raffi Torres , Boyd Gordon , Kyle Chipchura , Rob Klinkhammer and even Mike Smith and Jason LaBarbera in net.
Of that list, Gordon could be the most intriguing name. Smith hasn't signed a new deal because he's hoping to see more about the future of the franchise first, but it seems like the Coyotes will take their chances on letting him walk away if it comes to that.
Maloney has been busy scouting the Pittsburgh Penguins, leading many to think that there is something in the works there. He has been listed as an attendee at two Penguins games recently per our Adam Gretz. Dejan Kovacevic of the Pittsburgh Tribune-Review suggested that defenseman Rostislav Klesla could be a target for Pittsburgh but that might have changed when the Pens acquired Douglas Murray .
In short: The Coyotes could be very busy.
Top targets
Offense, offense and more offense. The Coyotes need scorers.
Yes, this season started off very well for the Coyotes in the scoring department; they were actually lighting up nets (and theirs was being lit up) but recently that has dried up. The Coyotes just went through a stretch of more than 3 1/2 games in a row where they failed to score. They need guys who can put the puck in the net.
They shouldn't have much concern on the defensive side, they have good organizational depth there at the moment but they could be in the market for goaltending. However, that likely won't get cleared up until the offseason when the Smith situation is resolved one way or the other.
More Trade Deadline Rumors: 
Here's what you might have missed across the NHL on Tuesday night

Montreal can't score, New York's defense is in disarray and the Oilers are supremely under...

The NHL's newest team is a hit on and off the ice
J.T. Brown, who raised his fist during the national anthem, meets with Tampa Police Depart...

The decision would likely be met by anger from some fans, but it could also make sense

Toronto shoots to the No. 1 spot, just ahead of the Chicago Blackhawks