Phoenix Coyotes will officially be Arizona Coyotes next season
Starting next season, the Phoenix Coyotes will become the Arizona Coyotes.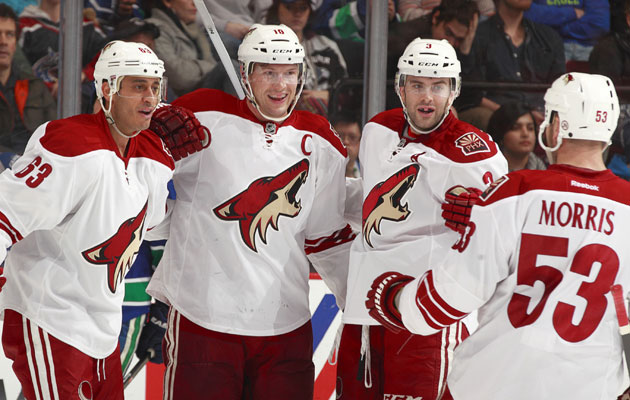 More NHL: Scores | Standings | League Leaders | Odds | Injuries | Power Rankings
Enjoy the Phoenix Coyotes while you can because they won't be around much longer.
Oh sure, the team is staying in Glendale for a long time to come with new ownership, but the Phoenix Coyotes? Nope. After this season finishes, they will officially become the Arizona Coyotes.
"We are very excited to announce that our franchise name will change to Arizona Coyotes for the start of the 2014-15 NHL season," said owner Anthony LeBlanc. "Becoming the Arizona Coyotes makes sense for us since we play our games in Glendale and the city is such a great partner of ours. We also want to be recognized as not just the hockey team for Glendale or Phoenix, but the team for the entire state of Arizona and the Southwest. We hope that the name 'Arizona' will encourage more fans from all over the state, not just the valley, to embrace and support our team."
This name change is not a surprise as it came up during the negotiations with the city of Glendale for a new lease agreement. You can understand why Glendale, which is paying a good amount of money to support the team, wouldn't want the name of a nearby city attached to the franchise. Now, like the NFL Cardinals across the parking lot, the team will instead carry Arizona.
What this will not do, though, is alter the uniforms. The Coyotes don't have any uniforms that say Phoenix on them, just small patches that indicated the city name. Those patches will be changed to fit with Arizona. They will be unveiled in the first Arizona Coyotes preseason game.
It might sound weird at first (OK, it does sound weird) but eventually it will sound right. Just not yet.
NBC will reportedly be devoid of NHL game broadcasts between Feb. 7-26

The Winnipeg winger suggests Trump is going after 'the principles the U.S. was founded on'

League gets excited about exhibition matches in Beijing and Shanghai
NHL players are still disappointed they won't be going to skate in PyeongChang

With Artemi Panarin in the mix and a Vezina winner headlining the defense, Columbus can be...

The league's crackdown on faceoff infractions and slashing penalties isn't without some cr...