PHOTO: CeeLo Green gives fans at Yankee Stadium the double bird
CeeLo Green performed at Yankee Stadium for the Stadium Series on Wednesday night and he wasn't exactly popular with the fans so he came out double birds a blazing.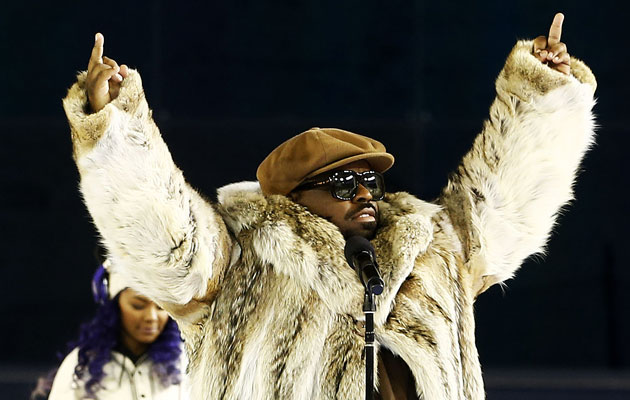 More NHL: Scores | Standings | League Leaders | Odds | Injuries | Power Rankings
CeeLo Green was on hand for the Stadium Series fesitivites at Yankee Stadium on Wednesday night, serving as the musical accompaniment. As you can see, it didn't go over well with Rangers and Islanders fans.
What a mistake the NHL made booking Cee Lo Green 4 the game last night. He was relentlessly booed his entire performance. I almost felt bad.

— Kevin DeLury (@TheNYRBlog) January 30, 2014
Perhaps it was partly just his performance (CeeLo doesn't exactly scream hockey, does he?) or maybe it was a little more that got CeeLo and the fans all riled up against one another. Here's a little more from the SNY Rangers Blog.
This morning on Leafs Breakfast on TSN1 1050, Darren Dreger recounted his experience at Yankee Stadium last night.

Dreger said that one of the highlights for him was "Cee Lo Green, I don't what was it, before the game, whatever it was, he was taunting Islander fans and boy did they turn on this short, little, stout man in a hurry. He would break into his own song and just stop and say 'the Rangers are gonna kick the Islanders asses' and they were outraged. So when he came up in the first intermission they put a slate up on the big screen at Yankee Stadium saying 'coming up next Cee Lo Green' and there was just this enormous 'boooo.' That was one of the highlights for me."
Antagonizing one of the fan bases -- the home team fan base -- will usually do the trick but apparently the booing was rather universally shared among the Rangers and Islanders fans at Yankee Stadium. It's not like those two fan bases see eye to eye on much.
So when the Bronx cheer starts raining down in the Bronx, that's when the birds come flying from their nest, apparently. This really gives new meaning to the original title of his hit song Forget You (check the uncensored version of the song and there you go).
For what it's worth, CeeLo tweeted during the game and said he was having a blast, even if it didn't exactly show.
It's freezing out here but I'm loving performing at @CoorsLight's @NHL #StadiumSeries in NYC! pic.twitter.com/vtPWIqf8pl

— CeeLo Green (@CeeLoGreen) January 30, 2014
Everything about the NHL's Stadium Series has been a hit so far. This might be the only blemish for the wildly successful and profitable endeavor from the league.
Intrigue is high in Arizona after a wild offseason, but expectations should still be tempe...

Players are set to give personalized messages for Adidas' former hockey equipment brand

The 40-year-old center is returning to the Wild after a successful run in Pittsburgh
Edmonton locks up its 21-year-old RFA a month after McDavid's historic extension

Even with a new coach and added veteran help, the Canucks have a long road ahead

Unlike expansion teams before them, the Knights have enough talent to entertain right away