PHOTO: Constitution nixed from US women's goalie mask per IOC rule
The mask for USA women's goalie Jessie Vetter had to undergo a change before the Games, removing the Preamble to the Constitution per IOC rules.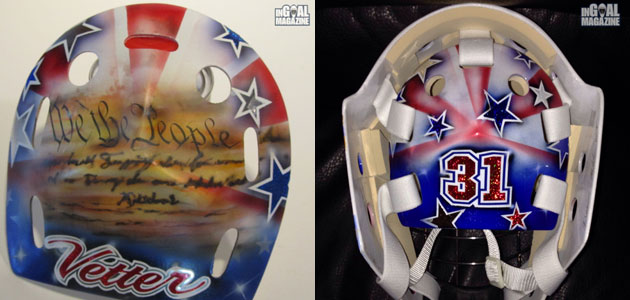 More NHL: Scores | Standings | League Leaders | Odds | Injuries | Power Rankings
In case you haven't noticed, we like goalie masks around here. They are unique and an awesome source of artistry as well as character. They're just pretty cool.
The mask that USA Women's goalie Jessie Vetter had commissioned for the Olympic Games in a couple weeks in Sochi was no different. If you're an American, you couldn't help but feel a swell of patriotic fervor when seeing the mask, which was decked out in red, white and blue and on the back plate had the Preamble to the Constitution laid on top of her last name. It was pretty sweet.
The key word in that last sentence is "was" because her mask won't look the same when the Games begin. The IOC won't allow for the Preamble to remain on the mask, nor her last name or the Olympic rings she had on the chin so all that has been changed.
From Kevin Woodley of InGoal Mag:
"No writings of any kind to promote the country is allowed," [artist Ron] Slater explained in an email to InGoal. "A sort of 'our country is better than your country' kind of thing that the IOC frowns upon. Her name had to come off because they see it as self promotion. They wanted everything to be team based. ... Our original idea was 'land of the free, home of the brave,' and that would have had to have been removed as well."

At least Vetter and Slater got to keep the USA logo on the left side of the mask, which was made with real 23 karat gold leaf embossing. If that logo had been an official USA Hockey logo, it too would have been removed. But because it is the logo the American men's and women's teams will wear on their jerseys at the Sochi Games (which also can't be an official USA Hockey logo), it got to stay. So too did the Statue of Liberty on the forehead, which along with he eagle on the right side maintains a patriotic feel of a still great looking lid.
IOC, you have some wacky, wacky rules. Why the official hockey logo isn't allowed but the unffocial one seems strange, as does why words from the US Constitution had to go because they are seen as propaganda-ish while a bald eagle with a gold beak is not doesn't make a ton of sense.
But rules are rules and as a result Vetter has a new-look mask. It might not have the Constitution on the back plate any more but you know, it's still a pretty awesome-looking design. The backplate before and after is at the top and this is how the sides look (which didn't have to be altered).

S/t Puck Daddy
CBS Sports HQ Daily Newsletter
Get the best highlights and stories - yeah, just the good stuff handpicked by our team to start your day.
Please check the opt-in box to acknowledge that you would like to subscribe.
Thanks for signing up!
Keep an eye on your inbox for the latest sports news.
Sorry!
There was an error processing your subscription.
Reigning Hart Trophy winner Taylor Hall comes in tied for fourth with three other players

Sekera, 32, missed half of last season while recovering from a torn ACL

Ellis, 27, taking a team-friendly deal helps the Predators to keep their impressive top-four...
The team will wear the jersey on a limited basis in 2019-2020

Larkin is poised to take the reigns from Henrik Zetterberg in the not-too-distant future

Imagining what each NHL team would look like if it morphed into another company