Photo: Don Cherry has a mini-me in Winnipeg
Don Cherry has a miniature look alike running around Winnipeg tonight.
More NHL: Scores | Standings | Odds | Fight-O-Meter | League Leaders | Rumors
Winnipeg must be really excited just to have Hockey Night in Canada back in town these days. However, there's probably nobody in the entire province of Manitoba more excited than this young Canadian.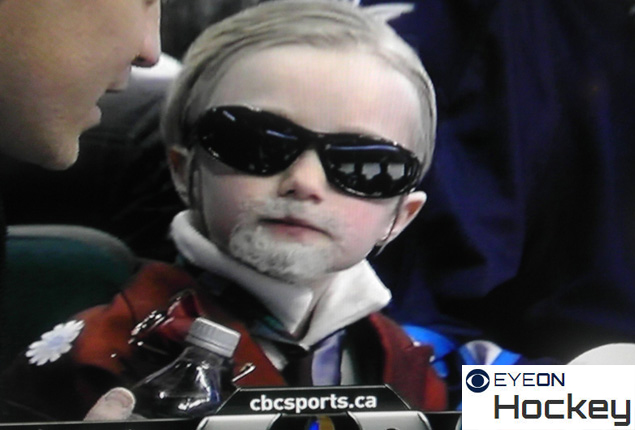 Yes, that's right. That's miniature Don Cherry. The HNIC cameras caught the youngster for just a brief second before cutting to commercial midway through the second period of the broadcast of Friday night's game between the Winnipeg Jets and Pittsburgh Penguins.
The most famous hockey player in the world is playing in Winnipeg for just the second time ever, yet this youngster has chosen to dress up as a 79-year-old who shouts for a living. Oh, Canada.
For the record, mini-Don looks magnificent, right down to the to-scale goatee. Bawango.
UPDATE: Mini-Don Cherry is actually a young lady who won a Don Cherry look-alike contest. Her prize was seats to this game and a chance to meet Hockey Night in Canada's Ron MacLean and the "real" Don Cherry.
For more hockey news, rumors and analysis, follow @EyeOnHockey and @chrismpeters on Twitter and like us on Facebook. Also, subscribe to our YouTube Channel.
The league's GMs want goalie interference to be determined by the situation room in Toront...

Donato was signed to the Bruins on an entry-level contract Sunday

Erik and Melinda Karlsson announced they were expecting their first child back in November
This could have ended a lot worse for the Kings defenseman

Jay Inslee dropped the name of a Seattle hockey team this week, but was it intentional?

Nashville has to be favored to return to the Stanley Cup Final, but Columbus is suddenly on...