PHOTO: Edmonton Oilers pull off the Flying V
The Flying V? In an NHL game?? Thank you, Oilers!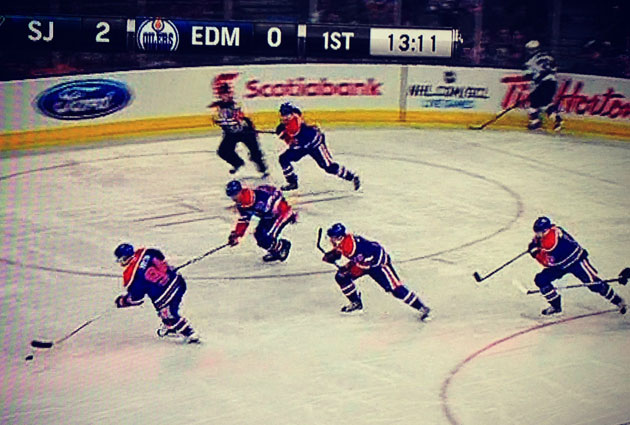 The Oilers come up the ice in the vaunted Flying V. (imgur)
More NHL: Scores | Standings | Odds | Fight-O-Meter | League Leaders | Rumors
The Mighty Ducks movies are as old or older than seemingly half of the Edmonton Oilers roster, but the team's players have apparently been studying the movies to come up with defensive zone exit strategies.
Yes, that would be the Oilers in their 6-3 loss to the San Jose Sharks on Tuesday night coming up the ice in the vaunted Flying V formation made famous by the Mighty Ducks (the ones with Goldberg in goal, not the ones from Anaheim).
There is one and only one response to this: Quack!
The Oilers were able to move the puck up ice effectively, creating a scoring chance. I'd like to say it was because they were executing the Flying V, but it probably had more to do with numbers as you can see some Sharks stuck behind the play.
Wait, I take that back. It had to be the V. After you watch video of the whole play unfolding (via SB Nation), you can clearly see they didn't score because they didn't hold the V formation. Silly Oilers.
Now all I need to see is the knuckle-puck and I will call it a career.
S/t to Reddit Hockey
For more hockey news, rumors and analysis, follow @EyeOnHockey and @StubitsCBS on Twitter, subscribe to our YouTube account and like us on Facebook.
Los Angeles isn't rushing to sign the 45-year-old forward any time soon

The University of Denver star and Hobey Baker Award winner is drawing interest

Intrigue is high in Arizona after a wild offseason, but expectations should still be tempe...
Players are set to give personalized messages for Adidas' former hockey equipment brand

The 40-year-old center is returning to the Wild after a successful run in Pittsburgh

Edmonton locks up its 21-year-old RFA a month after McDavid's historic extension