PHOTO: Ilya Bryzgalov debuts mask his kids helped make
Ilya Bryzgalov finally debuted his new Oilers mask on Sunday, a mask his children helped design with a pair of drawings painted on.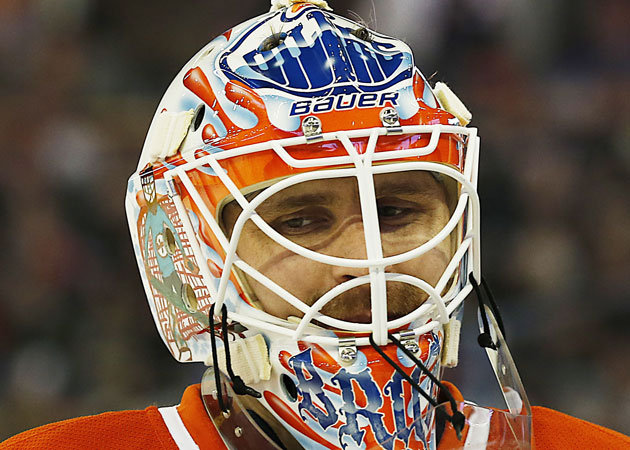 More NHL: Scores | Standings | League Leaders | Odds | Injuries | Power Rankings
There wasn't a lot of time between when Ilya Bryzgalov signed a contract with the Edmonton Oilers and when he made his debut for the big club, so he didn't exactly have a lot of time to get the standard goalie preparations made.
Of course that includes the equipment and no goaltender in the NHL today has a complete set of equipment until he has a personal mask to sport. In the absence of one, Bryzgalov has just been wearing a plain white cage but on Sunday colorless look went by the wayside for one of the NHL's most colorful characters.
Bryzgalov debut his new mask with the Oilers logo on top and an orange oil splash in the middle of the mask with Bryz written on the chin. Where it takes on an excellent personal touch is by the ear holes where Bryzgalov's children provided the pictures to be painted on the mask by artist Stephane Bergeron.
Here's a cloer look, photo courtesy of Griffe Airbrush (Griffeoriginale.com, where you can see more of Bergeron's work) via InGoal Mag.
On the right side of the mask is a drawing of a goaltender holding down the fort in net (a pretty skinny goalie, I might add, he might need some new pads) and on the left side of the mask there is a Sochi Olympics theme back in Bryzgalov's native Russia.
Maybe if Bryzgalov's children don't follow in his footsteps as goaltenders, perhaps they can gravitate toward mask art down the line.
The Oilers' young star remains seriously unfair

David Kelly, a Toronto-born hockey analyst, has strong advice for Edmonton vs. Chicago game...

Gary Bettman says otherwise, for the time being, but Houston could be primed for a team
Here's what you might have missed across the NHL on Wednesday night

Ovi breaks down doors in Virginia

Winger also says he will no longer raise a fist during the anthem after his protest started...