PHOTO: Jonas Gustavsson has his mask for the Winter Classic
Red Wings goalie Jonas Gustavsson is about set for the Winter Classic with his mask just for the game, a truly classic look.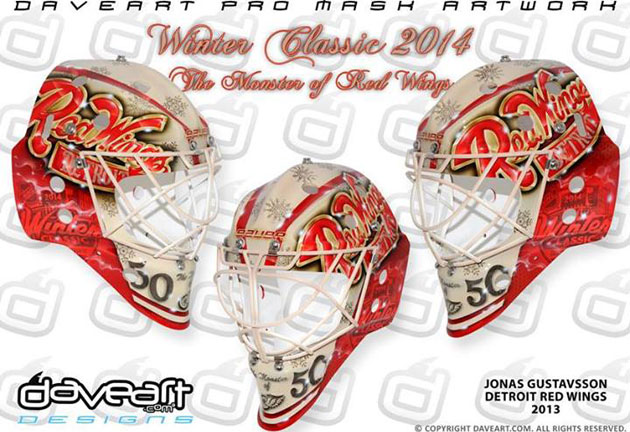 More NHL: Scores | Standings | League Leaders | Odds | Injuries | Power Rankings
The Winter Classic is approaching faster than a Dion Phaneuf slap shot and so is the gear for the game.
Already we have seen the mask that Maple Leafs goalie Jonathan Bernier will don for the outdoor game at Michigan Stadium and it's a pretty awesome ode to pond hockey. On Tuesday we got a look at Red Wings goalie Jonas Gustavsson's mask and there's no denying it looks very Winter Classic-y.
On the top of the mask stretching from front to back is a stretch with snow flakes, flanked on either side by an old style Red Wings script logo and embedded in the red below that is the Winter Classic logo.
This mask, like so many, is designed by Swedish artist Dave Gunnarsson. He shared the mask on Facebook with the following additional description.
It was so exciting to create this very unique #NHL piece. The design is created in a very old school style, loaded with the history of #DetroitRedWings. I just love to paint and create in old school style.

The design is created so it works in 360 degrees and both on a distance as up close, and in total sync with Red Wings Winter Classic uniform.
Simply, it's a classic look, no pun intended. It should look fantastic with the Red Wings' sweaters for the Winter Classic.
Gustavsson is the backup to Jimmy Howard in Detroit but has been receiving a fair amount of playing time this season and even more lately after Howard went down with injury that has his status as questionable for the game on Jan. 1.
Players are set to give personalized messages for Adidas' former hockey equipment brand

The 40-year-old center is returning to the Wild after a successful run in Pittsburgh

Edmonton locks up its 21-year-old RFA a month after McDavid's historic extension
Even with a new coach and added veteran help, the Canucks have a long road ahead

Unlike expansion teams before them, the Knights have enough talent to entertain right away

Brian Lawton says he 'would not be surprised' if Boston deals its young star to end contract...