PHOTO: Kari Lehtonen's new mask adopts Stars' new look
Kari Lehtonen has had some pretty incredible masks in the past but he's keeping it simple this time, going with the re-branded Stars look.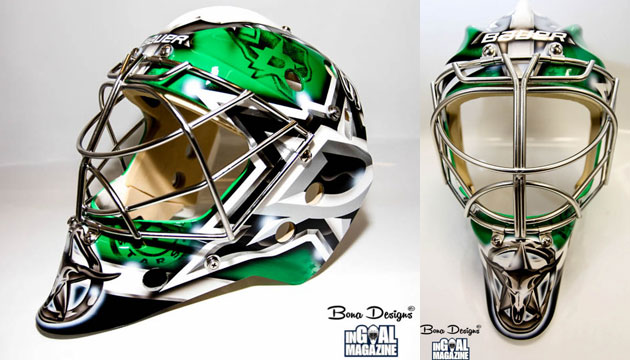 More NHL offseason: Rumors | Top 50 Free Agents | Buyout Tracker | Trades | Transactions
The Dallas Stars unveiled their new look for the franchise earlier this summer with a new shade of green serving as their primary color to go with a new logo and, of course, new uniforms. Kari Lehtonen is getting in the spirit.
The goalie has his new mask for the upcoming season and it's very heavy on the new Stars look. He's going all in on the branding it seems so Lehtonen can never have his team-first mentality questioned now, right?
While the mask is relatively plain in terns of cages these days, it will serve the above purpose, whether it was intended to or not. The team has a new look so the first mask will take on the new look and stay simple, though it's not completely without some touches. While it certainly ties in with Texas, I do like the small, somewhat personal touch on the front with the longhorn; it almost looks devilish. Considering his Tombstone mask last season, it's minor but it's still unique. By the way, don't take that as me bashing the new mask, not at all. It's really sharp, just noting that it's pretty straight forward.
Interestingly enough, the mask is done by a former teammate of Lehtonen's way back when while still playing in Finland, Joni "Bona" Hallikainen (from InGoal Magazine). It was his injury that opened a door for Lehtonen to play. Mask artist seems to be an appropriate landing spot for a former goalie, doesn't it?
Players are set to give personalized messages for Adidas' former hockey equipment brand

The 40-year-old center is returning to the Wild after a successful run in Pittsburgh

Edmonton locks up its 21-year-old RFA a month after McDavid's historic extension
Even with a new coach and added veteran help, the Canucks have a long road ahead

Unlike expansion teams before them, the Knights have enough talent to entertain right away

Brian Lawton says he 'would not be surprised' if Boston deals its young star to end contract...