PHOTO: Manti Te'o's girlfriend takes in Dallas Stars opener
The Dallas Stars caught a special guest on their video screen Saturday: the girlfriend of Manti Te'o.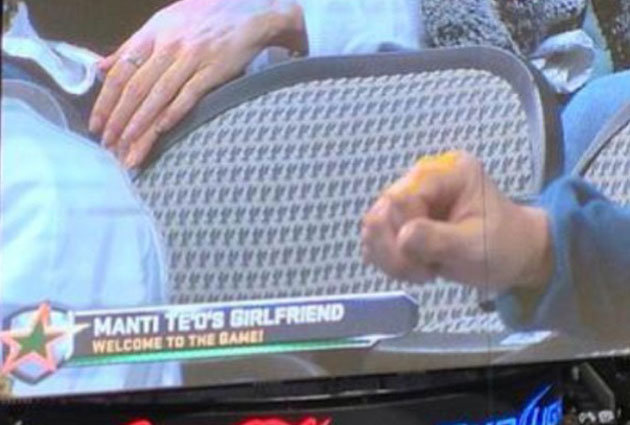 Now that I think about it, she attended a lot of games last season in Dallas, too. (via ErinBrinson on Instagram)
Oh, those Dallas Stars, they've done it again.
While most fans were busy watching Jaromir Jagr dazzle in his debut with the Stars during a 4-3 win over the Phoenix Coyotes, there was one special fan the big screen caught who didn't appear to be keeping their eyes on the ice.
Our cameras at AAC are sharp! They just caught Manti Te'o's girlfriend in section 125 on the jumbotron!

— Dallas Stars (@DallasStars) January 20, 2013
Ouch!
This comes on the heels of the Stars responding to the Dallas Cowboys and burning them over Tony Romo after an "inadvertent" tweet from the NFL team saying nobody cares about hockey.
Yes, Texas is and will always be a football state, and apparently the Stars are trying to use that to their advantage. Either that or they just have some really snarky people in the organization. Probably the latter.
In case you've been living under a rock or just too wrapped up in the return of the NHL, here's the latest on the bizarre Te'o story.
S/t to Will Brinson
For more hockey news, rumors and analysis, follow @EyeOnHockey and @StubitsCBS on Twitter and like us on Facebook.
The University of Denver star and Hobey Baker Award winner is drawing interest

Intrigue is high in Arizona after a wild offseason, but expectations should still be tempe...

Players are set to give personalized messages for Adidas' former hockey equipment brand
The 40-year-old center is returning to the Wild after a successful run in Pittsburgh

Edmonton locks up its 21-year-old RFA a month after McDavid's historic extension

Even with a new coach and added veteran help, the Canucks have a long road ahead