PHOTO: Marc-Andre Fleury's helmet will make him look like a Steeler
Marc-Andre Fleury has his mask for Saturday's Stadium Series game at Soldier Field and he'll fit right in on the gridiron with his take on the Steelers' helmet.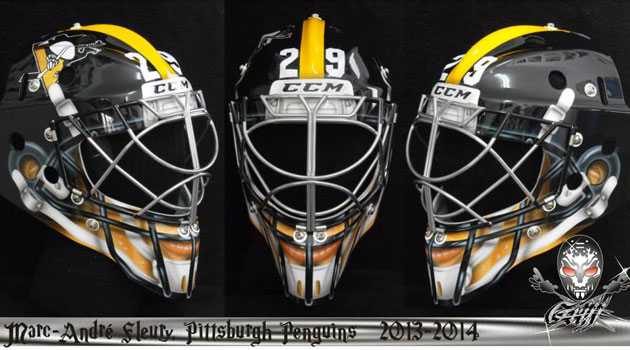 More NHL: Scores | Standings | League Leaders | Odds | Injuries | Power Rankings
One of the cool things about Pittsburgh's professional sports teams is that they all share the same color schemes; black and yellow. This makes it easy for goaltender Marc-Andre Fleury to get an awesomely themed mask for the upcoming game at Soldier Field.
Seeing how the game against the Blackhawks will be played at the home of the NFL's Chicago Bears, Fleury drew inspiration from his city's NFL team, the Pittsburgh Steelers. Their iconic helmet with the logo on just one side hasn't changed at all over the years but Fleury is tweaking it for his purposes.
Specifically, his Stadium Series mask looks like the Steelers helmet on his head, just with the Penguins logo in place of the Steelers logo.
The mask from by artist Stephane Bergeron of Griffe Originale (you can visit their site or Facebook page) comes complete with Fleury's No. 29 on the front, the digits separated by the yellow bar that splits the black mask in half. And on the chin you can see that a facemask has been added to give it the full feel of a football helmet.
Not only that but beneath the mask is the bottom of a face, the buckled chin strap and on the side ears are drawn. Now Fleury just needs to let the flow go and he'll look like Troy Polamalu out there.
S/t InGoal Mag
NHL fans from all over seem to agree on one thing: Hating Kid Rock

The team tweeted on Monday that Shaw would be re-evaluated in 7-10 days

The Montreal forward was hospitalized after taking a Zdeno Chara slap shot to the head
Tampa Bay is still No. 1 and Vegas is still up there, but a few others are finally catching...

Army filed an opposition to the use of 'Golden Knights' on the last day that it was permitted...

The NBC rinkside reporter is hoping to return in time for the 2018 Olympics