PHOTO: Martin Brodeur's mask for 2013-14 will feature his dogs
Martin Brodeur is mostly keeping his classic mask design the same but it has a pair of new additions this year: his dogs Stan and Vez.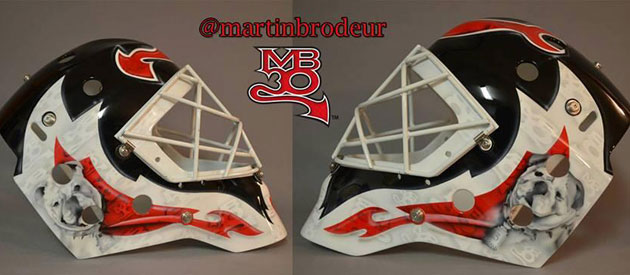 More NHL offseason: Rumors | Top 50 Free Agents | Buyout Tracker | Trades | Transactions
Martin Brodeur has been a beacon of consistency over the years: He has stayed with the New Jersey Devils through it all, he has been their No. 1 goalie and pretty healthy for the duration and simply nothing short of reliable. He also has had very little deviation from year to year on his mask designs, going with a look with the Devils logo to the point it's simply a classic.
As usual, his mask for the upcoming season was done by Sylvie Poitras/Airbrush Zap. However his cage this year will feature a new addition to the sides: His dogs. On one side you can find Stan and on the other Vez, a somewhat unusual personal touch to the usually vintage design.
There is another personal touch that you can't see in the picture above but that Brodeur tweeted out later, on the back of the mask.
The final piece of my new mask is on the back — I added an Old School Photography Film Strip as tribute to my Dad! pic.twitter.com/Bt6LajdzO7

— Martin Brodeur (@MartinBrodeur) July 29, 2013
Remaining on the top of the cage is the Jersey J from the Devils logo that is also seen running down the sides of the mask in white. It's tough to see above but there is also Brodeur's personal logo (featured in the center of the image) laid all throughout the mask in the background of the design.
A new look to his mask to go with a new role as the Devils goaltender; possibly a backup. With Cory Schneider coming in there's no telling who will be the starter at this point, at worst they will likely split the job. Things are a changing.
You can see more images of the mask at Poitras' site here.
Vegas isn't being quiet about its hot start to the NHL preseason

The blue-liners are set for another big push, but Edmonton's rise is hard to ignore in the...

Meanwhile, the Devils' Brian Boyle isn't sweating his recent cancer diagnosis
Limited-time Warriors-colored jerseys are apparently on the way in January

The 32-year-old forward tells the media he expects to be back on the ice for the Devils op...

It seems it's all as wild as it sounds, with Canadian actor Zack Ward heading a 'West Coast...