PHOTO: Nashville ice painted Predators gold for summer
The Predators are painting the ice at Bridgestone Arena in their gold color for the summer. Have no fear, it should be gone by preseason.
More NHL offseason: Rumors | Top 50 Free Agents | Buyout Tracker | Trades | Transactions
At different levels of hockey, we've seen the color of the ice change from time to time. The most common variation has come in the form of pink ice, dyed for good causes like breast cancer awareness. Here's an example from the Kalamazoo Wings of the ECHL.
Thus far, we haven't seen such shenanigans at the NHL level. But this summer, we are going to get a taste of what that might be like, courtesy of Bridgestone Arena in Nashville.
The home ice of the Predators is undergoing a summer makeover, the ice ditching white for a team-appropriate gold. Have a look (via @MeghanHunter20).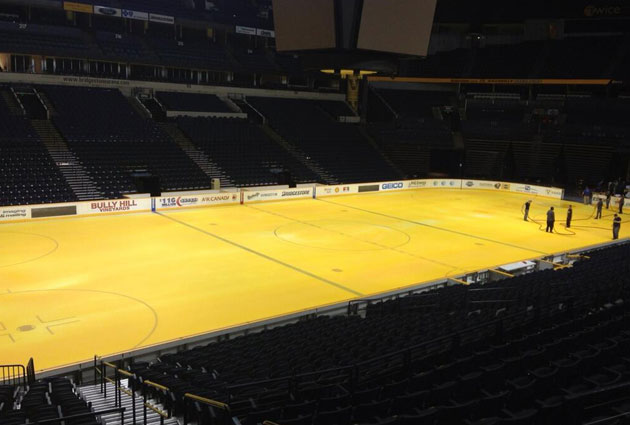 Well that's ... eye-catching. And yes, feel free to insert your urine joke here.
It's still not a finished product, and it's already a bit jarring to the senses. The ice should take on its new color completely very soon.
Don't worry. The ice won't stay this shade of Predators gold/mustard yellow for too long. It's the summer, so the Preds are having a little fun, experimenting with the ice. A team spokesperson explained it's part of the organization's attempts to "Goldenize" the franchise, something that people will get to see in public skates over the summer.
As of now, there are no plans for the ice to remain gold even into the preseason. So, really, this just amounts to a "What If" scenario. What if NHL teams were to dye the ice in their colors? We know what it would look like in Nashville now. I guess it would be harder for teams to defend the Predators ... they would blend right into the ice.
Joffrey Lupul spent last season on long-term IR but seems to be saying he's healthy

Early playoff trouble has been evident, but the Wild tout an offense capable of making another...

Why walk with skate guards when you can rollerskate instead?
This will not leave your memory any time soon

Vegas isn't being quiet about its hot start to the NHL preseason

The blue-liners are set for another big push, but Edmonton's rise is hard to ignore in the...