PHOTO: Ned Flanders returns to Peter Budaj's mask, and he's mad
Peter Budaj's goalie masks always seem to feature Ned Flanders and his one has the 'Simpson's' character front and center. And angry.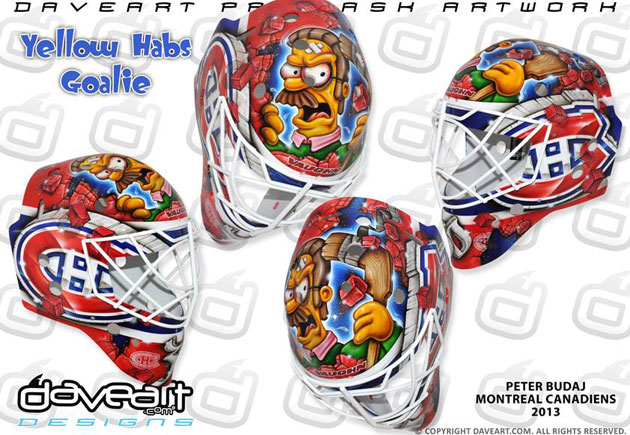 More NHL: Scores | Standings | League Leaders | Odds | Injuries | Power Rankings
Over the years, Peter Budaj's mask has always found a spot for The Simpson's friendliest neighbor that ever lived, one Ned Flanders. Budaj's masks have the general motif of his team but Flanders would find himself a spot somewhere, most often on the back plate.
Budaj's new mask with the Canadiens is no exception. In fact, Ned Flanders is right in the gosh darn iddly, diddly middle of the mask and he's fed up. Beware of angry Flanders. You wouldn't like him when he's angry.
The mask, like the previous incarnations that included Stupid Sexy Flanders, was done by Swedish artist Dave Gunnarsson.
This is Budaj's third seasonin Montreal serving as the backup to Carey Price for the Canadiens. He has appeared in six games this season with a 4-1-1 mark and an excellent .939 save percentage and 1.63 goals against average in his limited action. Maybe that's why Flanders is so mad.
See other goalie masks that have been released.
This will not leave your memory any time soon

Vegas isn't being quiet about its hot start to the NHL preseason

The blue-liners are set for another big push, but Edmonton's rise is hard to ignore in the...
Meanwhile, the Devils' Brian Boyle isn't sweating his recent cancer diagnosis

Limited-time Warriors-colored jerseys are apparently on the way in January

The 32-year-old forward tells the media he expects to be back on the ice for the Devils op...