PHOTO: Pekka Rinne's new mask features a Facehugger from 'Alien'
Pekka Rinne is a Predator but he turned to 'Alien' for his new mask design that features a Facehugger on the front.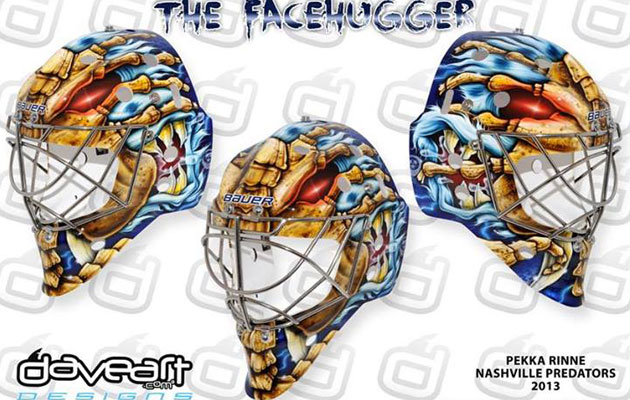 More NHL offseason: Rumors | Top 50 Free Agents | Buyout Tracker | Trades | Transactions
Pekka Rinne is the Predators' goalie but he has turned to Alien for his new mask.
The Perds' Preds' No. 1 man has his new cage that was painted by Dave Gunnarsson and it's out of the world. Sort of. Remember those Facehuggers in the movie Alien? Well one of them is stuck on Rinne's mask, hugging his face apparently.
Gunnarsson expalined on his Facebook page.
Is Pekka Rinne a badass goalie or what ...? Even though he has a facehugger stuck in his predator face, he just keep on playing, nothing can stop this dude! He use the facehugger as his goalie mask!

Watch out so this facehugger doesn't attack you, I don't think it´s so comfortable to have that in the face ...
Indeed, Rinne is a bit of a badass and the concept is pretty cool, though it is hard to tell with the majority of the body of the Facehugger gone where the mask opens.
It's relatively similar in design to Rinne's masks before where there was a monster behind the mask, but this one takes a little different approach. Still find it interesting that a Predator goes with an Alien. I always thought they battled each other.
With Artemi Panarin in the mix and a Vezina winner headlining the defense, Columbus can be...

The league's crackdown on faceoff infractions and slashing penalties isn't without some cr...

Joffrey Lupul spent last season on long-term IR but seems to be saying he's healthy
Early playoff trouble has been evident, but the Wild tout an offense capable of making another...

Why walk with skate guards when you can rollerskate instead?

This will not leave your memory any time soon