PHOTO: Ray Ferraro proves coffee between benches is a bad idea
Drinking coffee while working between the benches of an NHL game is not advisable as Ray Ferraro proved Tuesday night.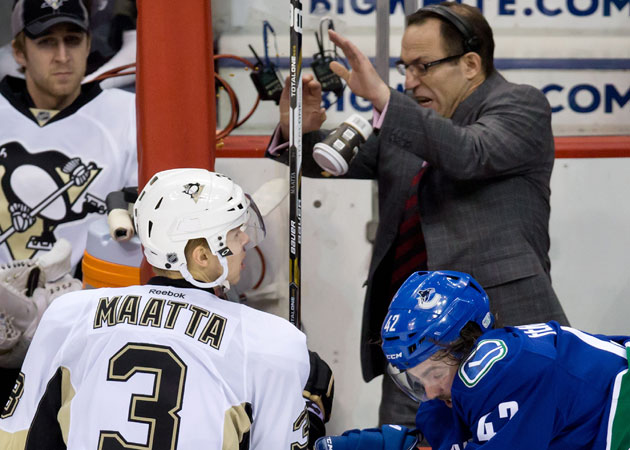 More NHL: Scores | Standings | League Leaders | Odds | Injuries | Power Rankings
There are few better places to watch a hockey game from than right between the benches. You're in the middle of the action and can not only see everything but hear everything as well.
It's just probably not the best place to enjoy a cup of coffee, especially when there's an NHL game being played mere feet away. TSN broadcaster and retired NHL player Ray Ferraro learned that on Tuesday night in the awesome game between the Penguins and Canucks.
I needed that coffee! And not a drop on me!! "@radiocodex: @rayferrarotsn Man, what a shot! http://t.co/eqNeBsZSyv"

— Ray Ferraro (@rayferrarotsn) January 8, 2014
The sheer horror on Ferraro's face is priceless, especially when compared to the completely stoic look on the face of Penguins backup goalie Jeff Zatkoff on the other side of the glass. It's almost like he didn't play more than 1,200 games in the NHL.
Just a guess, but if Ferraro were an air traffic controller, I don't think he'd give Maverick permission to buzz the tower.
Now there's video of the coffee flying away.
The NHL says it's only interested in expanding to Seattle, but here's a look at all the moving...

The NHL says it is only looking toward Seattle for the next expansion team

The 33-year-old defenseman hopes to help find a cure for serious head injuries in athletes
Chicago becomes the latest NHL club to earn an evaluation of $1 billion or more

The city council has approved a $600 million redevelopment project for KeyArena

Arvidsson took off his glove to reveal an engagement ring for one lucky fan