PHOTO: Sabres' new 'Turd Burger' jerseys make their debut
The Buffalo Sabres went ahead with wearing their Turd Burger jerseys on Sunday and they don't look much better on the ice than they did before.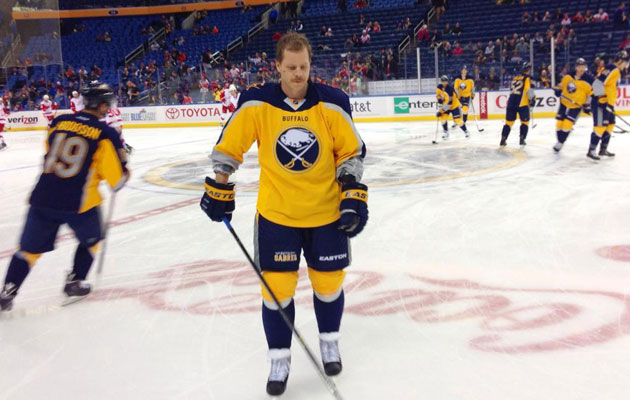 More NHL: Scores | Standings | League Leaders | Odds | Injuries | Power Rankings
Despite the overwhelming negative reaction to the reveal of Buffalo Sabres Turd Third jersey, the franchise went ahead with debut the sweaters on Sunday against the Detroit Red Wings. If you were hoping that perhaps they would look better on the ice, stop. They don't.
Look at the picture above, those players are on the same team. Some look like they are wearing gold, some like they're wearing blue but it's the same, dual-color sweater. It just can't decide what color it should go with ... anywhere on the design.
Then there is this: Take note that Steve Ott is front and center in that photo. What is there to know about Steve Ott? He is the Sabres' captain. Look closely and you'll see this is indeed marked on the sweater, but the C is sitting on his shoulder like a number on a football jersey, not a C on a hockey sweater. Just doesn't look right.
While there are some who aren't completely repulsed by this concoction, I'm not one of those. From the block script "Buffalo" above the team crest on the front (seriously, do you really need both?) to the other interesting color choices to the potentially cool captain logos being placed onto the shoulders, it's just not working.
There is a reason why these sweaters will be known as the Turd Burger sweaters for as long as they are in use, because Sabres president Ted Black said that if the jerseys are indeed a turd burger, he'll just have to eat them. Well, get ready to chow down, Ted.
Making the sweaters all the worse is seeing them debut opposite the iconic Winged Wheel of Detroit.
The bottom line on the NHL's proposed playoff expansion is all about the bottom line

Ovechkin is also the sixth player to score 600 goals with one team

Nashville's 10-game win streak is over, but the defending conference champs are still roll...
SportsLine's Mike McClure, a DFS pro with more than $1M in winnings, gives optimal lineup...

Marchand, possibly facing another suspension, isn't having a great week

The defending Western Conference champions have now won 10 straight with the playoffs appr...