PHOTO: Saku Koivu given awesome chair as gift from Canadiens
Former Canadien Saku Koivu plays one more game in Montreal on Thursday and to honor him the Habs left the Ducks forward an awesome chair as a gift.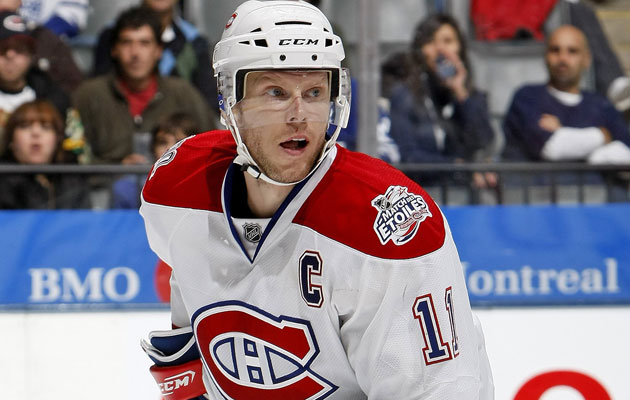 More NHL: Scores | Standings | League Leaders | Odds | Injuries | Power Rankings
The Ducks will visit Montreal on Thursday and for one time this season, it's not so much about Teemu Selanne's visit to another city as it is one of his teammates.
Saku Koivu was a member of the Canadiens for a long time, playing from them from his rookie year in 1995-96 through the 2008-09 season before moving on to Anaheim. He was the captain for years and was an all-around great Canadien.
So to show their appreciate for Koivu coming through Montreal once again, the Habs left a little gift for their former captain at the arena this morning.
Saku Koivu has to find a way to bring this back to Anaheim. Gift from The Habs waiting in Ducks dressing room #Ducks t.co/wy58WMHLZb

— Lisa Hillary (@LisaHillaryTV) October 24, 2013
That might be the coolest, most unique gift I've ever seen a player receive. Surely it beats a watch on the creativity scale, doesn't it? I hope it's as comfortable as it is cool.
As it stands now, Koivu is sixth all-time in Canadiens history with 450 assists and is 10th with 641 points. He had an excellent career with the Habs. But for what it's worth, Koivu doesn't think his No. 11 belongs in the hallowed rafters in Montreal.
Los Angeles isn't rushing to sign the 45-year-old forward any time soon

The University of Denver star and Hobey Baker Award winner is drawing interest

Intrigue is high in Arizona after a wild offseason, but expectations should still be tempe...
Players are set to give personalized messages for Adidas' former hockey equipment brand

The 40-year-old center is returning to the Wild after a successful run in Pittsburgh

Edmonton locks up its 21-year-old RFA a month after McDavid's historic extension