PHOTO: Semyon Varlamov has a new mask with zombie snowmen
Avalanche goalie Semyon Varlamov has himself a new mask design that still has the snowball to the face effect but now includes zombie snowmen.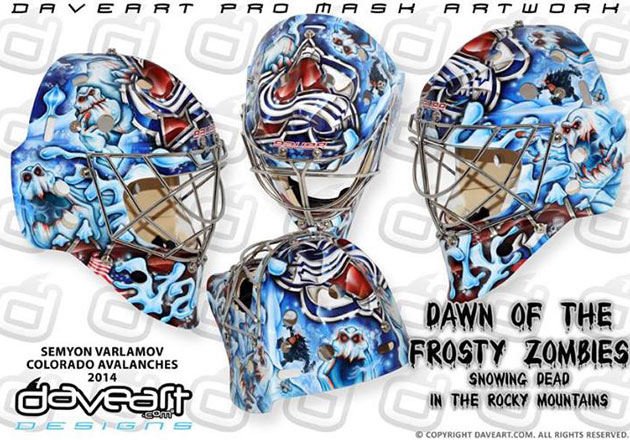 More NHL: Trades | Scores | Standings | League Leaders | Odds  | Power Rankings
Since he joined the Colorado Avalanche, Semyon Varlamov has had a running theme on his mask designs. Specifically, it looks like he's getting hit in the face with a snowball, or almost like there's an avalanche taking place. It is then accomapnied by a little more imagery of something mystical and a touch of his native Russia.
He has a new mask, presumably for the remainder of the season and the playoffs, and it sticks with those themes. The addition this time? Zombie snowmen. Because, you know, the Walking Dead is so hot these days (I think?).
Designed by Dave Gunnarsson, he talked about some of the unique aspects in unveiling the mask on his Facebook page.
They are coming all over, and they seems to have a very bad breath because it is coming out some kind of smoke from their mouths ...

Hey one of the Frosty Zombies seems very, very hungry, he just took a bite from the Avs logo, he looks a bit confused ...

And one of the Zombies has a patch on him, he must have put on that before he was transformed into a zombie, because I do not think any Zombies put on patches ...

And hey check out in the background, one of the mountains is transformed into the famous Russian church Vasilij Cathedral, as a tribute to Varlamov´s mother country.
In the past he has had a Yeti and an evil snowman and other features. Zombified snowmen seems to work just as well.
Stacia Robitaille says Donald Trump told her in an elevator that she was coming home with...

Vladislav Yeryomenko was the Teddy Bear Toss goal scorer for the Calgary Hitmen

The Golden Knights are finally getting their No. 1 goalie back after a 25-game absence
Washington has won four straight, and the Kings are also on a tear right behind the Lightn...

The NHL says it's only interested in expanding to Seattle, but here's a look at all the moving...

The NHL says it is only looking toward Seattle for the next expansion team