PHOTO: Seth Jones Avalanche jersey for sale on eBay
Why, yes, you can get your piece of almost history. A Seth Jones Avalanche jersey is up for sale on eBay. Talk about jumping the gun.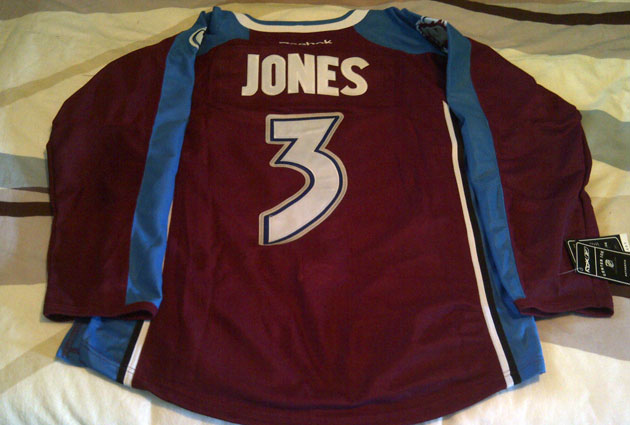 More NHL offseason: Rumors | Top 50 Free Agents | Buyout Tracker | Trades | Transactions
Hot off the presses, get your Seth Jones Colorado Avalanche jersey!
What does one do with a jersey that never actually came to be, the above jersey the perfect example? Sell it on eBay, of course. Yes, you can buy a piece of almost history for the low price of $99 (plus $11.99 for shipping and handling). Making it even better, apparently, is that it's a knock-off.
Jones was supposed to be the No. 1 draft pick. That was the forecast for most of the year. Teams at the bottom of the barrel were in full on Stink for Seth mode. The worst team had the best shot of picking the franchise-altering defenseman.
So when the Colorado Avalanche won the lottery and the right to select first in the draft, it seemed like a foregone conclusion that Jones would be going to the Avalanche. It was a perfect story as he spent time in Denver growing up with his basketball father Popeye, who spoke with Joe Sakic about getting his son into hockey.
It was so perfect, there was no way it wasn't going to happen. It was so destined to happen that one Avalanche fan jumped the gun and got a Seth Jones No. 3 Avalanche jersey, presumably feeling great with his/her latest acquisition. Money well spent.
Then something happened. The Avs started talking about taking Nathan MacKinnon, and on draft day they held firm on their promise. Jones fell all the way to the fourth pick, where the Predators happily scooped him up. That left the Avs fan with a Seth Jones jersey and no Seth Jones on the team.
Yup, this is a must-have item.
Vegas isn't being quiet about its hot start to the NHL preseason

The blue-liners are set for another big push, but Edmonton's rise is hard to ignore in the...

Meanwhile, the Devils' Brian Boyle isn't sweating his recent cancer diagnosis
Limited-time Warriors-colored jerseys are apparently on the way in January

The 32-year-old forward tells the media he expects to be back on the ice for the Devils op...

It seems it's all as wild as it sounds, with Canadian actor Zack Ward heading a 'West Coast...