PHOTO: Teemu Selanne mobbed by fans before final Winnipeg game
Teemu Selanne's farewell tour gets a big one out of the way early. On Sunday he will play his final game in Winnipeg, where fans camped out to see him Saturday night.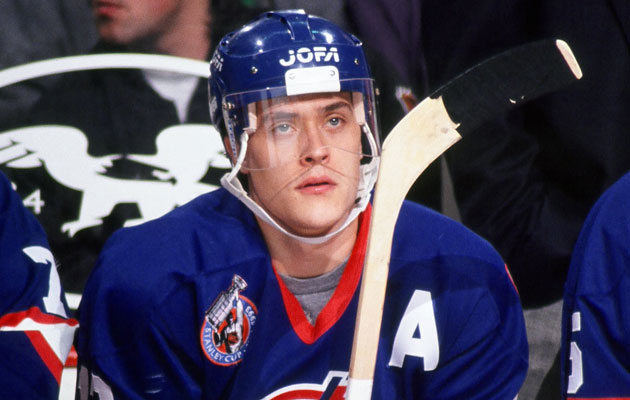 NHL previews: Atlantic Division | Metropolitan Division | Central Division | Pacific Division
There are only three games on the NHL schedule for Sunday, a pretty light fare after the season ramped up into action this past week. Among those three games is the Anaheim Ducks visiting the Winnipeg Jets.
Interesting matchup? Not particularly. The teams are conference foes for the first time ever with Winnipeg's move to the West. It doesn't seem to be much more than a regular meeting between two non-divisional foes.
But lest we forget about the Teemu Selanne factor. Unless the team two teams meet in the playoffs (let's be real; that's incredibly unlikely to happen), this will be Selanne's last game in Winnipeg, the place where his incredible career began and where he is still held in the highest esteem. Don't take my word for it, just look how many fans waited on a cold Saturday night (are there any other kind of nights in Winnipeg?) to see Teemu outside the Ducks' hotel. And how the always awesome Teemu obliged.
Winnipeg is excited to see Teemu! This was the crowd waiting outside the #NHLDucks hotel tonight. pic.twitter.com/Dri0xHFxOl

— Anaheim Ducks (@AnaheimDucks) October 6, 2013
Reports are Selanne was signing autographs and posing for photos from 1-1:30 a.m. outside team hotel in the 'Peg. #teemuforever

— Eric Stephens (@icemancometh) October 6, 2013
With Selanne announcing this will be his last season, he gets to have a true farewell tour and as one of the best and most well-respected/well-liked players of the past two decades, he's going to get a warm welcome everywhere he goes. Nowhere, though, will it be as welcome as Winnipeg.
Despite the odds of it happening being longer than Teemu's career, fans in Winnipeg held out hope that maybe, just maybe, the greatest active Jet would return to Winnipeg for his final season, not Anaheim. Obviously that didn't happen so instead Sunday night will be the last time Teemu returns to Winnipeg. It's going to make for an emotional night, surely.
"I went there as a young kid and the whole city took me in like I was one of their own," Selanne said (via Eric Stephens, OC Register). "It's overwhelming. It's hard to describe and understand really how everything happened there. It's 'Friendly Manitoba.'"
Selanne only played three and a half seasons for the Jets, starting in 1992-93. His rookie campaign, though, was something to behold. He finished with a league-best 76 goals and 56 assists, easily winning the Calder Trophy. That one season alone was enough to make him a lasting legend in Manitoba.
The league's highest-paid player and Hart Trophy winner says his Penguins counterpart is No....

Defense is better and motivation shouldn't be lacking, but the Red Wings are still too cap...

The 45-year-old free agent is taking things patiently as September approaches
The playoff drought might not end immediately, but something is brewing in restocked Buffa...

Former Lightning standout will be guarding the net in style in 2017-18

Devils are still in rebuilding mode, but they have reason for hope thanks to young additio...