PHOTO: Was Flames' alternate sweater leaked by EA Sports game?
Did EA Sports leak an alternate sweater for the Flames featuring a script Calgary across the chest?
NHL previews: Atlantic Division | Metropolitan Division | Central Division | Pacific Division
The longtime slogan of EA Sports has been "if it's in the game, it's in the game." Perhaps the Calgary Flames' new alternate jersey is indeed in the game.
Icethetics might have dug up a new jersey for Calgary with the help of some fans of the game. Have a look: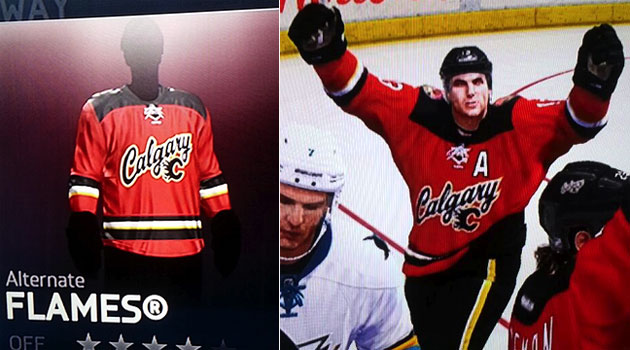 While the jersey is definitely different from what the Flames do wear right now, it's not a terribly big departure from their normal home sweater. It adds Calgary in script just above a smaller-scale version of the flaming C.
Adding a little of credibility to it is the shoulder yoke. Icethetics explains:
Check out the squared off shoulder yoke. It's one of the new styles Reebok unleashed on the NHL this year. We saw it on the new road jerseys for the Wild and Hurricanes. Makes sense that one of the new thirds would feature it.
There hasn't been a lot of talk about a new alternate jersey for the Flames, other teams usually make a big deal about that. Buffalo took that principle to the extreme. However just about every team has one and this one certainly looks and feels like a legitimate leak, how else would it be an unlockable feature in the annual hockey video game?
Though you'd think the A for Alternate captain would be the proper A. That's one of the cooler uniform features in the sport I think, how the Flames honor their past with the old Atlanta Flames logo on the sweater.
I do not love this leaked sweater but I don't hate it either. It certainly beats any potential black jersey, one which has been talked about for what feels like a long time.
If this indeed is a sneak peek, what do you think about the third sweater?
The decision would likely be met by anger from some fans, but it could also make sense

Toronto shoots to the No. 1 spot, just ahead of the Chicago Blackhawks

The Penguins' standout is at it again
Gary Bettman all but reverses course from his September comments on anthem demonstrations

The 'Washington Post' says many teams have stopped booking stays at Trump-owned properties

New Jersey has the long-term promise; Vegas is nothing like an expansion pushover