PHOTOS: Iconic players who finished their careers in different places
Daniel Alfredsson is hardly the only player who is an icon in one city that will finish elsewhere, other legends have had awkward finishes.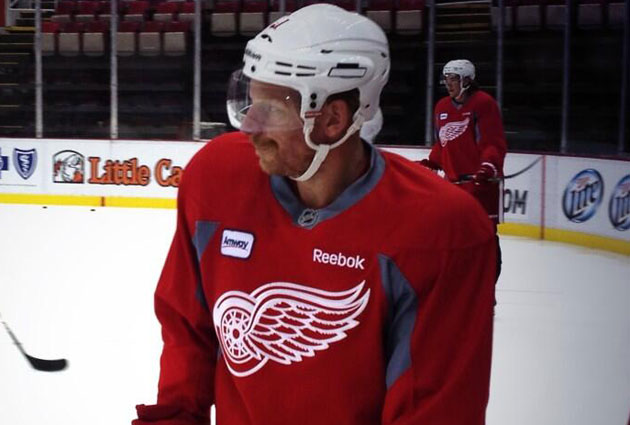 More NHL offseason: Rumors | Top 50 Free Agents | Buyout Tracker | Trades | Transactions
The lucky legends are the guys who get to go out on top, get to go out where they had their best years (or in the luckiest cases, where they spent their whole careers). It's almost a fairytale ending really for guys to begin and end their careers in the same cities and something that's rare in this age of free agency and salary cap concerns.
The best example of this right now is, of course, Daniel Alfredsson. The career-long Senators forward has what is believed to be one final season left to play, but it won't be in Ottawa like every other game of his career up to this point. Instead he signed with the Red Wings for his last hurrah.
It will be weird to see Alfredsson not only playing somewhere else but finishing somewhere outside of Ottawa, especially in a few years when we begin to truly look back at his career when the Hockey Hall of Fame comes calling. At that point his time in Detroit might look awfully silly. "Hey, remember that time Alfredsson was a Red Wing? Me neither!"
In honor of Alfie, if you will, today we're going to take a look at players who finished their careers in odd spots. This list goes longer, but I only have so much space and I tried to limit it to players who are identified with one or two franchises. Guys such as Adam Oates, Brendan Shanahan or Doug Gilmour, who bounced around a bit in their careers, don't exactly fit the bill; they were more mercenaries.
Bobby Orr, Chicago Blackhawks
The man many consider the greatest hockey player to ever play the game is a Boston Bruin. He won a couple of Stanley Cups in Boston, he had one of hockey's most famous plays ever in Boston and he won a record eight Norris Trophies in Boston.
But Orr finished in Chicago. He actually spent two seasons (technically) as a Blackhawk, playing 20 games in 1976-77 and then six more in 1978-79 before having to retire. Perhaps without knee surgery costing him a whole seasons and injuries leading him to early retirement, Orr might have made more than a cameo in Chicago. But with the way it turned out, that time as a Blackhawk at the end of his career just looks weird.
Ray Bourque, Colorado Avalanche
OK, so this one is a bit different, not exactly in the spirit of the rest on this list. Bourque is also a guy that was a Bruin for his whole career until the very end. He had some amazing years in Boston and is one of the best defenseman to ever play. But he finished with the Avalanche.
Again, this one is a bit different because people remember this one well; Bourque was traded by Boston for no other reason than to get him a Stanley Cup, which he did win with the Avs. Certainly people will never forget that Bourque played in Colorado given the Cup ceremony, but it still does seem at least a little odd.
Bobby Hull, Hartford Whalers
Bobby Hull, one of the great Blackhawks ever, right? And then Bobby Hull, Winnipeg Jets hero, right? Right on both accounts, yet he ended his career in neither organization.
Instead of finishing out his career with the Jets after they made the transition to the NHL from the WHA, Hull was traded to Hartford in 1980. He then proceeded to play a whopping nine games with the Whalers, scoring two goals and five assists, a rather odd footnote on the end of his career.
Brett Hull, Phoenix Coyotes
Like father, like son, right? Hull is another who had a few stops but cemented himself in each to make them memorable. He started in Calgary but was traded early to St. Louis, where he became a star and a franchise fixture. He then made stops in Dallas (where his Cup-winning goal will forever remind people of his days there) and Detroit, where he also won a Cup.
So you can forgive somebody if they don't remember where Hull played his last games of his NHL career (just after the lockout). In Phoenix. For five games. He only played two games at home and experienced only one win as a member of the Coyotes. It's almost like it never happened.
Borje Salming, Detroit Red Wings

An excellent defenseman for 16 seasons in Toronto, the Hall of Famer just couldn't quite finish it where it all began. Instead Salming had one last go-round with the Red Wings.
After 1,099 games in Toronto, Salming signed in Detroit as a free agent in 1989. He went on to play in 49 games with the Wings, recording two goals and 17 assists. After those 49 games his career was done and everybody went back to remembering him in Toronto.
Mike Modano, Detroit Red Wings

There seems to be a theme here with the Wings, now doesn't there? Modano is, of course, known for being a part of the Stars, from going first overall to Minnesota to winning the Stanley Cup in Dallas, Modano was a Star through and through.
That was until his final season, of course. Modano played 1,409 games with the Stars but wanted one more season while the Stars apparently did not. That led to the forgettable time of Modano in Detroit, where he played 40 games, tallying four goals and 11 assists. It was an even sadder finish when Modano only played two playoff games for Detroit. The look of him in a Wings sweater is just too weird.
Chris Chelios, Atlanta Thrashers
Here we go, one that worked the other direction for Detroit. Chelios is really identified with three teams across his career -- Canadiens, Blackhawks and Red Wings -- but it was such a long career, he had long and meaningful visits in each organization. There was no mercenary feel to it.
Then came the end of his career in Atlanta. At 48 Chelios still wanted to play so the Thrashers gave him a chance. Seven games and zero points later, Chelios was done. The images of Chelios in Atlanta are rather haunting.
Brian Leetch, Boston Bruins

Leetch is a Rangers legend. From 1987 until 2003-04, Leetch was a Rangers fixture. He is undoutedly one of the best players the franchise has ever known, and today we all remember his playing days how we should; in Rangers colors.
However it didn't end that way at all. Leetch was traded to Toronto, where played a total of 15 games for awkward stop No. 1. Then after that season and the subsequent lockout, Leetch played 61 games for the Bruins before retiring. It was a pretty productive 61 games with 32 points, but let's all just choose to forget that happened.
Ron Francis, Toronto Maple Leafs
Another three-stop star, Francis left big impressions in Hartford, Pittsburgh and Carolina. You can remember him playing for each franchise at any point of his career, and there's nothing odd about any of those. It's the final one that's somewhat forgettable.
At the end of the 2003-04 season, Francis was traded from Carolina to Toronto, where he played out the string. Maybe that's not fair since it implies he didn't compete; Francis had three goals and seven assists in just 12 games. But that was it, just 12 games -- and 12 more in the playoffs -- for his Leafs career.
Peter Stastny, St. Louis Blues
Stastny is most known for his time in Quebec. He was an absolute star for years with the Nordiques and is up there in franchise history as one of the very best. He also spent three-plus seasons in New Jersey with the Devils and had some good years.
Then came the ending in St. Louis. Over two years, Stastny played only 23 games after signing as a free agent in March 1994. It didn't last long, and soon Stastny's NHL career was done, one quiet tenure with the Blues the final note.
Mats Sundin, Vancouver Canucks
A career that began in Quebec was really cemented in Toronto where Sundin became a beloved figure and the face of the franchise for a long time. He loved it there and wanted to stay, but the Leafs had other plans that resulted in his career-ending stop in Vancouver.
While Sundin didn't seem too out of place with fellow thin-haired Swedes Henrik and Daniel Sundin, the 41 games he played in Vancouver are definitely a bit of an awkward footnote on the end of his career. I would say we'll forget that time in Vancouver happened but with how messy things got at the end in Toronto it's hard to do. Still, a little strange.
Ed Belfour, Florida Panthers
This bit of legend syndrome doesn't happen often to goalies because it tends to be a position with some instability; they bounce around a bit more. Although goalies actually seem to move around less today than they used to, it's still pretty rare to see a guy stay in one or two franchises his whole career like Martin Brodeur. Heck, even Dominik Hasek bounced around at the end.
That's what led Belfour to his short time in Florida with the Panthers. People remember him for runs in Chicago and Dallas and maybe even some for his time in Toronto. But Florida? He did play 58 games there for the Panthers in 2006-07 but I think most remember his time in the Sunshine State for his off-ice incident more than anything else.
Grant Fuhr, Calgary Flames
If you're like me you remember Fuhr as the goalie for the Oilers in the 80s. You might even remember him for a couple of his stops throughout the 90s like Toronto, Buffalo or St. Louis. He did some city-hopping, which does sort of exclude him from this conversation.
That said, does anybody remember Fuhr in Calgary? In 1999-2000, Fuhr played 23 games for the Flames, 23 very forgettable games. He posted a 5-13-2 record and had an atrocious .856 save percentage with a 3.83 goals against average. We should all forget that happened, especially seeing as how it came with the big rival of the franchise he's most associated with.
Images courtesy of Getty Images
Stacia Robitaille says Donald Trump told her in an elevator that she was coming home with...

Vladislav Yeryomenko was the Teddy Bear Toss goal scorer for the Calgary Hitmen

The Golden Knights are finally getting their No. 1 goalie back after a 25-game absence
Washington has won four straight, and the Kings are also on a tear right behind the Lightn...

The NHL says it's only interested in expanding to Seattle, but here's a look at all the moving...

The NHL says it is only looking toward Seattle for the next expansion team