PHOTOS: Joel Quenneville takes Stanley Cup to Children's Hospital
Now this suits the Stanley Cup much better than Justin Bieber. Blackhawks coach Joel Quenneville took the Cup to a Chicago Children's Hospital for a heart-warming day.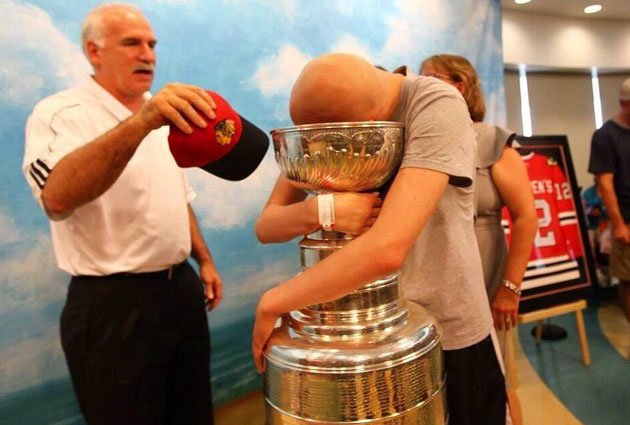 More NHL offseason: Rumors | Top 50 Free Agents | Buyout Tracker | Trades | Transactions
On Wednesday, we shared photos of pop singer Justin Bieber posing with the Stanley Cup in the Blackhawks' dressing room and also standing squarely on the team's logo on the floor, a no-no in NHL circles. Judging by the reactions, it's safe to say most people found it a bit revolting.
Today, we have some different photos with the Stanley Cup that are more inspiring. Blackhawks coach Joel Quenneville brought the Cup to Chicago's Lurie Children's Hospital and, from the looks of the photos, he went a long way in cheering the patients up and giving them something to remember ... and some better photos.
Look who stopped by today! @NHLBlackhawks w/ the #StanleyCup! More photos http://t.co/K0OfNGpAVx. pic.twitter.com/NCKQHjwwHS

— Lurie Children's (@LurieChildrens) July 9, 2013
Follow the Facebook link in the above tweet to see a full gallery of the Cup's visit. There are plenty of excellent shots. Great work by Quenneville and the Blackhawks.
In a really cool twist in the Cup's visit, a little personal touch was added with all of the patients in the hospital. A fan tweeted this at Ryan Whitney, who shared the above photo on his timeline.
@ryanwhitney6 inside that cup are pieces of ticker tape from the parade with all the patients names on it (I work here). Was a cool scene.

— Adam Brown (@SouvenirCity) July 10, 2013
Here is a shot of the pieces of confetti being poured into the Cup by Quenneville.
More of this, less of Bieber and it will be a great summer for Stanley.
Former Lightning standout will be guarding the net in style in 2017-18

Devils are still in rebuilding mode, but they have reason for hope thanks to young additio...

Buffalo is in the midst of contract extension talks with Jack Eichel, and the payout could...
Los Angeles isn't rushing to sign the 45-year-old forward any time soon

The University of Denver star and Hobey Baker Award winner is drawing interest

Intrigue is high in Arizona after a wild offseason, but expectations should still be tempe...