Photos: Oompa Loompas, Chuck Lidell and the Cup: Stanley visits Hollyweird
So ... the Stanley Cup had an interesting experience in Hollywood recently.

After teams win the Stanley Cup, it's not uncommong one bit if they go on a few-day spree hitting up the bars and partying with the Cup as if it were just another teammate. Well, except for drinking off/out of it, I suppose.
It gets to go to some bars, clubs and other crazy places. Like Beacher's Madhouse in Hollywood. Of course, with it being in L.A. and all, TMZ was there and in this case I'm kind of glad they were. These photos are too good to have not been captured.
The Stanley Cup was a whore last night ... because it let all sorts of strangers rub their mouths and butts all over it for hours ... and TMZ has the pics.

The enablers were several members of the world champion L.A. Kings -- who treated Stanley to a night of mayhem at Beacher's Madhouse at the Roosevelt Hotel in Hollywood.

During the show, the Kings were entertained by The Little Kings -- a band of little people dressed up like their NHL counterparts ... who used the cup as a chair when their tiny feet got tired.
This first photo illustrates so well why people call it Hollyweird.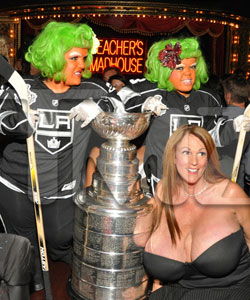 So. Much. To. Take. In. (TMZ)
Yes, that photo did happen. I wonder which cup is bigger? I'm going to guess that Lord Stanley's trophy was about the third or fourth thing you saw in this photo.
I'm also going to guess that this is close to the weirdest picture it has ever appeared in. I mean you have people dressed as Oompa Loompas dressed as Kings players, a woman who has, well, you can see for youself I'm sure, and a Burlesque-type stage in the background.
Next we have this ...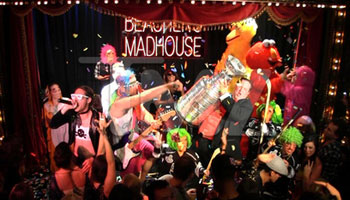 Is that Party Rock Anthem I hear? (TMZ)
Hmmm, I'm still trying to figure this one out. I can't decide if this looks more like a scene out of Sesame Street or an LMFAO concert? Probably the latter, but I'm not convinced. The third choice is Teletubbies.
And is that one of the Cup keepers holding up the trophy on the stage or just some guy who goes to a club like that in a suit? I wouldn't rule that option out.
Finally, we get to this.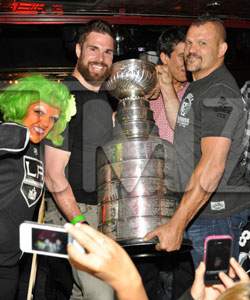 One of the few guys who might be tougher than hockey players with the Cup. (Getty Images)
Minus the Oompa Loompa photobombing the picture, this one seems relatively normal and could be a site at a lot of different bars. Willie Mitchell can't wipe the grin off his face as he poses with former UFC star Chuck Lidell.
Perhaps this was a recruitment photo? The Kings should put him on skates and see how he fares. I imagine he would be one intimidating enforcer, even against hockey players.
My conclusion: So this is what it looks like when L.A. wins the Cup. Maybe it's a good thing it took 45 years.
For more hockey news, rumors and analysis, follow @EyeOnHockey and @BrianStubitsNHL on Twitter and like us on Facebook.
The former Boston Bruin was the first black player to play in the NHL

Inclement weather led to the Charlotte Checkers and Bridgeport Sound Tigers playing in front...

The NHL chose the Detroit rocker as its All-Star Game entertainment and not everyone is th...
NHL fans from all over seem to agree on one thing: Hating Kid Rock

The team tweeted on Monday that Shaw would be re-evaluated in 7-10 days

The Montreal forward was hospitalized after taking a Zdeno Chara slap shot to the head