PHOTOS: Team Canada hopefuls play ball hockey in Olympic camp
Mike Babcock had all of his Canadian Olympic team hopefuls run through a full practice with sneakers and street hockey balls.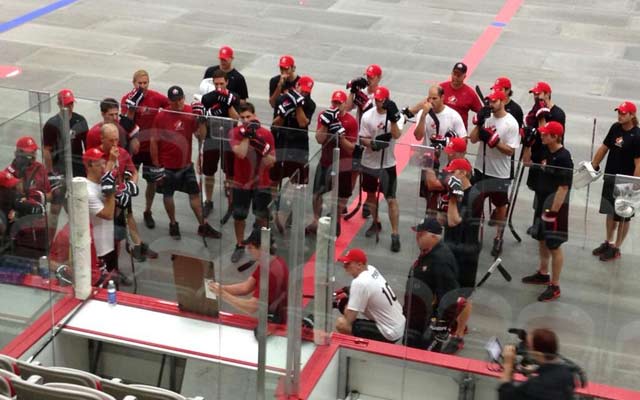 More NHL offseason: Rumors | Top 50 Free Agents | Buyout Tracker | Trades | Transactions
The Olympic camps for several national teams are going on right now across the world, with the U.S. and Canada both underway in North America. If you didn't know, none of the teams can hold on-ice practices due to the fact that it costs a ridiculous amount of money to insure multi-million-dollar contracts for a few days of work.
That didn't prevent Team Canada's hopefuls from getting in some tactical work though. In Hockey Canada's facility in Calgary, head coach Mike Babcock got 40-plus grown men, who play this game for a lot of money, to run an entire practice in their sneakers.
Using only sticks, gloves, the all-important baseball hats to protect the "flow" and street hockey balls, some of the biggest stars in the NHL were running through drills and line rushes.
This is the elite of the world, people.
Treat to be able to watch some Canadian NHLers play some ball hockey in preparation for the #Olympics #TeamCanada pic.twitter.com/00mkG5qUuu

— Harnarayan Singh (@IceSinghHNIC) August 26, 2013
That's a lot of ground to cover without skates. They're probably just going to mess around for a bit, right?
Babcock is running a full up practice here. pic.twitter.com/jCIUj9wU1C

— Bob McKenzie (@TSNBobMcKenzie) August 26, 2013
Nope. This is Mike Babcock we're talking about. Not a second wasted. 
Car! pic.twitter.com/3I5SvyDJvz

— James Duthie (@tsnjamesduthie) August 26, 2013
Mike Richards and Jeff Carter, staying close, using the buddy system out there.
It's @strombone1 in the net, playing, um, ball hockey. #canOlyteam pic.twitter.com/znfSbz8EXG

— Cam Cole (@rcamcole) August 26, 2013
I know the NHL is getting restrictive on its new rules for goalie pads, but this seems a little extreme. At least let the guy strap some newspapers to his legs.
Cool scene here in Calgary at Team Canada Orientation Camp. Players going through walk-through of team concepts. pic.twitter.com/r0M51vqvKI

— Jonas Siegel (@jonasTSN1050) August 26, 2013
This may be the most Drew Doughty (No. 8) has run at one time in his adult life. 
Sarnia, Ottawa, Oshawa/London. OHL alums. Pretty good lacrosse unit, too. pic.twitter.com/EIU0mfrzrT

— Bob McKenzie (@TSNBobMcKenzie) August 26, 2013
"Hey, you guys think we're getting orange slices or bananas after practice?" -- "I don't care as long as I get a juice box."
Via Chris Kuc of the Chicago Tribune, this Vine encapsulates the sheer absurdity of ball hockey on a full size hockey rink.
The one advantage Team Canada had over the rest of us who grew up playing ball hockey: No traffic.
So there you have it, folks. The defending Olympic gold medalists spent the morning chasing around an orange ball while wearing T-shirt jerseys with their names and numbers on the back. Hopefully everyone's mom was on time to make the pick up for car pool.
The 40-year-old center is returning to the Wild after a successful run in Pittsburgh

Edmonton locks up its 21-year-old RFA a month after McDavid's historic extension

Even with a new coach and added veteran help, the Canucks have a long road ahead
Unlike expansion teams before them, the Knights have enough talent to entertain right away

Brian Lawton says he 'would not be surprised' if Boston deals its young star to end contract...

It turns out Phil does love his hot dogs, especially when they're in a Stanley Cup