Plans unveiled for Markham arena, would be ready by 2014
The city of Markham, Ontario really wants a brand spanking new NHL-ready arena and it could be on the way as soon as this Fall.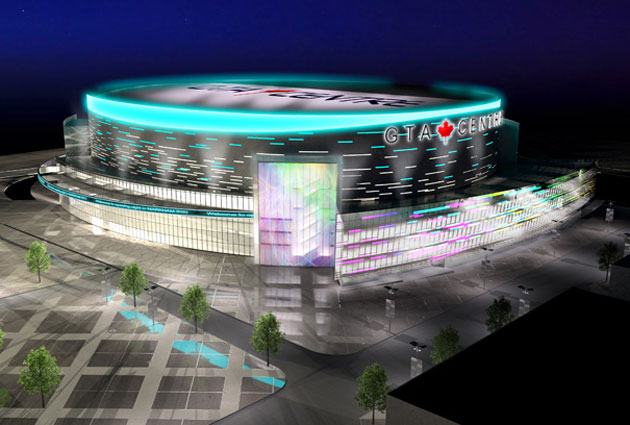 A fancy rendering of the proposed arena. (National Post)
The city of Markham, Ontario really wants a brand spanking new NHL-ready arena and it could be on the way as soon as this Fall.
On Wednesday a site plan that calls for an arena that seats 20,000 was unveiled at a news conference. It's been in the works for some time now, at least the financing part of it, and now we're starting to seem more real with actual plans coming to the forefront. Soon we could see material progress.
Once it's approved, a building permit can be issued and construction can begin on the $325-million arena.

Scarpitti said the city will make the project a priority: "The review of this application will be priority number one for us here in Markham."

He told reporters that starting construction this fall is ambitious, but "it's possible we could be in the ground later this year."
The goal is to have the arena completed by 2014. For those keeping track of the great relocation race in the NHL, the Islanders' lease on Long Island ends after the 2014-2015 season.
It's an awfully big gamble for Markham, though. I have little doubt that the Greater Toronto Area would be a good spot for a second NHL team. They support the Maple Leafs to no end and the amount of overflow fans is sizable. Why would anybody think hockey-crazy Toronto couldn't handle another team?
Well the Leafs, for one. OK, it's not that they don't think the area could handle another team, it's more likely that they know Toronto could handle another team and they don't like that. They make more in revenue than any other team in hockey and it's not really close. The Maple Leafs aren't looking to welcome any neighbors to the NHL, just ask Hamilton. Not to mention there is some pretty heavy competition building for NHL teams across the continent.
That's why it's a gamble, they're going up against the house. If they do get the arena built it would be a fight tooth and nail to get an NHL team. Sure, the arena could be used for other functions like concerts and competitions such as the World Junior Hockey Championships or other such events, but that's not going to fill up a calendar completely. It's tough without a primary tenant.
Considering the taxpayers are going to be footing a lot of the bill, it's understandable if there is a lot of trepidation over such an expensive venture that doesn't have much in guarantees other than a shiny new building. From the National Post:
Markham councillor Jim Jones fears the group's financial plan will put an unnecessary burden on new home and condominium owners.

"I don't think future home owners should be on the hook to finance this facility," Mr. Jones said. "It is the problem and the responsibility of the private sector and they've had plenty of time to get other investors."
It's a constant debate anytime you're talking about new arena. We all want to have fancy new buildings and potentially the big tenant to fill it, but not nobody wants to pay the high costs, especially without concrete assurances.
But back to the practicalities (and dreams) of getting an NHL team: I have little doubt Markham could handle a team and Toronto would hardly feel a dent in its bottom line. I also have little doubt it is very unlikely to happen.
For more hockey news, rumors and analysis, follow @EyeOnHockey and @StubitsCBS on Twitter and like us on Facebook.
The team tweeted on Monday that Shaw would be re-evaluated in 7-10 days

The Montreal forward was hospitalized after taking a Zdeno Chara slap shot to the head

Tampa Bay is still No. 1 and Vegas is still up there, but a few others are finally catching...
Army filed an opposition to the use of 'Golden Knights' on the last day that it was permitted...

The NBC rinkside reporter is hoping to return in time for the 2018 Olympics

Here's who wade the cut for the 2018 NHL All-Star Game on Jan. 28 at Amalie Arena in Tampa...