Playoff Preview: (1) Pittsburgh vs. (8) New York Islanders
The No. 1 seed Pittsburgh Penguins take on the No. 8 seed New York Islanders.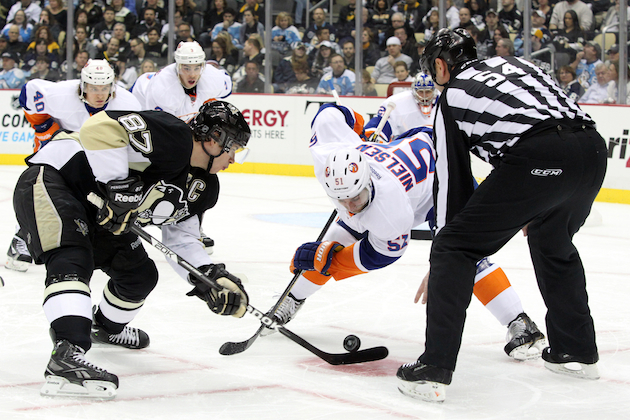 More NHL: Scores | Standings | Odds | Fight-O-Meter | League Leaders | Rumors
The New York Islanders are back in the playoffs for the first time since 2007, and their reward for ending that drought is a first-round matchup against the Pittsburgh Penguins, the top seed in the Eastern Conference and the heavy favorites to reach the Stanley Cup Final.
Obviously, that's a formidable opponent for the young Islanders, a franchise that hasn't won a playoff series since 1993 (which, as it turns out, came against a heavily favored Penguins team that was the odds-on favorite to win the Stanley Cup).
General manager Garth Snow doesn't get much attention, but he has put together a young, fast team on the cheap through some shrewd free-agent signings and waiver-wire pickups that is all brought together by their young superstar, John Tavares. Playing in the Atlantic Division, they're quite used to seeing the Penguins. In years past, they have played Pittsburgh well. But after beating the Penguins in the first meeting this season in January, the Islanders lost the next four games by a combined score of 16-5.
This series should be a lot closer than that. The Islanders do have some strengths that could give the Penguins issues, including a fast group of forwards and a really good power play.
Still, Pittsburgh is coming in with a lot of firepower (and the Penguins seem to be getting everybody back from injury just in time) and could be tough to stop.
Pittsburgh offense vs. New York defense

I like some of the players on the Islanders' defense. Frans Nielsen is one of the better defensive forwards in the NHL, and Mark Streit has been a really good player on the blue line since he arrived there a few years ago. The offseason additions of Lubomir Visnovsky and Thomas Hickey has also formed a really nice pairing that seems to keep the play moving in the right direction, but a matchup with Pittsburgh is going to be a tall task for any defense in the NHL.
The Penguins come into the series as by far the highest scoring team in the NHL (3.38 goals per game. The second highest scoring team, Chicago, averaged 3.10) and are going to roll a top-nine made up of Sidney Crosby, Evgeni Malkin, James Neal, Chris Kunitz, Pascal Dupuis, Jarome Iginla, Brandon Sutter, Brenden Morrow and Matt Cooke at the Islanders. That group has three of the top-15 goal-scorers in the NHL this season in it, and neither Crosby nor Malkin are among those three.
Heck, their fourth line could feature Jussi Jokinen, Beau Bennett and Tyler Kennedy.
That's a deep team.
New York offense vs. Pittsburgh defense

Though the Penguins won a lot of games down the stretch, they might not have been playing as well as their record indicated over the past 12 games. During that stretch, they were only a 40-percent possession team at even strength (meaning they only took 40 percent of the attempted shots at 5-on-5). That's the exact opposite of what we've come to expect from this team and not a great recipe for success. The reason that they've been able to keep winning is the play of their goaltenders, with a .957 save percentage during that stretch.
I think a lot (if not all) of that can attributed to being without guys like Crosby, Malkin, Neal, Kris Letang and Paul Martin (in some cases, all five at the same time) during that stretch, but their defense does have some flaws.
Once you get past Letang, Martin and Matt Niskanen, there's not a ton of mobility on their blue line (unless they also dress Simon Despres, which isn't a guarantee). The Islanders' forwards might be able to exploit that a little. Guys like Brooks Orpik, Douglas Murray and Deryk Engelland bring a lot of physical play to the rink every night. The Penguins also can be beat by forwards with speed, and the Islanders have a lot of them.
Getting Letang and Martin back into the lineup will help the blue line a lot (the Penguins probably need both to win the Cup), but it's not one of the deeper groups in the playoff field.
Goaltending

Marc-Andre Fleury has a Stanley Cup ring to his credit, but 2009 was a long time ago. In the three postseasons since that championship, he has the second-worst save percentage of any goalie to play in at least seven playoff games and is coming off a brutal showing in last year's series against the Philadelphia Flyers. He has to be better for the Penguins to make a deep run.
He came back in 2013 and had one of his better regular-season performances, which is good for Pittsburgh.
Also good for the Penguins is the fact he's now backed up by Tomas Vokoun, who could probably still start on a number of NHL teams. Fleury is still the guy, but they have arguably the best backup in the NHL.
Evgeni Nabokov has been really good since joining the Islanders, and he's had a history of playing well against the Penguins. But he's probably going to have to be great in this series to get the Islanders through it.
Special teams

They both have the same strengths and weaknesses. Both have excellent power plays and bad penalty kills. Pittsburgh's power play unit is better than New York's, but New York's penalty kill unit is probably a little better than Pittsburgh's. The Penguins are going to be able to run out a five-man unit that looks like it came out of an All-Star game, while the Islanders' power play finished the season at the 20-percent mark. Call it a draw.
Prediction

NHL fans from all over seem to agree on one thing: Hating Kid Rock

The team tweeted on Monday that Shaw would be re-evaluated in 7-10 days

The Montreal forward was hospitalized after taking a Zdeno Chara slap shot to the head
Tampa Bay is still No. 1 and Vegas is still up there, but a few others are finally catching...

Army filed an opposition to the use of 'Golden Knights' on the last day that it was permitted...

The NBC rinkside reporter is hoping to return in time for the 2018 Olympics