Playoff preview (2) Anaheim vs. (7) Detroit
The No. 2 seed Anaheim Ducks take on the No. 7 seed Detroit Red Wings in the Western Conference quarterfinals.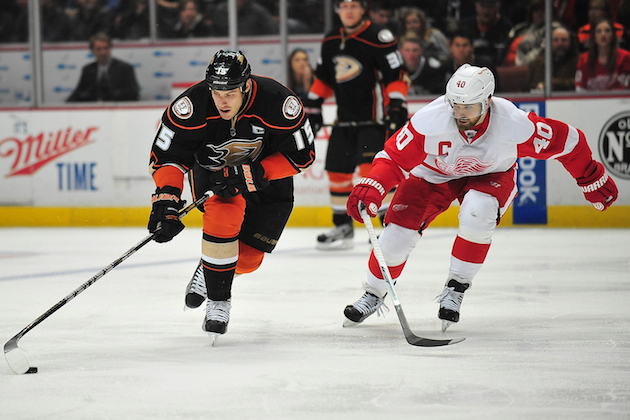 More NHL: Scores | Standings | Odds | Fight-O-Meter | League Leaders | Rumors
The playoffs actually started a week ago for the Detroit Red Wings as they needed to put together a four-game winning streak just to get into the postseason. But here they are, once again, for the 22nd year in a row, and they draw an opening-round series against the surprising Anaheim Ducks.
Anaheim came into the season having missed the playoffs in two of the past three years, but they went wild out of the gate under Bruce Boudreau in his first full year with the team and built up a huge cushion in the Pacific Division. I've been a little slower to come around on the Ducks than some others around the league this season, and I'm still not convinced they're as good as their record shows (on the other side, I think Detroit might be a little better than its record shows), and that the gap between the two teams might not be quite as large as the seedings might indicate.
Make no mistake -- Detroit's a tough opening-round matchup for the Ducks as they have to go up against a team that still has some quality forward depth (led by Pavel Datsyuk and Henrik Zetterberg, both of whom are still among the best in the league), has a ton of playoff experience and a really good goaltender in Jimmy Howard.
The Ducks opened the season with an incredible 20-3-3 record and, in the process, were riding some percentages (shooting percentage and save percentage) that were through the roof. They had the look of a team that was perhaps due for a slump in the second half. It started to happen down the stretch as the Ducks won just 10 of their last 22 games.
Anaheim offense vs. Detroit defense

As we've seen throughout the 2013 regular season, Detroit's defense isn't what it used to be. Nicklas Lidstrom and Brian Rafalski are gone, and they're not walking through the door at any time during this season. The Red Wings' defense has had its problems this season, particularly earlier in the year, and they're going to get quite a challenge against an Anaheim team that can run out Ryan Getzlaf, Corey Perry, Bobby Ryan and the legend himself, Teemu Selanne.
The Ducks don't generate a ton of shots (21st in the league) and rely on high percentages and the power play to score their goals, but the aforementioned quartet is a big challenge for any team, especially for one that has a defense that lacks a true No. 1 and has a lot of youth on it. Fortunately for the Red Wings, their forwards (particularly Datsyuk and Zetterberg) are strong defensively and are able to help out without the puck.
Detroit offense vs. Anaheim defense

While the Red Wings' defense has taken some hits over the past couple of years, they still have a lot of talent up front. Pavel Datsyuk just completed another excellent season by averaging more than a point per game, playing excellent defensive hockey and continuing to be the guy who drives the bus for Detroit offensively. He's as skilled and creative as any player in the NHL, and he's not slowing down all that much as he gets older. Along with Datsyuk, Henrik Zetterberg also averaged more than a point per game season, and power forward Johan Franzen is starting to heat up (he has been money in the playoffs throughout his career) with seven goals in his last eight games.
Francois Beauchemin and Sheldon Souray are a little underrated on the Anaheim blue line. But once you get past those two, I think it's a unit that Detroit's forwards should be able to exploit a little bit.
Goaltending

Jimmy Howard is really underrated across the league, and he did what was perhaps his best work in the NHL this season playing behind a very suspect defense.
I still give Anaheim the slight edge here just because I like the Ducks' depth more. Coach Bruce Boudreau hasn't announced whom his starter will be, but he has two strong options in first-year player Viktor Fasth, one of the more surprising stories in the NHL this season, and veteran Jonas Hiller. If one falters or gets injured, there's another reliable netminder there ready to take over. If something happens to Howard, Detroit would have to rely on Jonas Gustavsson, and that wouldn't be good news for the Red Wings.
The starters are pretty even and maybe even tilted in Detroit's favor, but a slight edge for Anaheim based on the depth. Even if it never gets to that point.
Special teams

There isn't much difference between these teams when it comes to the special-teams game. Both have talented players to put out on the power play, and both convert at similar rates (the Ducks are slightly better at putting shots on the net, which is a positive sign) while their penalty-killing rates and shot rates are nearly identical.
Prediction

Washington, Nashville and Tampa Bay are still rolling with winning streaks atop the NHL

Saturday's showdown will serve as a rematch of one of the NHL's first-ever regular season...

Stacia Robitaille says Donald Trump told her in an elevator that she was coming home with...
Vladislav Yeryomenko was the Teddy Bear Toss goal scorer for the Calgary Hitmen

The Golden Knights are finally getting their No. 1 goalie back after a 25-game absence

Washington has won four straight, and the Kings are also on a tear right behind the Lightn...