Playoff Preview: (3) Vancouver vs. (6) San Jose
The No. 3 seed Vancouver Canucks take on the No. 6 seed San Jose Sharks.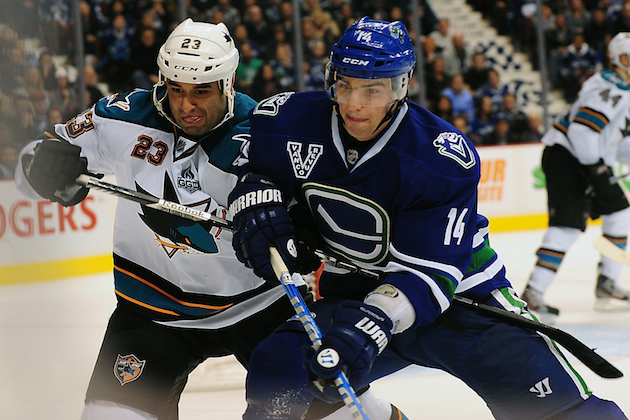 More NHL: Scores | Standings | Odds | Fight-O-Meter | League Leaders | Rumors
The popular narrative on the San Jose Sharks heading into this season was that their championship window had finally come to a close.
That talk didn't exactly go away around the middle of the season, when the offense hit a wall, the team lost a bunch of games and general manager Doug Wilson started trading veterans like Michal Handzus, Douglas Murray and Ryane Clowe.
But that wasn't a general manager putting up the white flag and giving up on the season, and it certainly wasn't a team that was watching its window slam shut. It was a general manager re-tooling his team on the fly and improving his team through a little addition by subtraction. Since those moves, the Sharks look like a faster and better team, and they still have a loaded roster with impact players like Joe Thornton, Logan Couture, Patrick Marleau, Joe Pavelski, Martin Havlat and Brent Burns leading the way.
They enter their Western Conference quarterfinal series against the Northwest Division champion Vancouver Canucks as one of the hottest teams in the league with a 12-6-1 record over their past 19 games. 
They will be going up against a Canucks team that took a little bit of a step backward this season after winning two straight Presidents' Trophies (injuries certainly didn't help them this season). Vancouver was still strong enough to claim its fifth straight Northwest title -- and sixth in the past seven years -- and as long they have Henrik and Daniel Sedin and its depth on the blue line and in net this is a team that's going to be dangerous.
Both of these teams are capable of going on a lengthy playoff run and have the type of talent needed to win the Stanley Cup, but one of them is going to be done after the first round. Such is life in the Western Conference, where two teams among Vancouver, San Jose, St. Louis and Los Angeles are guaranteed to be finished in round one. It makes for great matchups and great series, but a couple of really good teams are going to have very short runs.
Vancouver offense vs. San Jose defense

The Sharks made some changes on their defense during the season by trading Douglas Murray to Pittsburgh for draft picks, acquiring Scott Hannan from Nashville and moving Brent Burns to forward.
Given the success of the team after all of those moves, it's hard to argue with the logic behind them. Burns has excelled as a forward while Hannan is pretty interchangeable with Murray at this point in their careers (Hannan might even be a little better) as Murray was one of the veteran players who really seemed to be struggling in San Jose this season and needed some sort of a change. The Sharks' young depth on the blue line with guys like Justin Braun and Matt Irwin made all of that possible. It's a good group, but they're getting a tough first-round draw against a Vancouver team that can roll out the Sedins, Alex Burrows and Ryan Kesler.
That said, Vancouver's offense this season hasn't been what it used to be. The Sharks, one of the best possession teams in the league, do a great job of not allowing shots. 
San Jose offense vs. Vancouver defense

The Canucks have a ton of money invested in their blue line and added to it over the summer by bringing in Jason Garrison, a player who has always been a little underrated defensively but didn't get much recognition until he broke out a year ago with a huge goal-scoring season. It's a strong defense, and they're backed up by two No. 1 goaltenders in Cory Schneider and Roberto Luongo.
San Jose finished the regular season 24th in the league in goals per game, but I'm not convinced that's an accurate representation of what this team is capable of offensively. They generate a ton of shots, especially at 5-on-5 play, but have been hurt by some poor percentages and spent half of the season being held back by guys like Handzus, Murray and Clowe. Their goals-per-game average has steadily increased as the season has progressed.
Goaltending

A lot of this depends on the health of Schneider (out with what the Canucks simply called "a body injury"), but Vancouver has two No. 1 goalies with him and Luongo. That's a nice thing to have in the playoffs. Antti Niemi is having a spectacular season in San Jose, perhaps the best of his career -- including his Stanley Cup season in Chicago -- and one that is worthy of serious Vezina Trophy consideration, but Schneider hasn't been far behind when he's healthy. As far as the starters go, I think it's pretty even, but Vancouver has the better plan B should it ever get to that.
Special teams

The Canucks' power play can be pretty outstanding, but the Sharks have some impressive firepower of their own and finished the regular season in the top 10 in both power play and penalty kill. Vancouver's penalty kill has struggled a bit, so the slight edge goes to San Jose in the special-teams game.
Prediction

Vladislav Yeryomenko was the Teddy Bear Toss goal scorer for the Calgary Hitmen

The Golden Knights are finally getting their No. 1 goalie back after a 25-game absence

Washington has won four straight, and the Kings are also on a tear right behind the Lightn...
The NHL says it's only interested in expanding to Seattle, but here's a look at all the moving...

The NHL says it is only looking toward Seattle for the next expansion team

The 33-year-old defenseman hopes to help find a cure for serious head injuries in athletes