Predators GM not looking to re-sign Alexander Radulov, willing to trade rights
It's still a mystery whether Alexander Radulov will play in the NHL or KHL next season, but it's safe to say he won't be back in Nashville.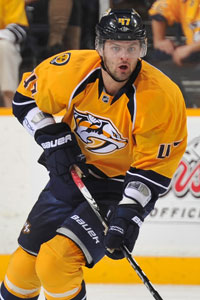 We likely won't see any more of Radulov in a Preds sweater. (Getty Images)
Last week a report surfaced out of New York that the Rangers were interested in acquiring the rights to Alexander Radulov from the Nashville Predators. The less obvious angle of that scenario is the Predators giving up the rights to Radulov.
Well, it's no longer speculation, not according to Nashville GM David Poile. He spoke with Joshua Cooper of the Tennessean and sure made it sound like the Radulov experiment in Nashville is finito.
"The best way to characterize it is it's time to not pursue Rad anymore," Poile said. "If he wants to play in the KHL that's fine, if he wants to play with another NHL team I'd be willing to trade his rights."

When asked if it would be safe to say that Radulov won't be with the Predators next season, Poile said: "I would say right now that would be safe to say."
It's an interesting, if not predictable, turn of events. You'll remember it was just a few months ago that the Preds were pushing to get Radulov back into the league despite protests from some of the other teams. The belief was that he could be the missing piece to help the Preds get over the hump and succeed in the postseason.
2012 NHL Free Agency
| | |
| --- | --- |
| | Free Agency starts July 1 |
More NHL coverage
Instead, Radulov made as much or more noise for what he did off the ice. It wasn't that he played that poorly -- remember, he was there for his offense and he was close to a point-per-game player in both the regular season and playoffs. Still, his excursion after Game 1's loss to the Phoenix Coyotes in the second round ended up in a suspension for him and Andrei Kostitsyn, which was continued as a scratch in Game 4 from coach Barry Trotz.
So we know that Radulov is all but gone from Nashville, something that was already a safe assumption. But the big question still remains whether or not he will still be in the NHL. Any team that trades for his rights will take that gamble.
Knowing that well himself, Poile likely won't be able to get much at all in return for Radulov's rights. Typically, trading soon-to-be free agents doesn't yield much, and when you throw in that uncertainty, it makes you wonder if the Predators would get anything more than a very late draft pick in return.
For more hockey news, rumors and analysis, follow @EyeOnHockey and @BrianStubitsNHL on Twitter and like us on Facebook.
The University of Denver star and Hobey Baker Award winner is drawing interest

Intrigue is high in Arizona after a wild offseason, but expectations should still be tempe...

Players are set to give personalized messages for Adidas' former hockey equipment brand
The 40-year-old center is returning to the Wild after a successful run in Pittsburgh

Edmonton locks up its 21-year-old RFA a month after McDavid's historic extension

Even with a new coach and added veteran help, the Canucks have a long road ahead