Predictable criticism of Oilers' Russian forward Nail Yakupov begins
Nail Yakupov hasn't even played a game in the NHL yet and already questions are being raised about his attitude.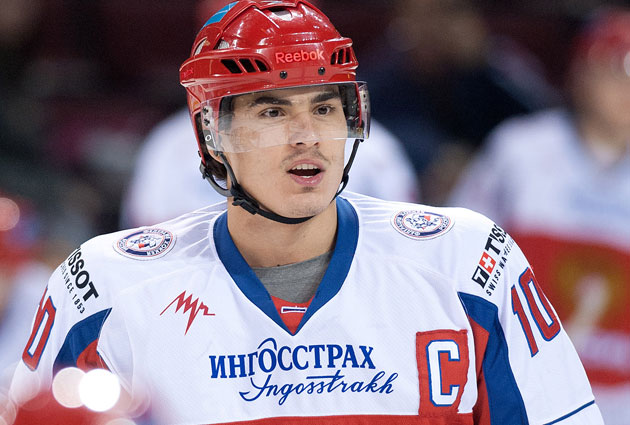 Yakupov isn't having the best tournament but he's been strong in the KHL. (Getty Images)
Oilers No. 1 draft pick Nail Yakupov hasn't even played a game in the NHL yet and already questions are being raised about his attitude.
Not that it's warranted, mind you. But the Russian forward, whose desire to play in the NHL was doubted by many despite the fact that he moved to Canada to play major junior hockey and get more exposure, is being criticized for his lack of talking as captain of Russia's World Junior team.
Because of that, some in the Canadian media -- Edmonton media in particular -- are wasting no time in casting judgment on Yakupov the teammate.
So Nail Yakupov doesn't do post-game interviews in Ufa after another quiet game. Kid making people wonder on and off the ice.

— Terry Jones (@sunterryjones) January 2, 2013
First time I listened to Nail Yakupov speak at 2012WJC, I thought he had major prima donna potential. Haven't changed mind yet.

— Cam Cole (@rcamcole) January 2, 2013
It's time for igor larionov to tell his client nail yakupov that wearing the C means you talk. Kid needs wake-up call

— Jim Matheson (@NHLbyMatty) January 2, 2013
Those tweets in order are from Terry Jones of the Edmonton Sun, Cam Cole of the Vancouver Sun and Jim Matheson of the Edmonton Journal. They said it all minus actually labeling Yakupov the dreaded term for almost every Russian in hockey: an enigma.
To recap the situation here, the Russian team narrowly escaped a major upset in the tournament by the Swiss in the quarterfinals with a shootout win on Wednesday. In the game, Yakupov didn't really shine; those honors went to Sabres prospect Mikhail Grigorenko and a pair of Lightning prospects, Nikita Kucherov and goaltender Andrei Vasilevski.
Russia won the game and that should have been that; if Yakupov didn't want to talk, end of story. There were plenty of other players to speak to, including fellow Oilers prospect Daniil Zharkov.
It seems Yakupov can't do anything right. When he spoke before the Juniors began, he made a comment about the Canadians playing dirty. He was ripped for it, including by Don Cherry, before he recanted. From there, Yakupov said he wasn't going to talk until just before the game against Canada, which he did.
He talks and speaks his mind, he gets criticized. He doesn't speak, he gets criticized. He tweets interesting things, he gets criticized. Pretty soon he's going to be another walking, talking cliché if the criticism keeps up -- just what pro sports need.
I'd like to say it's a bit surprising, but really it's not. The enigmatic Russian narrative is told all the time in hockey, and no one gets the heat more so than the enigmatic tale of the most enigmatic enigma hockey has ever known, Alexander Semin.
I understand players have a responsibility to speak to the media after games; it's reasonable for journalists to get upset about that, particularly if it is a recurring issue. To be frustrated at his lack of talking is one thing. But to take it another step and start throwing out phrases like prima donna is another. The guy was named captain of his national team, for Pete's sake. That should count for something.
For a player who was the pretty clear pick for No. 1 overall, there are an awful lot of questions being raised. But if he was good enough for the Oilers to take first (and for any other team who would have had the chance), he should be good enough for the critics, especially before he even plays in the NHL. He is already getting the Evander-Kane-in-Winnipeg treatment.
In the World Junior tournament, Yakupov has one goal and four assists in five games, not exactly what people expected. However, in the KHL this season he has 10 goals with eight assists in 22 games against much more experienced competition.
For more hockey news, rumors and analysis, follow @EyeOnHockey and @StubitsCBS on Twitter and like us on Facebook.
Stacia Robitaille says Donald Trump told her in an elevator that she was coming home with...

Vladislav Yeryomenko was the Teddy Bear Toss goal scorer for the Calgary Hitmen

The Golden Knights are finally getting their No. 1 goalie back after a 25-game absence
Washington has won four straight, and the Kings are also on a tear right behind the Lightn...

The NHL says it's only interested in expanding to Seattle, but here's a look at all the moving...

The NHL says it is only looking toward Seattle for the next expansion team