Preseason NHL All-Stars: Like old times, Crosby, Ovechkin lead way
Like it used to be, Sidney Crosby and Alex Ovechkin lead the preseason All-Star teams in the NHL, where it's tough to pick just two teams.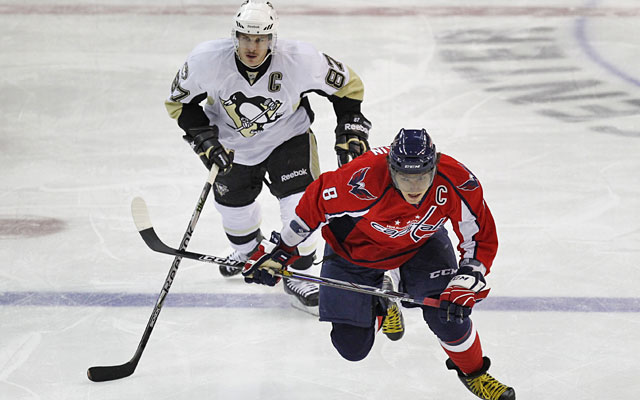 More NHL offseason: Rumors | Top 50 Free Agents | Buyout Tracker | Trades | Transactions
Each year there are two types of All-Stars in hockey; there are those that go to the glorified exhibition game and take part in a fantasy draft as if it were schoolyard kickball and there are the two teams of players deemed to be the best of the best at season's end. This is about the latter.
Whether it be the All-Star Game or the All-Star teams, you're always going to have snubs but we're talking different levels of snubs here. For the All-Star Game you're talking about leaving out a guy who might be the 20th-best forward in the league in favor of No. 22 on some arbitrary scale. It would be nice to get the recognition, sure, but it's not like you're leaving out Wayne Gretzky or anything. When you get down to selecting the All-Star teams, those snubs become much more magnified. Only two centers, two goalies, four wings and four defensemen can make it; that leaves a lot of great talent out in the cold.
That's why it's a great honor even if it's overshadowed by the individual awards.
To simplify things I'm going to do what the PHWA should have done already and that's leave out left or right on the wings. A winger is a winger just like a defenseman is a defenseman. This way Alex Ovechkin will not make the first and second teams at different positions as happened last year. Problem solved. Now the only problem is actually picking the right guys. To make your East Coast/Conference bias complaints, find the comment section below.
First Team

Center: Sidney Crosby
Love him or hate him you have to respect him. Respecting him means acknowledging that Crosby is the best player in the world right now, hands down. When he's healthy it's not even close. He skates laps around the field in the Art Ross race and likely won't be far away in the Rocket Richard race either. Of course the question with Crosby has become that health issue. But it's not as if he's injury prone in the Rick DiPietro mold -- Crosby has suffered a lot of fluke injuries and at this point nothing that should still be a concern.
If Crosby can play a full slate then expect to see some monster numbers. He was only able to play 36 games last season and still finished with 56 points. He's still in the heart of his prime. At age 26, he could be in line for his best season yet as he still has plenty of skill surrounding him, guys who are only made better by his presence. There is a tremendous amount of good centers in the game right now but Crosby is clearly above the pack.

Wing: Patrick Kane
Sometimes Kane looks like a center disguised as a wing with out-of-this-world playmaking and stick-handling abilities. But he is indeed at his best on the wing, as he showed everybody this past season. Despite the truncated campaign, Kane enjoyed the best year of his career as his game rebounded from a down 2011-12 (by his standards) as he matched his goal total with 23 and had only 11 fewer assists despite 35 fewer games. Now Kane thinks he is ready to take his game up another notch.
There's no doubting he can, especially with the supporting cast he has in Chicago. He really clicked in the postseason when he was reunited with Jonathan Toews but he showed throughout the season that he can produce with our without Toews in the middle of his line. So far Kane hasn't scored more than 30 goals in a season (he had 30 in 2009-10) but I bet he surpasses that mark this year. He showed a little extra scoring touch last season. Add his own finishing ability to his exceptional playmaking skills and you have an All-Star.

Wing: Alex Ovechkin
This is going to be an interesting year for Ovechkin and the Capitals. He enjoyed a resurgence last season after a slow start as he made the switch from left wing to right wing. Eventually it started to work out well as it put some variability back in Ovechkin's game, one that had become a bit too stagnant on the left wing with the same moves. Now he will have a full preseason and previous season under his belt with Adam Oates to try and keep it up.
Of course other teams have a season's worth of film of Ovechkin on the right side to work with. Here's something to keep in mind with Ovechkin: He had a league-best 32 goals last season but half of those came on the power play. To be able to keep up that kind of scoring rate, even on the man advantage, is going to be tough. He might not return to his days of 55-60 goals, but it's likely Ovechkin will be a point-per-game player once again and top the 40-goal mark. That's still some pretty excellent production.

Defenseman: Erik Karlsson
Karlsson is often criticized for/accused of being too one dimensional. If we're being honest, that's one heck of a single dimension. Frankly, perhaps he doesn't get enough credit for the way he plays in his own zone. He's not going to be confused for Zdeno Chara in that department but it's not as though Karlsson is a liability out there. He wouldn't play more than 25 minutes a night if he were. Besides, what's the problem if he is an offensive defenseman? He's able to start breakouts up the ice well and other teams can't really hurt you if you're spending time in their zone.
He means so much to the Senators. When he's on the ice the offense very clearly runs through him and he is able to make things happen. With the Achilles injury behind him and hopefully no longer an issue, we should see that aspect of his game return. It's not often in today's NHL that we see a near point-per-game defenseman but Karlsson was just that in his last full season (and he had 14 points in 17 games this past season). The Sens have high expectations and the return to health of Karlsson is a big reason for them.

Defenseman: Ryan Suter
Suter was signed to a huge deal before last season and he didn't disappoint. He not only logged more ice time than any other player in the league (other than goalies, of course) but he logged some productive minutes and showed he is indeed more than just Shea Weber's partner. I won't bet against him having another similarly strong season because he has a tremendous benefit over others like Weber; he has a very good partner in Jonas Brodin. Debate all you want who made who better but the point is they were excellent together and Brodin should only improve from his rookie campaign. That bodes well for Suter.
We all know that you have to put up points as a defenseman to be recognized for awards and other honors and Suter will do that. He was third in the league among defensemen last season with 32 points. The question is, can he do that again -- remember, guys like Kris Letang, Karlsson, Mike Green, etc., missed time last season -- well enough that his all-around game earns him honors? With a growing team in Minnesota, I think so.

Goaltender: Henrik Lundqvist
I don't think there is much disputing this: Lundqvist has been the best and most consistent goaltender in the NHL over the past few seasons. Until he takes a dip, this crown should remain for the King. Keep in mind too that Lundqvist is going into the final season of his current contract so if you believe in the power of contract-season motivation then perhaps Lundqvist will have an even better season, if that's doable.
The other major variable at play is the change in coaches and thus a potential change in philosophy that will go to a more open/less suffocating style. I don't think it will make a major difference for Lundqvist though; I'm not part of the camp that thinks he was made to look this good in part because of John Tortorella's coaching. But this season will tell.
Second Team
Center: Jonathan Toews
There are so many choices here it's nearly impossible to pick (Evgeni Malkin, Steven Stamkos, Pavel Datsyuk, John Tavares , Claude Giroux, Patrice Bergeron, etc., etc.). But Toews has become arguably the best two-way player in the game with consistent production on offense and excellent and responsible defense. He won the Selke for a reason. His defense will remain and seeing how he's only 25, his scoring might pick up even more. His 23 goals last season project out to 40 over a full campaign. The roster's the same and he's another year better. There's no reason he can't hit the 40-goal mark this season for the first time.
Wing: Martin St. Louis
I'm at the point with St. Louis that I won't count him out until he counts himself out. I mean, it's not like the 38-year-old isn't coming off winning the Art Ross Trophy or anything. While he wouldn't have won the award without Crosby's injury, that doesn't take away from the fact that St. Louis was on an 82-game pace for 102.5 points, which, if rounded up, would have been a career best. Ah, the joys of playing alongside Stamkos. As long as they remain line partners, why can't St. Louis continue playing at an exceptional level?
Wing: Taylor Hall
I went back and forth here between Hall, Phil Kessel, Henrik Zetterberg, Logan Couture and '12-13 preseason first-teamer Chris Kunitz, among others. I settled on Hall because the Oilers forward looks set to take his game up another level and it's already pretty darn good. Hall is playing some time at center in the preseason and that's just going to help his game grow even more with his defensive responsibilities and positioning. That pairs with a burgeoning offensive game that led to 50 points (16 goals, 34 assists) in 45 games last season. And he's still only 21. Hall is going to be a force.
Defenseman: Zdeno Chara
I feel as though sometimes we forget how good Chara is at both ends of the ice. It gets a bit repetitive, but the guy is just a monster. He's as difficult of a defenseman as there is to play against in the league, logs major minutes and still has a slap shot that is feared by opposing players not named Ryan Callahan (seriously, that guy has never seen a shot he didn't want to block). Truth be told, I've found myself in the past trying to find reasons to not pick Chara for such things just to give other players some recognition but he's too good all-around to ignore.
Defenseman: P.K. Subban
I was tempted to take a shot in the dark with Drew Doughty as I think he could very well take another step up this season in LA but had to go with Subban over him, Letang, Weber and the long list of other potential picks. It's going to be difficult to pick just four defensemen at season's end. Why Subban? It's not really because he's the reigning Norris winner but I think the more important face is that he's going into a contract year. The Canadiens gave him a bridge deal for a very low price all things considered and he will want to earn a mega deal. Plus, his offense took a huge step forward last season as he equaled his career high with 38 points despite just 42 games and he's a very strong defenseman as well.
Goaltender: Tuukka Rask
Rask is now on the elite radar (if he wasn't already) after a tremendous postseason showing for the Bruins. All signs point to him keeping it up. The thing I like about Rask enough to give him the nod over some others like reigning Vezina winner Sergei Bobrovsky is that he has been consistent. Even with his "disappointing" 2010-11 season, Rask hasn't posted a season with a save percentage below .918 in the past four years. In each of the past two he had a .929 save percentage. It helps to play behind such a talented team but Rask is one of the best and most consistent. It should be another big season.
The expansion Golden Knights officially moved into first place in the NHL on Sunday

The former Boston Bruin was the first black player to play in the NHL

Inclement weather led to the Charlotte Checkers and Bridgeport Sound Tigers playing in front...
The NHL chose the Detroit rocker as its All-Star Game entertainment and not everyone is th...

NHL fans from all over seem to agree on one thing: Hating Kid Rock

The team tweeted on Monday that Shaw would be re-evaluated in 7-10 days