Q & A: Bates and Anthony Battaglia talk about being on 'Amazing Race'
This Sunday the 22nd season of the Emmy Award-winning show The Amazing Race will begin on CBS and this season will feature former NHL player Bates Battaglia and his brother Anthony -- a minor-league hockey player himself -- will take part.
More NHL: Scores | Standings | Odds | Fight-O-Meter | League Leaders | Rumors
This Sunday the 22nd season of the Emmy Award-winning show The Amazing Race will begin on CBS, and this season will feature former NHL player Bates Battaglia and his brother Anthony, a minor-league hockey player.
Bates was drafted in the sixth round (132nd overall) by the Ducks in the 1994 draft. He broke into the league with the Carolina Hurricanes in 1997-98 and ended up playing 580 games that also saw stops in Colorado, Washington and Toronto. He finished with 80 goals and 118 assists with career highs in both categories coming in 2001-02 with the Canes. That season, Bates had 21 goals to go with 25 assists. That doesn't include the five goals, nine assists in 23 postseason games.
After his NHL career was done, Bates played a little bit in Finland and Germany before coming back to North American and finishing his playing days in 2010-11 with the Tulsa Oilers of the CHL.
Anthony was a four-year player at Western Michigan University and has spent time bouncing around in the minors, mostly in the ECHL. He is a member of the Huntsville Havoc in the SPHL and played earlier this season with the Williamsport Outlaws in the Federal Hockey League.
If you're not familiar with the show, 11 teams embark in a race around the world with one team being eliminated at the end of each leg of the race (unless it's a nonelimination round). The first team to finish the final leg win $1 million prize.
We caught up with the Battaglia brothers to talk about their once-in-a-lifetime experience.
Q: Who's idea was it go on the Amazing Race?
Bates: We've watched the show and we both love the competition part of it and all that kind of stuff. When the opportunity came we jumped at it.
Q: What was the driving force behind wanting to go on the show; the experience, the competition or the prize money?
Anthony: Just watching the show being fans we would see the different challenges and we'd be like 'Oh, we can do that' or 'that looks pretty easy, we should be able to do this and win that $1 million.' I just think for us, being competitors and having that in our nature, it led us to want to be on the show.
Q: Were there any kind of challenges that had you nervous going into the show? For example, sometimes teams have to go bungee jumping or eat crazy foods. Did any of that scare either of you?
Bates: Like I said, we watched the past few seasons and saw all those things they had to deal with. We looked at it like 'we can do that, we can do every one of those.' I mean you're definitely going to be a little bit nervous about it. But never at any point did I see something I didn't think I could do.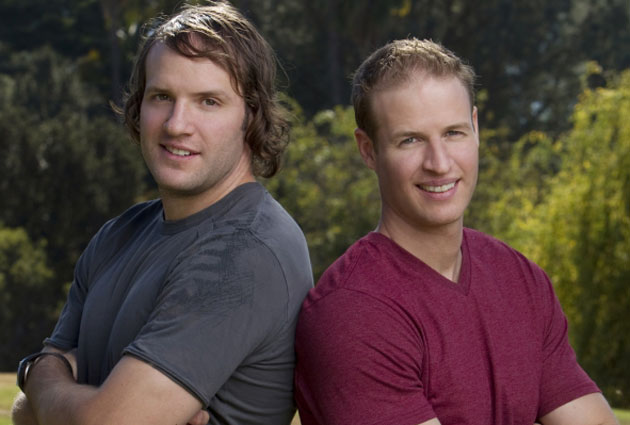 Bates (left) and Anthony jumped at the chance to be on 'The Amazing Race'. (CBS)
Q: A lot of teams with some level of celebrity status and/or perceived money position try to hide their real jobs. Was that something you guys wanted to do seeing that you played hockey?
Anthony: I don't think we really tried to hide it. I'm [Anthony] missing teeth and he's got long hair like a hockey player.
Bates: I think we went into it with the game plan of being honest and we just wanted to go through it as good guys.
Q: Did you have any strategies you planned when going into the race? Some teams prefer to pair up while others like the pride of going alone.
Anthony: I think we considered trying to be friendly with everybody. If you pair up with somebody, you know, it happens. You're sure maybe you can help them out and they'll return the favor. But when it came down to it if it was us or them, we were going to look out for No. 1.
Q: Given your histories of sleeping on buses, planes and trains as hockey players, were you guys at an advantage with all the odd places you needed to try to find some shut eye?
Bates: I think so. Anthony does a lot of bus travel with his team and I've done the same. You find some creative ways to get some rest. I know Anthony can sleep anywhere, I've never seen anything like it. So I think that was an advantage for us and just, you know, being physically fit. Just knowing how to take care of your body when it's run down I think was an advantage for us.
Q: How much preparation did you do in anticipation for the race? Did you try to learn any languages?
Anthony: We didn't really focus on the languages that much, we were more focused on our physical training; trying to be a fit team. You know, just going to the gym, working out five days a week or so.
Bates: Watching the show and just watching old reruns and seeing how to play the game. I think that was the most training and preparing we did outside that.
Q: Having watched other seasons then, how scared were you any time you had to take a dreaded taxi cab?
Bates: Yea, I think that was one of our biggest fears -- the nightmares that people have with the taxi drivers. It's the worst in something like that where they can't control it. There's nothing you can do, you can't communicate with them.
Q: What was the hardest part about the race?
Bates: It's a lot more taxing on your body than you would think. It's a lot harder than it looks on TV. I'll say that.
Anthony: Yea, I think it looks a lot easier on TV.
Q: What will be the ultimate thing you take away from the race?
Anthony: I think just the experience of just traveling with my brother. I think I'm going to take that away.
Bates: You realize what you're made of, I think. It really pushes you, pushes you to the limit.
The Battaglias are not allowed, contractually, to reveal any results of the show, so we'll just have to tune in on Sunday nights to watch their exploits. 
More about the Battaglia brothers
Full cast of Amazing Race 22
For more hockey news, rumors and analysis, follow @EyeOnHockey and @StubitsCBS on Twitter, subscribe to our YouTube account and like us on Facebook.
The team tweeted on Monday that Shaw would be re-evaluated in 7-10 days

The Montreal forward was hospitalized after taking a Zdeno Chara slap shot to the head

Tampa Bay is still No. 1 and Vegas is still up there, but a few others are finally catching...
Army filed an opposition to the use of 'Golden Knights' on the last day that it was permitted...

The NBC rinkside reporter is hoping to return in time for the 2018 Olympics

Here's who wade the cut for the 2018 NHL All-Star Game on Jan. 28 at Amalie Arena in Tampa...