Quest for the Cup: All eyes on Jonathan Toews
Blackhawks captain Jonathan Toews has just three points and no goals this postseason, and he's taking too much heat for it.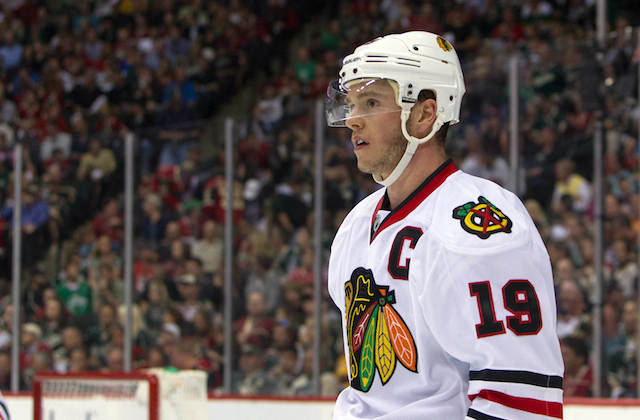 More NHL Playoffs: Scores | TV Schedule | Expert Picks | Odds | Mock Draft | Rumors
First star game of the day


Game 5 (Det 3-1), Detroit Red Wings at Chicago Blackhawks, 8 p.m. ET (NBC)
When the Chicago Blackhawks host the Detroit Red Wings on Saturday night, the best team in the NHL during the regular season will shockingly be facing elimination in Game 5 of their Western Conference semifinal series.
The phrase "must win" gets thrown about a little too often during the season and the playoffs, but the Blackhawks are literally facing a must-win situation in each of the next three games.
Assuming, of course, they actually win enough of those games to play three more.
One of the biggest reasons the Blackhawks are in the situation they're in against a re-tooled Red Wings team -- one that is suddenly starting to look a lot like some of the old Red Wings teams that played for Stanley Cups -- is that their offense has completely disappeared in the second round.
Leading the charge in the wrong direction on the score sheet has been captain Jonathan Toews. He enters Saturday's game without a goal this postseason and only three assists. In this series, he has just one assist, in Chicago's 4-1 win in Game 1.
This, naturally, has been quite the talking point as the series has progressed and the Red Wings have pushed their long-time rivals to the brink of elimination. So what in the hell is going on here, and why can't Toews and the Blackhawks break the seal that seems to have been placed around the Detroit net?
Well, the Red Wings -- particularly goaltender Jimmy Howard and the defense pairing of Niklas Kronwall and Jonathan Ericsson -- deserve a little bit of credit for that.
But this also illustrates a problem with the way that the postseason runs and performances are viewed.
Toews, already a Stanley Cup champion and Olympic gold medalist at the age of 24, is a favorite of the media. Not only for objective reasons like his play on the ice (which is great), but also for subjective reasons like his "leadership," something that isn't easily defined and seems to be more a reflection of what he does during a game than anything he does in the locker room.
Jonathan Toews scored a goal? That's just great leadership.
Jonathan Toews made a great pass to set up his teammate for a goal? Leadership.
The Blackhawks went more than 20 games to start the season without a regulation loss? Must have been the leadership of Toews.
Basically anything positive that happens for the Blackhawks? LEADERSHIP.
That's why I kind of love the perception of his current playoff run, and why I really loved a comment that Toews himself made to Cam Cole of the Vancouver Sun following Game 4, a game that saw Toews have a personal meltdown during the second period with three straight penalties and what can only be described as a temper tantrum.
"I mean, I understand that what happened in the second period wasn't a good thing," Toews said to Cole. "I don't attribute it to me losing my temper. Obviously, I was a little bit careless with my stick, and it ended up costing me and costing my team.

"But when things go well for our team, sometimes maybe I get more credit than I deserve, and I think same goes the other way. And I understand that's part of it. Our best players need to be our best players. We need to lead, we need to grab the rope and start pulling for the rest of the guys, and it starts with myself."

Emphasis myself, because he's absolutely right. Seriously, that might be my favorite quote of the postseason.
Take the 2010 playoffs, when the Blackhawks won the Stanley Cup, as an example. Toews was great and wildly productive offensively. But he was also showered with praise for things like "leadership" and for going up against -- and shutting down -- the other team's top players, such as Vancouver's Henrik and Daniel Sedin and San Jose's Joe Thornton.
In other words: He was getting too much praise for things that he either wasn't doing or wasn't controlling.
I don't know much of the Blackhawks' success that season was due to his leadership, but I do know the biggest reason the Blackhawks won was because they were the most stacked team the NHL has seen in the salary cap era. I also know that he wasn't being used as Chicago's top shutdown center playing the toughest assignments. That was all narrative driven and more perception than reality.  It was actually Dave Bolland who saw most of the ice time against the Sedins, Thornton and other top players while Toews and his line were able to feast offensively on lesser competition (and there's nothing wrong with that).
The thing about Toews this postseason is that he's not really playing poorly, and he's taking too much blame for when things are going wrong. He has bad box-score stats, but that doesn't necessarily mean he is hurting his team. Sometimes over short stretches, you can play well and do all of the right things and simply not get the results. And sometimes that's a big part of which team wins in the playoffs.
And, unlike past postseasons, such as the aforementioned 2010 run, this time around he actually is going up against other team's top players. In round one, he went up against Zach Parise and Mikko Koivu. In the second round, he's going up against Henrik Zetterberg. And his line is actually controlling the puck and driving play. They're just not getting the results.
Sometimes over the course of a long regular season and postseason, these stretches happen to teams and players. When they happen in January or February, nobody pays any attention to them or gives them a second thought because they're forgotten about a week later when another hot streak kicks in. But when they happen in May, they become front-page news because they usually result in an early exit and there is no game next week to make up for it.
Toews' underlying numbers this postseason seem to point to a guy who is more unlucky than bad. He has been Chicago's best possession player and one of the best in the NHL (plus-36.6 Corsi Relative) while the Blackhawks as a team have converted on less than two percent of their shots on goal during five-on-five play with Toews on the ice. That's unsustainbly low. They're getting chances. They're getting opportunities. And when you watch the games, Toews is at the center of all of it.
If they can keep creating the same chances, some of those pucks are going to start going in.
They just need to find a way to make sure they play enough games to start getting the rewards.
The worst thing that Toews has done this postseason was lose his cool in the second period of Game 4. If anything should be questioned there, it's the same "leadership" and composure qualities that he always gets praised for.
As far as his actual play on the ice goes, he hasn't been as bad as the box scores are telling you.
Second star game of the day


Game 5 (BOS 3-1), New York Rangers at Boston Bruins, 5:30 p.m. ET (NBCSN)
Thanks to a couple of crazy and whacky plays in Game 4 by Tuukka Rask and Zdeno Chara, the New York Rangers have the opportunity to play at least one more game as they continue to try to do what only three NHL teams before them have done -- successfully come back from a 3-0 deficit in a playoff series.
Bruins fans -- and probably the Bruins themselves -- have to be hoping this is the Rangers' last game so they can stop hearing about the last time to let a 3-0 lead slip away. That team, of course, was the 2010 Bruins.
Other than the fact this team wears the same colors and uniforms as that 2010 team, there doesn't seem to be much to suggest this team is headed for a similar fate. I suppose with Henrik Lundqivst at the other end of the ice, there's a chance that anything can happen, especially if he gets hot and puts up a brick wall like he did at the end of the Rangers' first-round series against Washington. But something about Lundqvist just hasn't looked right in the second round, and he doesn't seem to be playing his best hockey. And for the Rangers to have a chance to make history, they're going to need him to be at his best because they're simply not a better team than the Bruins, even with Boston putting a young defense on the ice due to injury.
Those young defensemen have been stellar with Torey Krug leading the way.
The Pittsburgh Penguins will put politics aside and visit the White House out of 'respect'...

NBC will reportedly be devoid of NHL game broadcasts between Feb. 7-26

The Winnipeg winger suggests Trump is going after 'the principles the U.S. was founded on'
League gets excited about exhibition matches in Beijing and Shanghai

NHL players are still disappointed they won't be going to skate in PyeongChang

With Artemi Panarin in the mix and a Vezina winner headlining the defense, Columbus can be...