Quest for the Cup: Blackhawks and Wings take center stage
There's only one game in the NHL on Monday night and it should be a good one with Chicago and Detroit with their best-of-seven series even at 1-1 heading into the Motor City.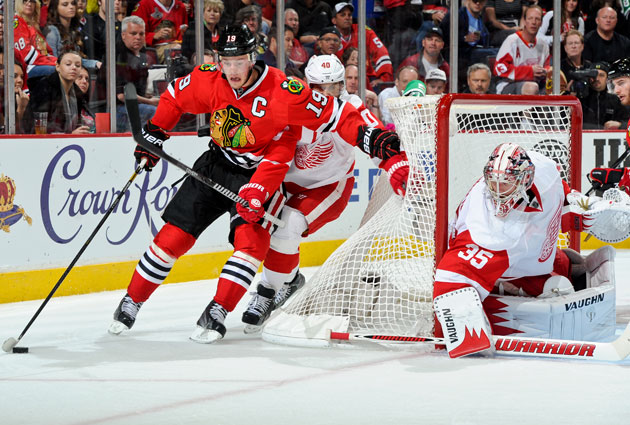 More NHL: Scores | Standings | Odds | Fight-O-Meter | League Leaders | Rumors
First star game of the day
Game 3 (Tied 1-1), Chicago at Detroit, 7:30 ET (NBCSN):


The only game on the schedule Monday night, this series went from potential sleeper to possible barnburner when the Red Wings took the Blackhawks out in a big way in Game 2 in Chicago.
It's still early in all the second-round series, but so far the only team to win on the road was Detroit in Game 2. If you believe the old cliche in hockey, this is the only matchup that's actually a series at this point -- you know, "it's not a series until somebody loses on home ice." Home teams are 9-1.
How much will it matter that the Red Wings have taken home-ice advantage from the Blackhawks? Very little, I would imagine. The Blackhawks were as strong on the road as at home this season and in the first round won both their road games in Minnesota. They just have to do what they need to, no matter where the game is.
That starts with figuring out what to do with Henrik Zetterberg. There's no denying Jonathan Toews is one of the very best players in hockey but he is finding Zetterberg to be a terrifically challenging foil. Detroit's captain has been unrelenting in his pressure on Chicago's captain, a matchup Detroit is happy to play with. It does require Zetterberg to put it in more energy into the defensive end, but it proved worth it in Game 2 as the Wings also tallied four goals. It was a great day at the office for Detroit.
You take out the best player and you presumably take away the best that team has to offer, so finding a way to get Toews free of Z has to be up the priority list in Game 3 for Chicago.
For the Red Wings the mission is simple: come out and play with that same level of intensity as Game 2. Just like giving up a goal in the shift after you score, losing at home after taking a big road win can be a tough pill to swallow. To make that Game 2 win mean something, the Wings have to back it up with a Game 3 victory as well, otherwise what ground that was gained is lost and home-ice advantage reverts right back to the Hawks.
Actually executing that is a lot easier said than done. It's very rare that the Blackhawks are outshot in a game, even more rare when they are outshot by 10 and get only 20 attempts on net themselves. That's almost unfathomable for this talented of a team and surely won't happen often, if again.
So while Detroit definitely deserves credit for what it did in Game 2, you can expect better from Chicago, as well; its performance being subpar isn't off the hook. With players who have been through this before, they know that, and you can expect a big response coming.
Game 3 is shaping up to be really good, it's nice that we can all put our full attention on it for Monday night.
Oh, and just because Niklas Kronwall plays for the Red Wings and all, here's a special you could call "You got Kronwalled."
Snap shots
•  Not really a surprise to anybody, but Jonathan Quick won't face further discipline for the game misconduct he took after Game 3 for abuse of officials. (LA Times)
•  Wojtek Wolski is leaving the Capitals and the NHL, signing with KHL Torpedo on Monday. (Dmitry Chesnokov)
•  Speaking of the Caps, George McPhee is going to have to take some big risks, something he's not terribly used to, if he wants to make the Caps better. (NBC Washington)
•  The 2013 Alternative NHL Awards where guys like Colton Orr, Chris Neil and Steve Ott can take home hardware too. (On the Forecheck)
•  At the Memorial Cup in the CHL, Saskatoon pulled a big upset on Sunday by beating Halifax which features two of the top three draft prospects, Nathan MacKinnon and Jonathan Drouin. (NHL.com)
The former Boston Bruin was the first black player to play in the NHL

Inclement weather led to the Charlotte Checkers and Bridgeport Sound Tigers playing in front...

The NHL chose the Detroit rocker as its All-Star Game entertainment and not everyone is th...
NHL fans from all over seem to agree on one thing: Hating Kid Rock

The team tweeted on Monday that Shaw would be re-evaluated in 7-10 days

The Montreal forward was hospitalized after taking a Zdeno Chara slap shot to the head