Quest for the Cup: Blackhawks-Red Wings gets started in Chicago
There's only one game on Wednesday night, but it's a good one: Chicago vs. Detroit. Plus, Raffi Torres with another questionable hit.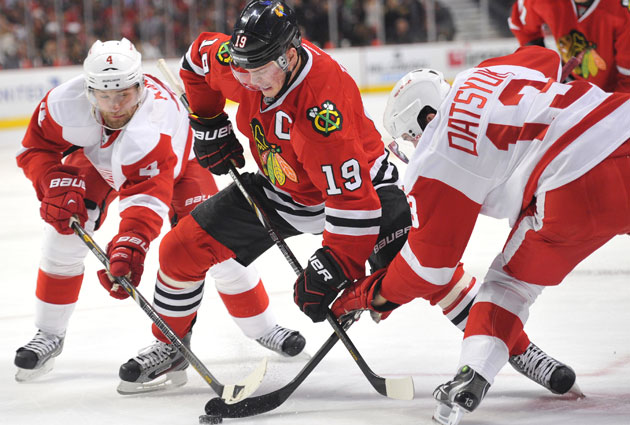 More NHL: Scores | Standings | Odds | Fight-O-Meter | League Leaders | Rumors
First star game of the day


Game 1, Detroit at Chicago, 8 p.m. ET (NBCSN):
Most eveybody sees the Chicago Blackhawks as having a clear advantage over the Detroit Red Wings in this second-round series. While I am one of those people, we'll know more after Wednesday night if the series is really going to shape up as one-sided. It's tempo-setting time.
The Blackhawks come into the second round with a little time to rest. That certainly wasn't a luxury for teams in the NHL this season, so the Hawks took full advantage of it, I'm sure. One positive to getting a few days off was getting healthy. Dave Bolland is going to be back in the lineup for Game 1, a big return for them. He doesn't put up the stats, but his role as a tough, gritty center who can play on multiple lines is valued.
On the other hand, you have Detroit, which just got out of a seven-game series with the Ducks that ended on Sunday. That's still a decent amount of time between series but not the vacation that the Blackhawks had. However, it wasn't a terribly punishing series with Anaheim; it was a much more open series that didn't have an incredibly physical nature.
In other words, we get to Game 1 with a truly clean sheet, opening the door for these teams to do what they do best against each other; play some outstanding hockey. Yes, it does stink that there is only one game to watch on Wednesday night. But if there's only going to be one, then I'm glad it's this one.
Snap shots
•  The Ottawa Senators had a rough night in Pittsburgh. You can chalk some of it up to stage fright, something that coach Paul MacLean hopes they're over. Or you can chalk some of it up to the Pittsburgh Penguins . I don't know. (Senators Extra)
•  Truth be told, Toronto Maple Leafs fans were OK with losing Game 7. They just didn't expect one of Those Games. Excellent stuff as always from Sean McIndoe. (Grantland)
•  How rare was that Game 7 comeback/collapse? Tyler Dellow did the math; about twice as rare as a Halley's Comet sighting. (MC79Hockey.com)
•  Alex Ovechkin knows "one guy can't win the championship." It was about more than him for the Washington Capitals ; he's certainly right about that. (Washington Post)
•  What would a playoff season be without a questionable hit from Raffi Torres ? This was certainly not as bad as the hit on Hossa, but will it warrant a suspension? I lean toward no. But given his past, you never know.
Five for Fighting
Every day, we'll have a top-five list that is pretty self-explanatory, all in this man's opinion. Today: The five best goalies remaining in the playoffs.
No. 5: Antti Niemi . Niemi has become more than just a serviceable goalie for the San Jose Sharks , something that many saw him as in Chicago. He was solid for them all season, a big reason they were able to stay afloat amid offensive struggles. Plus, he has that Cup pedigree.
No. 4: Corey Crawford . Why not? Crawford doesn't seem to get the praise that he deserves, but he has been everything the Blackhawks needed and more. All they were really missing was great goaltending in recent years. It's no coincidence that this is the year they dominated.
No. 3: Tuukka Rask . Rask has done exactly what everybody in Boston was hoping he would do; make them forget about Tim Thomas. There were doubts that Rask could handle the No. 1 duty like he did a few years ago, but he has done that and more.
No. 2: Jonathan Quick . It wasn't a great regular season for him, but you're seeing in the playoffs how good he can be. I'm always so impressed by how he positions himself and takes away the ice level for shooters. He's just so technically sound.
No. 1: Henrik Lundqvist . The King wears the crown here. For years, he has been the best thing going for the New York Rangers , and he still is. He shut down a good Washington offense with shutouts in Games 6 and 7. What's more is that he makes it all look so easy.
The 38-year-old defenseman had been on the free agent market since July 1

New York fans aren't too happy about it, either

The league is not backing down, but players aren't hiding their frustrations, either
Draisaitl remains unsigned as Edmonton's premier restricted free agent

Yes, it is as perplexing as it sounds

Here's a look at the best of what's left in the pool of unsigned veterans