Quest for the Cup: Can Sharks rebound from Game 2 collapse?
Thanks to their third period collapse against Los Angeles the Sharks return home with a 2-0 series deficit. Can they bounce back in Game 3?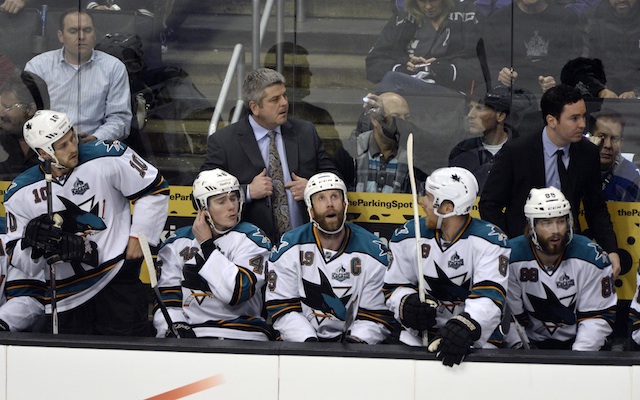 More NHL: Scores | Standings | Odds | Fight-O-Meter | League Leaders | Rumors
First star game of the day


Game 3 (LA 2-0) Los Angeles Kings at San Jose Sharks , 9 p.m. ET (NBCSN)
The San Jose Sharks have probably played better than their 2-0 series deficit might indicate, and they finally found a way to put a few of shots behind Jonathan Quick . But sometimes that's how hockey works, and it can be a brutally unfair game where things like Thursday night's game happen and the Sharks let a late lead slip away in 22 seconds after a couple of late penalties, including a fluke puck over the glass call.
If there's good news for the Sharks, and something they can maybe cling to heading into Game 3 when the series shifts to San Jose, it's that for most of Thursday's game they were the better team and if nothing else showed they can compete with the Kings in their building.
On Saturday they return home with a chance to get themselves back into the series. The question is whether or not they're able to bounce back from such a crushing loss in Game 2. To be that close to tying the series only to let it slip away into a two-game hole where you're now facing what is essentially a must-win Game 3 has to be tough to swallow. But that's the position the Sharks are in on Saturday. They absolutely need a win, and have to find a way to win four out of the next five against the defending Stanley Cup champions.
I still think the Sharks have enough talent to hang around in this series but it has to start on Saturday as a 3-0 deficit would be way too much to overcome. Only three teams (the 1942 Maple Leafs, 1975 Islanders, and 2010 Flyers) in NHL history have managed to overcome a three-game series deficit.
Second star game of the day


Game 2 (Chi 1-0) Detroit Red Wings at Chicago Blackhawks , 1 p.m. ET (NBC)
The Red Wings played with the Blackhawks for about 20 minutes in Game 1 of their Eastern Conference Semifinal series before getting absolutely steamrolled in the second and third periods. The only reason it wasn't a complete blowout was because Jimmy Howard was able to keep his team in the game until the last 10 minutes of the third period when the Blackhawks' constant assault on the Detroit net finally resulted in a couple of goals.
If these two teams play like they did on Wednesday this could be a very, very short series. The Blackhawks are probably going to keep coming at Detroit the same way (they've actually defeated Detroit five straight times this season, including Game 1), but Detroit has more to offer and is a better team than it showed in Game 1.
That was probably one of the worst games the Red Wings have played this season and they're going to need bigger performances from some of their top players, including defensemen Niklas Kronwall and Jonathan Ericsson . When the pairing of Kronwall and Ericsson was on the ice, usually going up against Chicago's line of Jonathan Toews and Marian Hossa , the Red Wings were outshot 19-5 at even strength and outscored 2-0. The Red Wings defense isn't deep enough to get performances like that from its top players.
Snap shots
• Bruins defenseman Dougie Hamilton doesn't feel like a rookie anymore [CSNNE]
• A big reason Ottawa is down 2-0 to Pittsburgh? Inability to get the first goal. "Catch up hockey is losing hockey," said Senators coach Paul MacLean on Friday night. [NHL]
• Sharks general manager Doug Wilson isn't the only person that disagrees with the suspension of Raffi Torres. He has an ally in Don Cherry. Of course he does.
Five for Fighting
Every day, we'll have a top-five list that is pretty self-explanatory, all in this man's opinion. Today: The five most surprising performances in the playoffs.
5. Michael Grabner : The Islanders were eliminated in the first round, but Michael Grabner was one of the most impressive players in the first round using his speed to create all sorts of mismatches against the Penguins. Every time he was on the ice he was making an impact in that series.
4. Tomas Vokoun : It's not necessarily a surprise he's playing well (because he's a very good goalie), but it is a surprise that Tomas Vokoun is actually getting a chance to play for the Penguins. He's been excellent since taking over for Marc-Andre Fleury before Game 5 of the Eastern Conference Quarterfinal series against the New York Islanders. 
3. David Krejci : David Krejci is an excellent player and always has been for the Bruins, but he's never scored at a pace like he has through the Bruins' first eight playoff games. It's a pace that has him tied for the league lead in points with 14 (tied with Pittsburgh's Evgeni Malkin). He had 33 points in 47 games in the regular season.
2. Derick Brassard : I didn't think the trade of Marian Gaborik for a package that included Derick Brassard was going to fix the Rangers' offense, but the young center has been a nice pickup for New York. He enters the weekend fifth in the NHL in postseason scoring with 10 points in eight games. No other player on the team has more than five points.
1. Pascal Dupuis : It's not surprising that Pascal Dupuis is playing well. He's a very good player and perhaps the best bargain in the NHL. But tied for the lead (with Sidney Crosby and Patrick Sharp) in goals through the first eight games of the postseason? Yeah, bet you didn't see that coming.
Unlike expansion teams before them, the Knights have enough talent to entertain right away

Brian Lawton says he 'would not be surprised' if Boston deals its young star to end contract...

It turns out Phil does love his hot dogs, especially when they're in a Stanley Cup
The Avs have a long way to go after a historically bad 2016-17 outing

Murray died Saturday at the age of 74

Hosting an apparent TV night with his girlfriend, Murray is missing one thing -- a plugged-in...