Quest for the Cup: Canadiens, Senators get back at it
Getting you ready for Tuesday's playoff action when the Canadiens and Senators will meet for Game 4 in a very contentious series.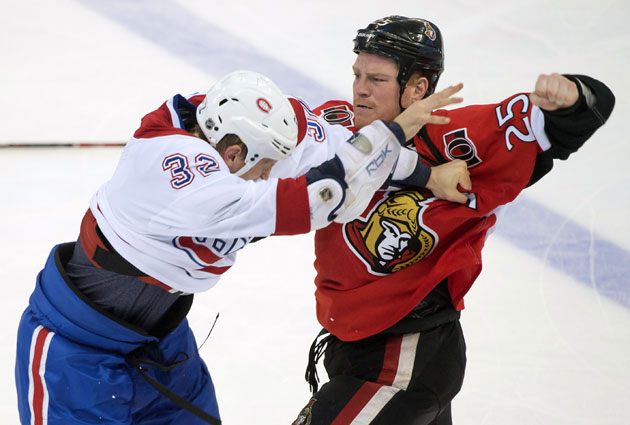 More NHL: Scores | Standings | Odds | Fight-O-Meter | League Leaders | Rumors
First star game of the day


Game 4 (2-1 OTT), Montreal at Ottawa , 7 p.m. ET (CNBC): Ding! Ding! Ding!
Who had Sens-Habs becoming the most vicious series of the playoffs before they started? There seemed to be some disappointment that we weren't getting Leafs-Habs, and in a small way this almost felt like a letdown. But through three games it's been as nasty as a playoff series can get.
But it's also a real series on the ice. The lower-seeded Sens have the lead in the series and would really love to consolidate it with another win on home ice. They can punch the Habs until they are blue in the face, but that won't ultimately feel as good as knocking Montreal out of the playoffs.
It's going to happen if the Canadiens don't start playing better hockey. The extracurricular stuff aside, the Canadiens are simply being beaten when it comes to playing the game with sticks and a puck. Perhaps they don't deserve to be in the 2-1 hole with how well they did play in Game 1, but they're there. With how well Craig Anderson is playing -- surprise, surprise -- they don't want to allow Ottawa to have three chances to win one game.
The truth remains that the Canadiens need Carey Price to be the Carey Price they know. He had another bad outing in Game 3, evoking memories of his very tough April.
I am not sure how much carryover we will see Tuesday night as far as the fighting and animosity is concerned. Playoff games are too important to get bogged down in that type of stuff consistently. It happened last game when things got out of hand on the scoreboard. So it should be about the hockey primarily, which is nice considering it's a pivotal swing game.
Second star game of the day


Game 4 (2-1 PIT) Pittsburgh at NY Islanders, 7 p.m. ET (NBCSN): Through three games, this has been one tight series, and I'm not sure how many people actually saw that coming. It's a good illustration, though, that the Islanders aren't just a good, cute story; they're a pretty good team. Truly.
They have done a good job in the past two games of controlling the play, keeping the puck on their sticks more often than not. Where the Isles have been hurting is in goal with Evgeni Nabokov. If you're going to beat a top team like Pittsburgh you must get great goaltending even if your skaters are playing well. You could probably say the same for the Penguins and Marc-Andre Fleury, though truth be told they probably don't need him at his absolute best to beat the Isles.
This hasn't been as unbalanced as a typical 1-8 series through three games. Game 4 will be played in an excited Coliseum on Long Island again, but it will likely come down to which goaltender can be better. The Isles return to Pittsburgh at 2-2 and we've got ourselves a real series on our hands.
Third star game of the day


Game 4 (2-1 CHI), Chicago at Minnesota, 9:30 p.m. ET (NBCSN): The Wild have already given Chicago a bigger fight than I or many people anticipated. They took Game 3 to kill any notion of a sweep and nearly took Game 1 in Chicago. It's not crazy to think they can send this series back to Chicago all square.
But it's still going to take all they got. They're going to have to continue with what has been working, which is to play a physical game with the Blackhawks. At times Chicago has been too caught up in trying to play that game with the Wild, and it has allowed Minnesota to hang in a few of these games.
The big omission from the Blackhawks' postseason showing so far has been the captain, Jonathan Toews. He is pointless in three games and while he does a lot more than score, that's a big part of his game as well and something the Blackhawks would like to have back.
Minnesota is one of the tougher teams on home ice while Chicago will be looking for a strong rebound from a loss. That all means we have the potential for another tight one, possibly another OT.
Honorable mention


Game 4 (SJ 3-0), Vancouver at San Jose, 10 p.m. ET (CNBC): The Sharks can be the first team to punch their ticket into the second round, but whether it happens Tuesday night or later it seems like an inevitability. The Canucks' fall was encapsulated in a few minutes in the third period in Game 3 when things really got away from them and Cory Schneider was pulled.
Remember last season the Canucks were in this same situation against a California team, losing the first two at home then Game 3 on the road. They were able to win Game 4 before the Kings finished off the gentleman's sweep in Game 5. Will the Sharks even let it get that far?
Snap shots
•  Ducks coach Bruce Boudreau called out some guys on his team after a Game 4 loss to the Wings, saying they have too many "passengers" right now. (Los Angeles Times)
•  Monday night in Toronto wasn't as much about the Bruins-Leafs game as it was playoff hockey being back in Toronto. Of course, a Leafs win would have been ideal. (Toronto Star)
•  T.J. Oshie had two goals Monday night but was hard on himself after the Blues lost to the Kings, calling it his "worst complete hockey game I've played all year." He was on ice for all four goals against. (St. Louis Post-Dispatch)
•  The Blackhawks are still without Dave Bolland and Ray Emery, who are getting closer to returns but won't be back for Game 4. (CSN Chicago)
•  Here's John Tortorella's press conference after the Rangers' Game 3 win Monday night. He was much more forthcoming than normal and was there so long he had to ask for help to get him away from the mic around the 7:15 mark:
Five for Fighting
Every day, we'll have a top-five list that is pretty self-explanatory, all in this man's opinion. Today: Best arena atmospheres in the playoffs.
No. 5: Toronto. This one is exclusive to the postseason as normally games in Air Canada Centre are borderline stuffy with the cost of tickets, but the pent-up energy was evident on Monday both inside and outside the arena.
No. 4: NY Rangers. MSG is a mecca of basketball, but it's not so bad for hockey, either. Rangers fans are rabid and get major creativity points for the chants they come up with.
No. 3: San Jose. The Tank can really get roaring when the Sharks are going well like they were in Game 3. That place was so loud you could feel the vibration through the TV.
No. 2: Chicago. A huge arena. Things always get started with the national anthem and stay pretty intense. There is a reason it's called the Madhouse on Madison.
No. 1: Montreal. The Bell Centre is the biggest arena in the NHL, and it shows. They love their hockey in Montreal, so that place is always rocking and always leaves an impression.
Vladislav Yeryomenko was the Teddy Bear Toss goal scorer for the Calgary Hitmen

The Golden Knights are finally getting their No. 1 goalie back after a 25-game absence

Washington has won four straight, and the Kings are also on a tear right behind the Lightn...
The NHL says it's only interested in expanding to Seattle, but here's a look at all the moving...

The NHL says it is only looking toward Seattle for the next expansion team

The 33-year-old defenseman hopes to help find a cure for serious head injuries in athletes