Quest for the Cup: Ducks, Wings with first Game 7 of postseason
Is there anything better than a Game 7? Anaheim will host Detroit on Sunday night in the postseason's first while two teams in the East will try to force seven.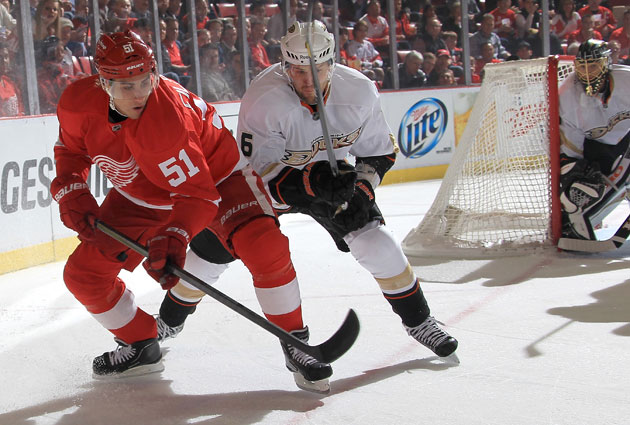 More NHL: Scores | Standings | Odds | Fight-O-Meter | League Leaders | Rumors
First star game of the day


Game 7, Detroit at Anaheim, 10 p.m. ET (NBCSN): Here we are, the best that playoff hockey can provide, the drama of a Game 7, the first of this postseason.
"If you can't enjoy it, then you're in the wrong sport," Ryan Getzlaf said. The man is right, of course.
If you're a sucker for trends, this game belongs to Anaheim. The teams have alternated wins to this point, the Anaheim Ducks owning a series lead on three occasions. However, that alternating streak is more coincidence than anything because the series could have gone so many different ways by now with just a few bounces, it's been so tight. Four of the first six games needed overtime.
The natural assumption is to give the Ducks the advantage because they will be on home ice, and that could certainly be the case. Just don't discount the Detroit Red Wings ' resiliency. They have had this elimination pressure on them for weeks now, including in Game 6, and they haven't wilted under that pressure once.
This series has been very exciting with strong comebacks, great goals, overtime thrillers and just good hockey. There's no reason to think Game 7 will disappoint. It could appropriately end in another overtime, the only fitting way for this series to go out. Everything is magnified further, especially the goaltending. In this series,  Jonas Hiller has been the better of the two.
The bonus is that whoever wins will set up a good matchup in the second round. If the Ducks win, they draw the Kings, their local rivals whom they've never faced in a playoff series. If the Red Wings pull it out, they get their Original Six rivals, the Blackhawks, one last time as members of the West.
If you're asking for a prediction, I'll take the Ducks in another tight one. I had Detroit before the series, but things seem to shape up Anaheim's way in this one.
Second star game of the day


Game 6 (BOS 3-2), Boston at Toronto, 7:30 p.m. ET (NBCSN): With a great showing in Game 5 in Boston, the Toronto Maple Leafs have brought playoff hockey back to Toronto for at least one more game. Obviously, the objective is to take it back to Boston one more time and try to wipe away what was a 3-1 hole.
To make that happen, the Maple Leafs will have to continue to find this new-found step in their stride. In the past couple of games, they have been doing something that they hadn't done all year -- outshoot the Boston Bruins , or at least actually take the game to Boston. Jake Gardiner playing on the blue line has been as big a factor as anything in that regard.
The big question that I have is how well the Bruins respond. It had to be deflating to have a chance to close out a team in five on home ice and turn in that showing. It not only had to be a letdown for them but gave the Leafs some serious life. They are seasoned in the B's room; they should be able to bounce back just fine even if they're on the road.
That doesn't matter if James Reimer has another performance like Game 5. He has been kind of hot or cold in this series. But when he has been hot, he has been really hot.
Third star game of the day


Game 6 (WAS 3-2), Washington at N.Y. Rangers, 4:30 p.m. ET (CNBC): No way this series isn't going seven games, right?
This is the one and only series in which home ice has meant everything. No road team has won, and that doesn't bode well for the Washington Capitals this afternoon in Manhattan. Particularly because the New York Rangers have been a substantially different team at home. In two home games, they scored eight goals. In three road games, they have two goals.
What the Rangers need is a big game from Rick Nash . Not only does that likely get them to Game 7 but maybe gives him some confidence for a Game 7. His lack of production has certainly been felt.
This isn't to say it's not a foregone conclusion the Caps lose. For them, the key will be the opening period. Coach Adam Oates has really been stressing strong starts, yet they haven't happened. That will again be the focus for Game 6. If they can pull it off this time, then perhaps they'll be in business. Henrik Lundqvist has very good, but it's not as if the Caps haven't been able to beat him.
Snap shots
•  Neat story of the father of Caps rookie Tom Wilson showing up to Verizon Center on Friday wearing an ordinary black pullover for his son's debut. By the end of the game, he was in a personalized Wilson Caps jersey, given to him by another fan. That's hospitality. (DC Sports Bog)
•  The New York Islanders are done for this season, but their future is looking awfully bright. You haven't heard the last from these guys. (Sporting News)
•  Big boost for the Chicago Blackhawks , who will have Dave Bolland back. It could mean a move of Bryan Bickell to the top line. (Chicago Tribune)
•  The Pittsburgh Penguins and Ottawa Senators will meet in the next round. Erik Karlsson already knows what's coming.
Wonder how many Q I'm gonna get now about my injury. Lol #whocares #oldnews #playtowin

— Erik Karlsson (@ErikKarlsson65) May 12, 2013
Five for Fighting
Every day, we'll have a top-five list that is pretty self-explanatory, all in this man's opinion. Today: The five most important players in Sunday's Anaheim-Detroit game.
No. 5: Francois Beauchemin . He logs big-time minutes on the back line, so it will be up to him to try to keep the Zetterberg/Datsyuk combo quiet, particularly in the early going.
No. 4: Corey Perry . Perry is supposed to be Anaheim's biggest scoring threat. But in six games this series, he has zero goals, just two assists. They need him, and there's no better time to step up than Game 7.
No. 3: Henrik Zetterberg . He is the backbone of the Wings and has been counted on time and time again in a pinch. This is a pinch.
No. 2: Jonas Hiller. He has been very good in this series, something that will have to be true once again. No single player matters more in these types of games than the goalie.
No. 1: Jimmy Howard . On that note, Howard is the biggest piece. He hasn't been as strong as Hiller and, overall, the Ducks have been the better team, albeit slightly. Howard can make all that change by stealing Game 7.
The league's highest-paid player and Hart Trophy winner says his Penguins counterpart is No....

Defense is better and motivation shouldn't be lacking, but the Red Wings are still too cap...

The 45-year-old free agent is taking things patiently as September approaches
The playoff drought might not end immediately, but something is brewing in restocked Buffa...

Former Lightning standout will be guarding the net in style in 2017-18

Devils are still in rebuilding mode, but they have reason for hope thanks to young additio...