Quest for the Cup: Evgeni Nabokov is struggling
The New York Islanders needed a lot from starting goalie Evgeni Nabokov in this series, but they haven't been getting much from him.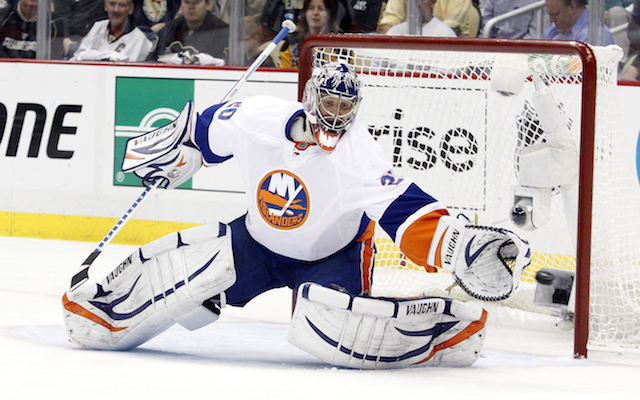 More NHL Playoffs: Scores | TV Schedule | Expert Picks | Odds | Mock Draft | Rumors
First Star Game of the Night
Game 6 (Pit 3-2), Pittsburgh Penguins at New York Islanders, 7 p.m. ET (NBCSN)
It's the first star game of the night because it's the only game of the night.
When it comes to goaltending, all of the focus in this series has been on the Penguins with Marc-Andre Fleury's early struggles and veteran Tomas Vokoun coming in to replace him for Game 5.
But things haven't been much better at the other end of the rink with the Islanders and, unfortunately for them, they don't really have a capable Plan B who can step in help to get the ship going in the right direction. And time is starting to run out for the Islanders as they face elimination on home ice on Saturday night.
One of the keys for the Islanders in this series was going to be Evgeni Nabokov's ability to stand tall and give his team a chance against the offensive firepower that Pittsburgh has. Well, the Islanders have had a chance in the series and at times have even managed to outplay the Penguins at even strength. But to say Nabokov has had his struggles in net would be quite the understatement, having been pulled in two of the first five games of the series.
The overall numbers aren't pretty, either.
In five games, Nabokov has surrendered 20 goals on 131 shots for a save percentage of just .847, by far among the worst in the playoffs. The only goalie who has a lower number is Montreal's Peter Budaj, and even that was in a limited two-game sampling (and only one start) at the end of the Canadiens' series against Ottawa.
How bad is that number for Nabokov?
Since the start of the 2000 playoffs, only four goalies have appeared in at least five playoff games and recorded a save percentage lower than .850.
• Nabokov in 2013 (.847)
• Pittsburgh's Marc-Andre Fleury in 2012 (.834)
• Dallas' Marty Turco in 2004 (.849)
• Washington's Olaf Kolzig in 2000 (.845)
If you go back to 1987, the number only goes up to 13 (the entire list is here).
Nabokov and the Islanders are going up against a team that has been, by far, the highest scoring team in the league the past two years and one that has a tremendous amount of offensive ability. A lot of the damage has been done on the power play, where Pittsburgh is able to throw what is basically an All-Star lineup on the ice. And that has to be taken into account.
But the Islanders have done a really good job during even-strength play and have done their best to give Nabokov some help. They've badly outshot the Penguins, and the scoring chance numbers have been pretty even.
The goaltending just hasn't been there for them, and it has been a big difference in the series.
Snap shots
• After a win in Game 5 to extend their series with the Bruins, the Maple Leafs are starting to believe. [Sportsnet]
• Ducks coach Bruce Boudreau said the team needs more from Ryan Getzlaf and Corey Perry. After Friday's loss, they have a Game 7 against the Detroit Red Wings on Sunday night. [NHL]
• Carey Price's "lower body injury" was actually a knee injury. [Montreal Gazette]
Five for Fighting
Every day, we'll have a top-five list that is pretty self-explanatory, all in this man's opinion. Today: The five most important players in Saturday's Penguins-Islanders game
5. Frans Nielsen: There is some concern that he might not be able to play after leaving Thursday's game with an undisclosed injury, but he has been one of the best and most impressive Islanders in the series. His speed and defensive ability has given the Penguins all sorts of problems.

4. John Tavares: He's an MVP finalist and has played like it in this series. Games like this are where you expect your MVP's to shine.
3. Sidney Crosby: Crosby has been the one Penguins skater in this series who has consistently brought it every game.
2. Tomas Vokoun: The Penguins haven't officially announced that Vokoun is getting a second straight start. But after his performance in Game 5, it seems pretty obvious that he's going to get the call. It would be a shock if he didn't. The Penguins might need another big game from him to close out the series.
1. Evgeni Nabokov: Because of everything that we just talked about. He has to be better than he has been if the Islanders are going to push this series to a seventh game in Pittsburgh on Sunday night.

Stacia Robitaille says Donald Trump told her in an elevator that she was coming home with...

Vladislav Yeryomenko was the Teddy Bear Toss goal scorer for the Calgary Hitmen

The Golden Knights are finally getting their No. 1 goalie back after a 25-game absence
Washington has won four straight, and the Kings are also on a tear right behind the Lightn...

The NHL says it's only interested in expanding to Seattle, but here's a look at all the moving...

The NHL says it is only looking toward Seattle for the next expansion team