Quest for the Cup: Hawks, Wings end conference rivalry in Game 7
The Blackhawks won two straight to bring the Red Wings back to Chicago for a Game 7. Do the Wings stand a shot?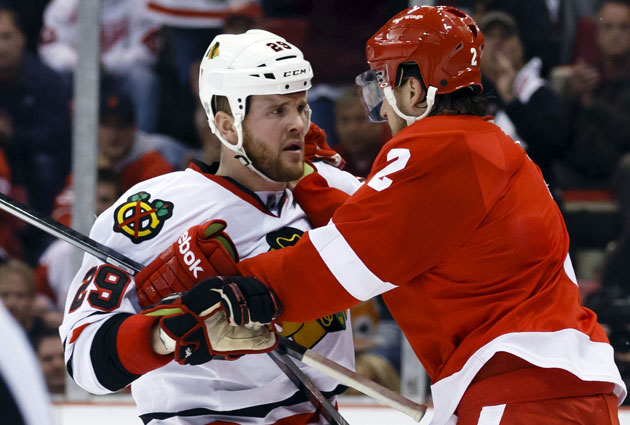 More NHL: Scores | Standings | Odds | Fight-O-Meter | League Leaders | Rumors
First star game of the day
Game 7, Detroit at Chicago, 8 ET (NBCSN)


If Game 6 had the feeling of a Game 7, then Game 7 will surely be awesome. Just ask Red Wings coach Mike Babcock.
"I love Game 7s," he said. "We've got a chance to push them out of the playoffs. It should be a lot of fun."
The Blackhawks have pushed away elimination twice, including a Game 6 win in Detroit, to bring the series back to Chicago for this winner-take-all game. It was almost tough to see it coming after Game 4 until you remembered the Blackhawks are the Blackhawks and at some point their shots would start to go in.
Now we're back to almost where we began this series. Just as it was before it began regarding the series, you're going to have a really difficult time finding anybody outside of Detroit who will give the Wings a chance to win Game 7. Their best chance to eliminate their long-time rivals in the West was in Game 6, a wild game that tipped Chicago's way. Now, an elimination game on Chicago's ice? Good luck.
However, the most dangerous thing the Blackhawks could do is believe they're good now that they're back home. Not to say I'd expect anything else, but they must continue to play with the same type of urgency as the previous two games; it served them well so far.
Lest we forget that the Wings came in and surprised most of us with how well they played in this series, there's certainly nothing stopping them from doing it in this game once more. Remember, the Red Wings already have played one Game 7 on the road this postseason and that turned out pretty well with a win in Anaheim. The Red Wings might even see that as an advantage, having done it once already and knowing what to expect.
If they're going to pull it off, though, it's obvious they need to be better than the last game in Chicago, Game 5. A lot better. Detroit was mopped off the ice in that game, not a very good harbinger of things to come for the Wings. It would help a lot if they could follow their recipe for success and get on the board in the first couple of minutes as they did vs. the Ducks. That's Step 1 in playing a perfect road game in a charged environment.
Another step would be getting more from their big stars, Henrik Zetterberg and Pavel Datsyuk. Not a lot has been made of their relative lack of production in this series because all of that criticism was saved for Jonathan Toews of the Blackhawks. But Zetterberg doesn't have a goal in this series and Datsyuk has just two points. They have been doing a great defensively helping to frustrate Toews and the Blackhawks, but they are counted on to contribue points to the picture as well.
At this point you nearly expect it of Zetterberg, who has been at his best in all of the Red Wings' games with their backs against the wall so far this season. Much like it was for Toews, though, it's not for lack of trying. Zetterberg is averaging four shots on goal per game in this series and only has three assists to show for it. The Red Wings not only will expect it, they will likely need it in Game 7. Winning in Chicago is already tough enough, getting the production from your best players only helps.
No star watch is complete without the goalies who will be focal points for their respective teams. Doubts have followed Corey Crawford since he took over in Chicago, if he could be the goalie they were missing in the playoffs. He has been very good this postseason, but falter in a Game 7 on home ice at all and the doubts linger longer. On the other end Jimmy Howard will be required to stand on his head because the Blackhawks should come fast and furious like they did in Game 5. Everything is magnified in a Game 7, he needs to be elite in this one to prove he's truly one of the elite goalies in the league.
Added onto this is that we're gifted with one last game between these two before Detroit moves to the Eastern Conference. Coming into the series all we could do was hope for the best between these two teams one last time -- and we're going to get it. Nothing is better than a Game 7.
Snap shots
•  The Flames are losing another player to the KHL as Anton Babchuk is headed for the Euro league. (Calgary Herald)
•  Jaromir Jagr is in no hurry to retire. "As long as I can play it, I want to play." (@HackswithHaggs)
•  While meetings took place in the desert to try to sell the franchise to RSE, GM Don Maloney continues to talk with coach Dave Tippett about a new contract. (@azc_mclellan)
•  Speaking of coaches, is Toronto Marlies bench boss Dallas Eakins ready to lead an NHL team? Leafs prospect Morgan Reilly says yes. (Vancouver Sun)
•  In the ongoing case of Brian Burke vs. the Internet, he has won the right to serve legal papers. (The Province)
The 40-year-old center is returning to the Wild after a successful run in Pittsburgh

Edmonton locks up its 21-year-old RFA a month after McDavid's historic extension

Even with a new coach and added veteran help, the Canucks have a long road ahead
Unlike expansion teams before them, the Knights have enough talent to entertain right away

Brian Lawton says he 'would not be surprised' if Boston deals its young star to end contract...

It turns out Phil does love his hot dogs, especially when they're in a Stanley Cup