Quest for the Cup: How will Blackhawks handle adversity?
The Chicago Blackhawks haven't faced much adversity this season, but they will on Thursday night going into Game 4 at Detroit.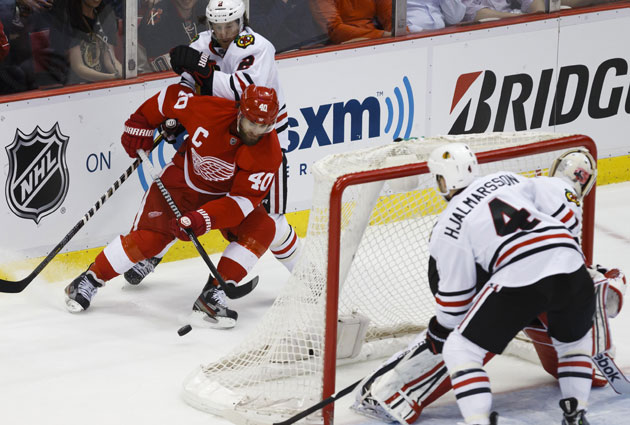 More NHL: Scores | Standings | Odds | Fight-O-Meter | League Leaders | Rumors
First star game of the day
Game 4 (2-1 DET), Chicago at Detroit, 8 p.m. ET (NBCSN)


If Chicago is going to get back on the winning side of things, now would be a pretty good time to do so.
What's so interesting right now in this series is that this is the first time really all year that the Blackhawks have faced some serious adversity. If they can't win Game 4, not only will they be in a big hole in the series but they will have lost three straight for the first time this season. It's this adversity and how they react to it that is going to be so interesting to watch. As a group, many of these guys have been here before in some shape so it's not completely foreign, but these high expectations are never easy to deal with when adversity strikes.
Perhaps making it easier for the Blackhawks is the fact that they played a much better game in Game 3 and still came up short in a 3-1 loss. They doubled their shot total from the previous game, outshooting Detroit 40-30, but Jimmy Howard was too good. All you can do is hope that you put in an effort like that again and the results will turn around.
But it's like the Red Wings have been building to this point all season; it's clear they are playing their best hockey and that's obviously enough to seriously threaten the Blackhawks, the NHL's best team this season. They have been a better defensive unit with Niklas Kronwall playing like a mad man, and Jonathan Ericsson is getting deserved recognition for shutting down Jonathan Toews (with Henrik Zetterberg).
While I'd be less inclined to bury a Blackhawks team in the series down 3-1 than pretty much any other team in the NHL, it's still certainly not a place they want to be, giving Detroit three chances to win once. But you know Detroit would relish the chance to be in that position.
Second star game of the day
Game 5 (2-2) San Jose at Los Angeles, 10:30 p.m. ET (NBCSN)


Can anybody win away from home? That's the question we're still waiting to be answered because in this series home ice has been everything. Well, almost everything. The officiating has been something, too.
All of the games have been close so far and, in some cosmic way, the 2-2 standing is probably fair and right given how they have all played, overall evenly. The idea of momentum in the playoffs is always pretty crazy. In this series, it's laughable. They have been too close for anything to potentially build.
That said, if it is really something that can carry over, the Kings might actually have a little despite losing Games 3 and 4 in San Jose. They played arguably their best period of the entire postseason in Game 4, really pushing on the Sharks and nearly getting the game even. It was reminiscent of their performance last year and was certainly a sharp turn from the first period, when the Sharks outshot LA 15-3.
None of that matters if they can't find a way to neutralize Joe Thornton and the impact that he has had on this series. It's fair to say he has been the best player through the first four games not only in driving offense for the Sharks but in quieting the Kings. LA might try to mix and match some lines as well as take advantage of that last change, which will both help.
Third star game of the day
Game 4 (3-0 BOS), Boston at NY Rangers, 7 p.m. ET (CNBC)


It figures that the first team to face elimination is the last team to have started playing. That's a sign of how this series has gone so far for the Rangers.
With the exception of Game 2 in the third period, it's not as if this series has been completely one-sided. But at the same time, you've never had the feeling that the Rangers really would pose a real threat to the Bruins. They simply cannot score goals. But sitting back and trying to protect a small lead isn't the prudent path, either. Safe is anything but.
But it's not over until the fat lady sings, as they all like to say, and so presumably the Rangers won't throw in the towel. Fortunately for Boston right now, a good portion of these players have been in that spot before. They saw the Flyers come back from a 3-0 hole to beat them and have a better idea of the urgency that they need to show. Don't even give the Rangers a glimpse of life if you can help it.
Something to point out that is just a coincidence and nothing more but still kind of interesting: When the Bruins won the Stanley Cup in 2011, they squeeked by in seven games in the first round only to come back with a sweep in Round 2. If you like symmetry and reading into it, a Game 4 win could create some really good vibes.
Snap shots
•  Here comes that embellishment word again. This time, Sharks forward T.J. Galiardi brought it up about Kings goalie Jonathan Quick. (Mercury News)
•  A breakdown of the "Least Valuable Player" race in the NHL this season, where a surprising Ranger takes the cake. (On the Forecheck)
•  This is such a cool story on how a Vancouver resident and Canucks fan became a Panthers season-ticket holder. (Cave Mag)
•  Getting fired is bad enough, but learning it through the media as Alain Vigneault did Wednesday? Ouch. Mike Gillis called that unfortunate. (Vancouver Sun)
•  Yet another player suffered from a lost skate blade on Wednesday night, when Daniel Alfredsson had to hop back to the bench.
Saturday's showdown will serve as a rematch of one of the NHL's first-ever regular season...

Stacia Robitaille says Donald Trump told her in an elevator that she was coming home with...

Vladislav Yeryomenko was the Teddy Bear Toss goal scorer for the Calgary Hitmen
The Golden Knights are finally getting their No. 1 goalie back after a 25-game absence

Washington has won four straight, and the Kings are also on a tear right behind the Lightn...

The NHL says it's only interested in expanding to Seattle, but here's a look at all the moving...