Quest for the Cup: Kings need more offense as series moves to LA
Will a return to home-ice advantage be enough to get the Kings going vs. the Blackhawks on Tuesday night? They'd better hope, especially their offense.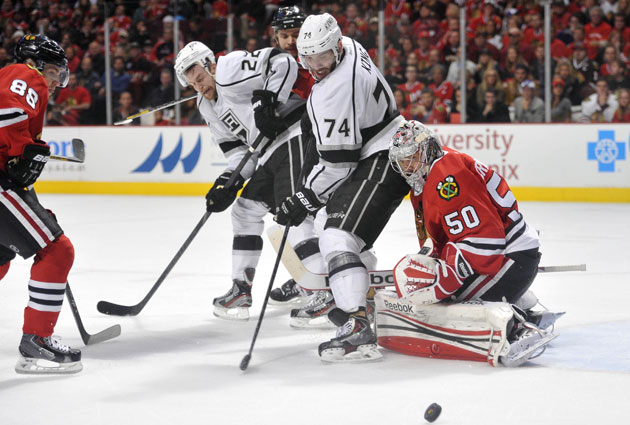 More NHL: Scores | Standings | Odds | Fight-O-Meter | League Leaders | Rumors
First star game of the day
Game 3, Chicago at Los Angeles, 9 p.m. ET (NBCSN)


The LA Kings are heading home, and they couldn't be happier to do so.
For the second time this postseason, the Kings are down 2-0 in a series with two games at Staples Center coming up. The first time it happened, LA won four straight to defeat the St. Louis Blues and advance. But with all due respect, the Blues aren't the Blackhawks.
No matter the opponent, though, the Kings have been lights-out at home. They are undefeated in seven playoff games and overall have won 14 straight at Staples. That has been crucial for their success to this point since they have been close to equally bad on the road.
But against this Chicago team, it's going to take a little more than just returning to the comfort of your own bed to get the Kings back in it. They have had a complete lack of offense in the postseason. And, as Game 2 showed, Jonathan Quick can't bail them out every single night. The Kings have to find a way to generate more offense.
In 15 playoff games, the Kings have 29 goals. That's it: fewer than two goals per game. When you look at it in that vein, it's pretty amazing they are still even here. Consider that their 27 goals in 14 games before Game 2 was the lowest total through 14 games in playoff history.
They clearly need to find more offense and in a hurry. The most noticeable absence on the scoring sheets have been Dustin Brown and Anze Kopitar, who were like men possessed last year in the playoffs. Both have been struggling to produce scoring not just in this series but all postseason long.
"It's pretty fair to say as a line we're collectively in a slump," Brown said of himself, Kopitar and Justin Williams. "We know what we need to do better. Getting into their offensive zone, our spacing is pretty significant. It's hard to play [without it], especially against a team like Chicago. When you don't have the spacing right, one guy eliminates the other guy."
"They struggled offensively, for sure," Kings coach Darryl Sutter added. "That's not me jumping out making a statement. That is a fact. That's a statistical fact."
That's why the health of Mike Richards will remain a talking point. He was late getting to his skates after taking a hard hit late in Game 1 but appeared set to play in Game 2 until just before game time, when he and Sutter decided he wouldn't. Getting revved up for the game brought out some symptoms (we can guess what those are ...). Considering he has been one of their best offensive players, his status is crucial, though his line with Tyler Toffoli was LA's best in Game 2.
Part of getting better on offense is taking care of the puck. Chicago racked up the takeaways in the first two games. Not only does that take the puck off the Kings' sticks, but it gives the Blackhawks shorter ice to work with, especially when those turnovers occur in the neutral zone, where much of this series has been played. The puck control has to improve for the Kings.
Even if the Kings are able to do a few things and get some more offense, more shots, they still have to figure out how to beat Corey Crawford in net for Chicago, too. The Blackhawks no longer have a weak link in net, somebody who can just not screw it up. That task has been tough for teams all season long, not just the Kings in two playoff games.
Chicago finished the first two games at United Center starting to hit the level of play that we saw from them early in the season with their record start. Is changing venues enough to take them off that game and give some life back to the Kings, who so desperately need to take the games in LA? We'll find that out beginning in Game 3 on Tuesday night.
Snap shots
•  Remember how everybody just dimissed that acquisition of Michal Handzus by the Blackhawks? Oops. (Chicago Sun-Times)
•  Seeing the possibility of a Stanley Cup Final featuring Zdeno Chara and Marian Hossa is just agonizing for Senators fans. (Ottawa Citizen)
•  The competition committee is meeting on Tuesday, and we could have a visor mandate and more coming out. (Sportsnet)
•  The Predators have the fourth pick in a draft with lots of talent up front, but they're willing to listen to offers for it. (Detroit Free Press)
•  Here is big Blackhawks fan Vince Vaughn talking to Jay Leno about the Hawks and showing he really does know the team by identifying Chicago's No. 2 jersey.
Los Angeles isn't rushing to sign the 45-year-old forward any time soon

The University of Denver star and Hobey Baker Award winner is drawing interest

Intrigue is high in Arizona after a wild offseason, but expectations should still be tempe...
Players are set to give personalized messages for Adidas' former hockey equipment brand

The 40-year-old center is returning to the Wild after a successful run in Pittsburgh

Edmonton locks up its 21-year-old RFA a month after McDavid's historic extension